He's the world's oldest marathon runner -- and at the grand old age of 100, Fauja Singh is certainly showing no signs of slowing down. The quick-footed centenarian, who has completed seven marathons since turning 89, has become the first person to sign up to the 2012 Edinburgh race.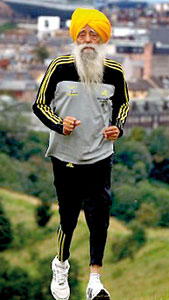 Fauja Singh has become the first person to sign up to the 2012 Edinburgh Marathon Festival race
And he has revealed the key to conquering his daily 10-mile training regime is eating plenty of ginger curry and drinking copious amounts of tea. 'I am not a learned person in any shape or form. To me, the secret is being happy, doing charity work, staying healthy and being positive,' he said.
'If someone says I must stop running I ignore them -- invariably they're younger than me. The secret to a long and healthy life is to be stress-free. 'If there's something you can't change then why worry about it? Be grateful for everything you have, stay away from people who are negative, stay smiling and keep running.'
Despite being born on April 1, 1911, Mr Singh insisted his age is no April Fool's joke. He is indeed 100 years old and still as fit as a fiddle. He said he developed his love for running whilst working as a farmer in the Punjab.
But it was not until he moved to the UK, half a century later, that he took up the sport seriously. With the help of his coach, Harminder Singh, he started challenging other pensioners to races and has now run five marathons in London, one in Toronto and one in New York.
Mr Singh, a Sikh, holds the world record for the men's over-90 category after completing the 2003 Toronto marathon in five hours and 40 minutes. He now hopes to take part in the Edinburgh Marathon Festival 2012, 26.2-mile race, as part of four-man relay team with an average age of 86.
© Daily Mail, London