For those who are too broke to get on the housing ladder, an American firm has come forward to help.
Jay Shafer's Tumbleweed Tiny House Company makes cute little homes that start from the bargain price of $99.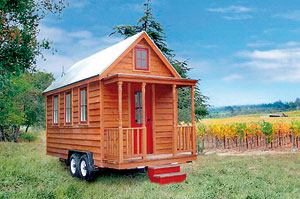 Cute: For those who are too broke to get on the housing ladder an American firm Tumbleweed Tiny House Company is here to help with homes that start at the bargain price of $99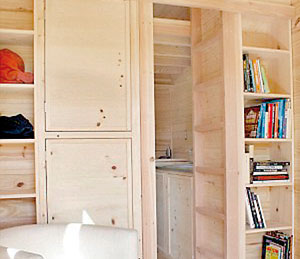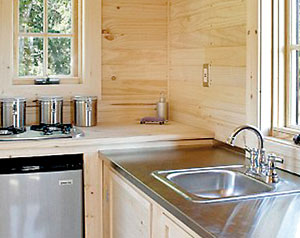 All necessities: The homes all have fully functioning kitchens, bathrooms and sleeping areas
The cheapest home is a flat-pack to be built by the owner but, if you're not very handy, there are ready-made versions for $38,997. The teeny homes, which start at just 65 square feet are kitted out with fully functioning kitchens, bathrooms complete with composting toilets and sleeping areas. Some models even come on wheels.
As well as being environmentally friendly the homes are affordable for people on meagre incomes.
As the debt problem in the U.S. reaches tipping point Mr. Shafer, who lives in one of his houses in Sebastapol, California, says that less can be more.
'People are starting to get a clue I think,' he said. 'People are starting to understand that excess is not necessarily a luxury. It can be a burden, a liability. People are living in 4,000 and 6,000 square foot debtors prisons.'
He said that having fewer belongings is also a pleasure. 'People spend 30 years or more paying for all this space and stuff that they don't really need.' But one of the main reasons he likes to live small -- less cleaning.
'I grew up in a 4,000 square foot home,' he said. 'And my sister and I were in charge of cleaning the house.
But my main reason for building such a little home was nothing so grandiose as saving the world, or so pragmatic as saving money.
'Truth be known, I simply do not have the time or patience for a large home. I've found that, like anything else that's superfluous, extra space merely gets in the way of my contentment, for it requires maintenance and heating and ultimately demands that I exchange a portion of my life for the money to pay for these luxuries.
'I wanted a place that would maintain my serene lifestyle, not a place that I would spend the rest of my life maintaining.
I find nothing demanding about Tumbleweed. Everything's within arm's reach and nothing's in the way-not even space itself.'
© Daily Mail, London