It was recently given a ringing endorsement by one of the world's most beautiful women. So it should perhaps come as no surprise that coconut oil - favourite beauty product of Miranda Kerr - is flying off the shelves.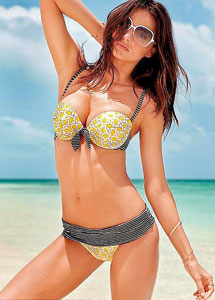 `Nuts about coconut oil! Miranda Kerr says her healthy physique, glossy hair and blemish-free skin are thanks to daily doses of the healthy fat
Sales are said to have soared after the Australian model, wife of actor Orlando Bloom, revealed she is an avid user. In an interview last month she attributed her blemish-free skin and glossy hair to the miracle oil.
Miss Kerr, 28, who models for Victoria's Secret, and gave birth to the couple's first child Flynn in January, said: 'I will not go a day without coconut oil. I personally take four tablespoons per day, either on my salads, in my cooking or in my cups of green tea.'
Health food chain Holland & Barrett, which has 625 stores nationwide, reported sales had shot up by 50 per cent in the past year and that much of the demand was very recent. A £12.59 pot of the store's own-brand product was sold out on its website as they hurried to re-stock.
The oil contains fatty acids which are said to leave skin and hair smooth and shiny, and devotees have linked it with a host of other alleged health benefits, including weight loss, although these are highly disputed.
Extracted from the flesh of mature coconuts it can be drunk raw, used in cooking and baking or applied directly to the skin or hair as a moisturiser. Kate Butler, Holland & Barrett's nutritionist, said: 'The small molecular structure of coconut oil allows for easy absorption through the skin giving it a soft texture.
'This makes it an ideal ointment for the relief of dry, rough skin, and an effective after-sun lotion because it literally melts into your skin. It works wonderfully as a hair conditioner too.'
But experts, including the World Health Organization, have warned against drinking too much coconut oil as it contains high levels of saturated fat and calories - a 15g tablespoon contains around 135.
Professor Mike Gordon, a food chemist at Reading University, said: 'Coconut is 50 per cent made up of a fatty acid called lauric acid which if consumed to excess can contribute to increased risk of coronary heart disease. 'I would be very cautious about advising people to consume large amounts of coconut oil.'
© Daily Mail, London