WASHINGTON, Sept 2 (Reuters) - WikiLeaks founder Julian Assange late last year told associates his website's entire cache of U.S. diplomatic cables "must somehow" be released, according to a written record of the discussion.
The record -- notes of a meeting -- describes an intense conversation between Assange and other WikiLeaks activists in November at Ellingham Hall, a mansion in eastern England where he has resided since British courts released him on bail pending a decision on a Swedish extradition request for his questioning about sexual misconduct allegations.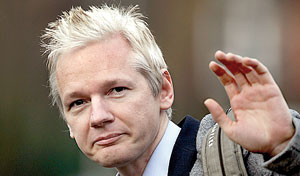 Assange: Reveals all
According to the notes, examined by Reuters, the substance of the meeting was a "heated conversation about rough plans on releasing cables." The debate's details were first reported on Friday on the website of Britain's Guardian newspaper by James Ball, a former WikiLeaks staffer who attended the meeting and who now works for the Guardian.
Evidence of the discussions surfaced as WikiLeaks announced that it was releasing its entire database of "251,287 US embassy cables in searchable format." People who examined the database said its contents are unredacted.
The topic under discussion at Ellingham Hall was a plan under which WikiLeaks would give mainstream media organizations access to the cable cache in return for their agreement to redact sensitive information from the documents before publication. Last year, human rights groups criticized WikiLeaks for releasing raw U.S. military documents whose contents could have jeopardized the safety of civilians.
According to the notes, a Scandinavian activist said: "You do realize the idea of not putting all of these cables up is totally unacceptable to people around this table, don't you?" This set off "another shouting match." According to the notes, Assange was "insistent all cables must somehow be eventually released."
Assange did not respond to an email requesting comment which was sent to him via the owner of the mansion. The notes do not allege that Assange or others were insisting that the full document cache be released uncensored.
In a book on WikiLeaks published earlier this year, two Guardian journalists, David Leigh and Luke Harding, wrote that when he started talking about releasing classified U.S. government documents, Assange expressed reluctance to redact the material, but was persuaded to do so by mainstream reporters.
On Friday, five major media organizations which had collaborated with WikiLeaks and Assange over the release and redaction of items from the diplomatic cable cache denounced the website's release of the whole uncensored database.
"Our previous dealings with WikiLeaks were on the clear basis that we would only publish cables which had been subjected to a thorough editing and clearance process ... Today's decision to publish by Julian Assange was his, and his alone," the Guardian, New York Times, Der Spiegel, El Pais and Le Monde said in a joint statement.
In an email to Reuters, New York Times executive editor Bill Keller said: "We've never kidded ourselves that we had any control over the behavior of WikiLeaks, and we have taken pains to keep the relationship arm's-length."
Keller added: "I think the news media organizations involved were heartened that WikiLeaks gradually, grudgingly seemed to take our example and acknowledge the value of holding back some information that could put innocent people at risk.
It's sad that -- whether out of a craving for attention, or an absolutist doctrine of 'transparency,' or some more malign motive, I can't judge -- WikiLeaks has decided on this irresponsible course."