The murder of former Prime Minister Rajiv Gandhi in May 1991 stunned India - but it was also a personal tragedy for a young girl who had yet to be born. Haritha Murugan's parents were arrested days after the murder and convicted of plotting it. She was born to the couple in prison in January 1992 and has met them once since that time.
As a baby she was taken to Sri Lanka where she grew up under the care of her paternal grandmother. She is now a medical student in London. Nalini, Haritha's mother, will spend the rest of her life in jail - her death sentence was commuted a decade ago after appeals for clemency.
But her father, Murugan, is one of three men still on death row for the murder. In a last-ditch reprieve, the execution - set for 9 September - was postponed for eight weeks amid further appeals on Tuesday.
"I am very happy," Haritha told the BBC on hearing the news. "I would like to thank everyone who fought for them."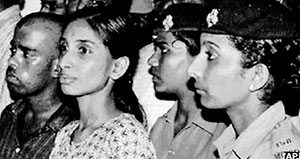 Murugan (far left) with Nalini (second left) who gave birth to Haritha soon after their arrests in 1991
The killing of Rajiv Gandhi by a female suicide bomber at an election rally near Madras (Chennai) was blamed on Sri Lanka's now-defeated Tamil Tigers. It is thought the rebels wanted revenge for his decision to deploy Indian troops in Sri Lanka in 1987.
'Really shocked' Despite Haritha's relief at the delayed execution, there is deep sadness in her life.
"No-one should go through life like me," she said. "I was born in jail. I communicate with my parents through letters. They always say they are living for me. I miss my parents every day.
"But the very thought they are living somewhere gave me comfort and kept me going. But now this may be taken away from me." She met her parents only once, in 2005, and insists they are innocent.
"I had no idea about my parents during my childhood. When I met them I realised what I missed. They insisted I should study hard.
"Since they have missed out on their lives I wanted to work hard and make them happy. I want them to live their lives through me. My mother always says I must help others. "When I told them that I got admission to the medical school they were very happy. But that is not going to last… I feel I am a very unlucky girl."
Haritha has applied to travel to India to say a final farewell to her father, but she fears she will not get a visa in time. She has been told by the Indian High Commission in London that it will take at least 15 days to process her visa request.
An earlier application was rejected by India's mission in Sri Lanka on technical grounds. Determined to see her parents, Haritha has made an emotional appeal to the Chief Minister of Tamil Nadu, J Jayalalithaa. "Even if you don't want to release them, please don't hang them," she pleaded. There is growing political pressure in Tamil Nadu to have the men's sentences commuted, although correspondents say there is little chance legally of pleas for clemency now being accepted.
'Is it fair?'
Tuesday's reprieve is part of a last-gasp legal effort led by former Law Minister Ram Jethmalani to save Murugan and the two other men facing execution, Santhan and Perarivalan. The first two are from Sri Lanka, the third an Indian Tamil. The mother of Perarivalan says her son is "completely innocent" and has expressed her dismay with India's legal system.
"The charge against my son is that he procured the nine-volt battery which was used by the suicide bomber. He denies that charge. He was never a member of the Tamil Tigers," Aruputham Ammal said.
"The whole judgement was based on a forced confession." Lawyers representing the men have long argued the convictions were unsafe.
All the accused in the Rajiv Gandhi case were tried under the Terrorist and Disruptive Activities (Prevention) Act which has long been withdrawn because of its widespread misuse. Under this act, a confession given to officers above a certain rank (deputy superintendent of police) was treated as valid evidence - which is not the case under normal criminal procedure.
The trio's chances seem slender at this late stage. But one of their lawyers believes they still have a strong case to argue. "The mercy petition was pending with the president for over 11 years," Pugazhendi, who has defended them for years, told the BBC.
"They have already spent 20 years in jail. This is more than a normal life term convict would spend in prison. Is it fair to hang them?" India carries out the death penalty in only the rarest of cases.
The country's last execution was in Calcutta in 2004 when a former security guard was hanged for the rape and murder of a schoolgirl. Tamil Nadu's last execution was in 1995.
The next ones could be ominously close.
Courtesy BBC