A last minute try by Bilal Hasan enabled the Navy to grab a breathtaking 18 points to 12 win over the Police in a Caltex Clifford Cup Inter-Club knock-out rugby game at the Royal Sports Complex yesterday.
When victory was almost in Police's bag Navy launched a do-or-die effort. Just when extra time was being targeted, Bilal Hasan took the ball and made a bee-line to score under the posts before the surprised Policemen could fathom what was hapenning. Chula Samantha was on target with the conversion and Navy surged ahead into the next round and are scheduled to meet CR&FC next in Kandy in a semi-final encounter.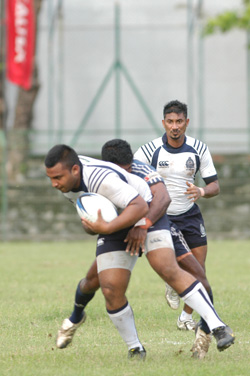 Out of my way. A Navy rugby player tries to break loose from a Police tackler. – Pic by Ranjith Perera
The boos and cat calls from the Navy supporters seemed a far cry to stop them. The only encouragement the Sailors got was from their band who kept on cheering them with lively music. In the end Navy conquered all with this wafer thin victory.
Nishantha Wijeweera had his kicking boots on for Police yesterday. He converted a penalty early in the game and gave a 3-0 lead over the Navy. The Sailors came into the scene when Chula Nishantha planted a try and took the lead at 5-3. Harsha Wijeweera converted a near 40 meter penalty next and Police surged ahead at 6-5. Half time was taken at this score.
On resumption another Harshana Wijeweera penalty put Police ahead at 9-5. Navy cut down the lead to 9-8 with Chula Samantha's penalty conversion. Police kept on attacking and the tit-for-tat scoring continued when Harshana Wijeweera converted a penalty to put Police ahead.
With the minutes ticking by and a win for Police almost certain, Then Bilal Hasan's try pulled the carpet from under the Policemen to give Navy victory by 18 points to 12.
Referee: Pradeep Fernando.