Sri Lankas ace pacer Lasith Malinga is unlikely to return to the Test fold again when the national side needs him the most, the Sunday Times learns. In spite of overtures made to him by certain cricket high-ups, the young, but retired fast bowler has not responded to the call.
An SLC high-up who was the go-between in efforts to bring Malinga back to the Test fold said, "We were waiting for his reaction, but Malinga has not responded. It would have been good if the fast bowler would have been available for the second Test, but it seems to be leading to a non starter."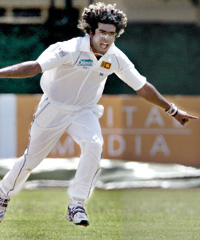 According to insiders, the whole Malinga episode was mishandled from the time of the last contract. Malinga who was perched in a lower rung in the contracts was put in a higher slot with the understanding of him playing Test cricket, but with a flexible programme. However, when the tour of England came on and there was a call for the national players to go in one lot to England (which finally did not happen), Malinga who was fully involved with the IPL at that time decided to retire from Test Cricket completely.
The Sunday Times also learns that behind Malinga's retirement from Test cricket was also a millionaire Indian who has a stake in the Indian Premier League. Meanwhile Graham Ford – is almost certain of taking up the job as the next Sri Lankan coach.
Last week the former South African coach was in the country and made a feasibility study about his job at hand. He had visited the Sri Lankan coaching academy and had several rounds of talks with cricket officials before returning home.
Ford in all probabilities will take up the job once the Australian series is over and while the Lankans prepare for their Middle-Eastern excursion against Pakistan in October-November. It is also reported that in spite of Sport Minister Mahindananda Aluthgamage and Cricket Board President Upali Dharmadasa denying the charges of putting a gag on the players concerning media interviews and newspaper columns, the stipulated restrictions will definitely come into force.The Sunday Times reliably learns that the new restrictions will come into effect with the renewal of contracts that the players are scheduled to sign shortly.
The players' contracts which expired shortly before the 2011 World Cup was not renewed due to various reasons, the last of which is the interim committee running into red.