In February 2011, a part of the World Cup was played in Sri Lanka, where the wickets were sporty and full of runs, but, yet Sri Lanka lost only one game in the process while advancing into the finals of the tournament which was played in Mumbai.
The wickets prepared for that tournament came in for high praise by the ICC. However, the wicket prepared for the first Test match in Galle against the visiting Australians was one of the worst wickets seen in Sri Lanka. Twenty Test wickets fell before the completion of even three days.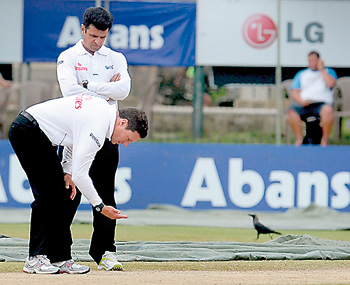 Match umpires Richard Kettleborough (L) and Aleem Dar (R) inspect the pitch during the third day of the Test match between Australia and Sri Lanka at the Galle International Stadium. (AFP)
The wicket was a batsman's nightmare and even the two half centuries scored by Australian batsmen Michael Hussey and Michael Clarke or the efforts of Lankan batsmen Mahela Jayawardena and Angelo Mathews were pieces of sheer workman like innings rather than authoritative stroke filled ones.Yet, the question is who is responsible for that wicket which lacked any character?
It is said while Sri Lanka Cricket's chief curator Anuruddha Polonnowita was available in Colombo, the Galle Stadium Curator Jayananda Warnaweera was handed over the task of preparing the wicket under a new scheme of decentralizing authority. The Sunday Times learns that the Galle curator played to the whims of the Lankan senior players and prepared a turning dust bowl, not figuring out how effective Australias off spinner Nathan Lyon was going to be. Lyon, while taking Sri Lankan's best batsman Kumar Sangakkara in his very first ball in Test cricket, went on to bag a fifer, thus sparking off a huge Lankan batting collapse.
A year ago during the reign of Muttiah Muralitharan, a turning wicket was certainly advantageous to Sri Lanka and the country had won many a match on that strength, but, still the wicket has been as not bad as the one prepared for this Test, according to knowledgeable sources.