Sri Lanka experienced another eventful inter-club league rugby season filled with grueling and exciting rivalry coming to an end after nearly three months. The concluded season only saw professionalism prevail as Kandy Sports Club defended their league title for the 11th consecutive year while a few others nearly came up to it.
Soon after the league tournament ended Sri Lanka as usual took wings to China to kick-start their Asian Sevens Rugby Series campaign in order to secure a place in the World Sevens Series. The Sri Lanka Rugby Football Union (SLRFU) newly appointed a set of rugby selectors headed by Chandrishan Perera, and their first major assignment was to pick a squad for the Shanghai Sevens which took place last weekend. Sri Lanka slid down to 11th in Asian Sevens rankings after the Shanghai tournament with defeats against Kazakhstan, China and the United Arab Emirates. They recorded the only win against Mongolia in the ranking play-off.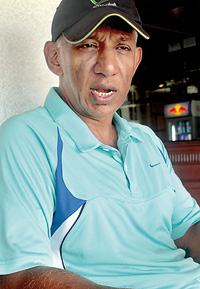 Chandrishan Perera is optimistic that 7s rugby has the potential to put Sri Lanka in the global scene. Pic by Nilan Maligaspe
As usual disputes, differences of opinion and other sensitive issues had Perera and his team in deep trouble as they saw a poor turnout for practices from the initial squad of 35 players selected. Perera who represented Sri Lanka as a winger for number of years was a total stranger to this issue though he has seen such things take place in the recent years. But at present the million dollar question of rugby players not being very keen to represent Sri Lanka as they do at club level has turned out be an issue Perera in a way has to sweat for answers.
"To my knowledge, I'm curious as to what has happened to Sri Lanka rugby. There is an issue for sure. We have to be honest here and not try to skirt around or pretend that we are in a good place. I think there is a lot of passion for the players to play the game but there is a little consideration that has to change," opined Perera.
In the recent years administrators at SLRFU came up with rainbow coloured projects that only were limited to words. Many rugby experts threw up their opinions saying that Sri Lanka as a striving nation in rugby has potential in the shorter version of the game which is the sevens. But the officials who work untiringly to shape up the domestic tournaments by convincing the stakeholders of the game, mainly the sponsors, seem to have lost in their own words when it came to the international level. Bringing the players into a central contract, for the sevens and fifteens rugby, was identified as the best and topmost solution by the SLRFU officials some years back. But the suggestion has failed to materialize even after years of planning. Perera too thinks that this is the only way to bring things on track.
"We have to look at how we protect the players. Today it's a new era for professional rugby. The local clubs have turned into semi-professionalism. Leading clubs are acquiring good talent; they are giving those players a good chance in the game, a good career and good prospects which are very important. For a player this security must be in place to focus on the game, training, and to become a very good player. It has turned out that the club has become a lot more important for them, because the clubs sustain these players through the year. At national level, you represent a tournament and return. There are various thoughts on what to do but we need to do something different. We have discussed these issues long enough. There is a need for a professional structure for the players. Something like contracting them, fairly similar to cricket though rugby doesn't have the similar luxuries. I don't fear the future, instead I look forward to it," Perera put in plain words.
"The Shanghai Sevens is an important tournament for Sri Lanka but unfortunately it came in the middle of the season. It was a massive task as selectors. Players were down with lot of injuries. We picked a squad of 35 but were unpleasantly surprised by the number of players that turned up for practices. It has been a trend and has been happening for the past few seasons. We need to change this very fast. The first thing that came to our minds was the need to set a national selection policy so that the players know what to do in order to qualify to play for Sri Lanka. It has to start from the junior level and the players must experience the structure up to the ultimate level. Then the players will have that passion of playing for the country," added Perera.
"The tournament committee needs to consider and structure the rugby season so that we will not clash with the international calendar. In addition fifteens and sevens rugby need separate focus at all levels beginning from the schools. Fifteens is what we'll do but sevens is our future. If you take the Kenyan example of life, Sri Lanka used to beat them many years ago. But they planned it properly and developed their sevens structure and are among the top ten teams in the world. We need to expand as sevens is an Olympic sport and it's the best we can do in rugby internationally."
"Times are tough now but will not be tough all the time. In order to make things better, all stakeholders including the administrators, clubs, referees and players at all level need to get together. If this game is to get to a better place we must live the word union not confining it to our name. There has to be corporation, understanding and professional thinking for the next step. We have lived this way for too long. We need a vision," urged Perera.