Asia Pacific Institute of Information Technology (APIIT) - Sri Lanka, incorporated in September 1999 in partnership with the APIIT - Malaysia and Staffordshire University - UK, offers tertiary education in Computing, Applied IT, Business and Legal studies. These degree programmes are conducted over a period of three years enabling students to graduate in early twenties with a prestigious Internal British Degree awarded by Staffordshire University. APIIT-Sri Lanka also facilitates credit transfers to over twenty reputable universities in the UK and Australia and thus forms part of an international collaboration in cross border education. A comprehensive quality assurance framework ensures that APIIT -Sri Lanka offers similar facilities and learning experiences to students studying at its City Campus in Colombo. Accordingly, all programmes at APIIT are quality assured by Staffordshire University and students are awarded with the same degree certificate offered to those studying in the UK.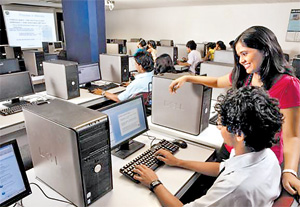 State- of- the- art APIIT IT Laboratories
DEGREE PROGRAMMES
The APIIT School of Computing offers degree programmes in Computing and Applied IT. Equal emphasis on theory and practice of computing and industry oriented project work towards the latter part of the programme distinctive features of the Computing Degrees. The School of Computing is driven by a vision to be the leading School of Computing in the Asia Pacific region with a global reputation for academic excellence. Its mission is to produce IT professionals who are effective in a competitive international environment. The following specialised degree programmes offered by APIIT School of Computing have been designed to be relevant to the current industry requirements.
B.Sc. / B.Eng. (Hons) in Computing Science:
This award provides training in a wide range of topics across Computing Science, including programming, networking, databases, systems design, and web applications, with professional and business skills required in IT industry.
B.Sc. / B.Eng. (Hons) in Software Engineering:
This award aims at producing skilled graduates who can provide software solutions to a variety of real-world problems. curriculum includes programming in C, C++, Java, C#, software analysis and design, software engineering, object oriented techniques, databases, web applications and professional development.
B.Sc. / B.Eng. (Hons) in Computer Networks and Security:
This award aims at producing Computing graduates skilled in networking and security-related issues in the IT world. A variety of topics are covered, including general networking systems, advanced topics in networking, router technologies, computer security, secure software programming. Being one of the important fields for the future, students will be exposed to cutting edge applications and networking tools to build secure systems.
LECTURE PANEL
School of Computing has a very intellectual environment that facilitates sharing of techniques and tools to make the learning experience meet high quality standards- this is due to the excellent pool of lecturers in School of Computing which includes staff members with PhDs and Master's Degrees. Most of our academic staff are also trained in technical areas related to their fields of study or research, and they can provide useful guidance to students during and after course delivery. Most importantly, we are proud to say our Lecturers are effective teachers - they know how to make the students learn and enjoy the subjects at the same time. Periodically, our own staff undergoes training to keep abreast with new teaching methods and develop active learning techniques. Such techniques differentiate us from others since we try our best to adopt student-centric techniques, which has been proven to make learning more enjoyable and long lasting. Students also actively participate by providing feedback on delivery, facilities, and student support, which in turn helps APIIT in maintaining a high standard. Currently there are 11 fulltime Lecturers led by Programme Leader Dr. Dhananjay Kulkarni PhD (California), MSc (California), BE (Pune).
KEY FEATURES OF APIIT SCHOOL OF COMPUTING
A diverse range of teaching strategies including case studies, video presentations, and project work is used to achieve the learning objectives. Students are also trained to work efficiently in a group or independently in a disciplined and structured environment. Our programmes also include modules that focus on improving professional/ communication skills which prove to be invaluable when students step outside APIIT into the real world. Guest lecturers who are experts in their field regularly visit APIIT to deliver talks and seminars. Likewise, our students also get an opportunity to visit workshops or events related to courses whenever possible.
There is a close interaction of the students and lecturers, which is availed by having all academic staff on-campus. Students can generally meet their lecturers at any time during the day since we follow an open-door policy for student consultation. Such quick and regular interaction builds student motivation for improvement and is evident when a lot of our students eventually meet their academic goals. Continuous assessments carried out throughout the programme enhance student involvement and skills development.
Our students generally have high English proficiency, and as all academic activities are conducted in English it gives a great opportunity for students to refine their language skills. At the end of the term most of the students are able to give excellent presentations in a professional manner, and write high quality reports.
Although computing degrees are generally considered challenging, our approach towards teaching and learning makes this experience very enjoyable and rewarding. Students occasionally come and meet our staff even after graduation and tell how invaluable their training has been at APIIT. This proves that students are prepared for the market needs, irrespective of the type of industry they join. Several of our students are inspired by fellow students and lecturers, and opt for higher education in Sri Lanka or abroad. Every year we have students that express interest to join MSc programmes.
CAREER OPPORTUNITIES
Opportunities for a Computing graduate are plenty, including working as an Application Developer, Systems Analyst, Software Engineer, DBA, Network Administrator/Engineer, System Admin, Web Developer, Graphics Designer, Web Designer, QA Engineer/Tester, or Project Manager. Some of our students have also started their own companies.
Our programmes are structured carefully to offer in-depth knowledge within the area of computing covering computer systems, networking, hardware, software, and information systems. Students are also required to engage in many development projects to help them acquire technical capabilities. Thus APIIT students are groomed to become 'employable' graduates, possessing hands on experience, knowledge and skills on par with the industry requirements.
This is one of the key reasons why APIIT-Sri Lanka has attracted thousands of students from all parts of Sri Lanka and from overseas to follow the various degree programmes in Computing over the years. APIIT-Sri Lanka takes pride in having produced outstanding graduates who are acknowledged as dynamic professionals geared to take on the challenges of the ever-changing IT industry.
The Career Guidance and Job Placement Unit maintains a close relationship with the corporate sector and assists students in planning their careers and securing employment.
Students wishing to enrol in the next intake scheduled to commence in October 2011, are advised to contact Yoga on 011 7675107/ 2675060 or info@apiit.lk for further information and assistance, and visit the APIIT City Campus at 388, Union Place, Colombo 2 to experience the APIIT Advantage.