Esther Arshana Rajadurai of Gateway College Kandy has secured 12 A Star grades at the 2011 IGCSE London O/L examination. She has also obtained an A Star for French Speaking in addition to these grades. This singular achievement of obtaining the highest possible grade in all the 12 subjects for which Arshana sat for was the highlight of the Edexcel results that were released last week. Arshana offered a great diversity of subjects including Commerce, Science, Mathematics, Languages, Humanities and Technology.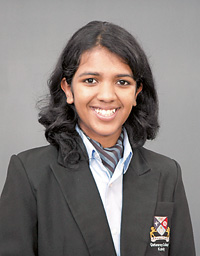 Arshana Rajadurai
Arshana has consistently maintained a high standard of academic excellence right throughout her school career winning many prizes at the school's annual awards ceremonies. In addition to excelling in academics, Arshana is actively involved in many extra- curricular activities.
She is the Senior Choir Leader, the Leader of the college English Debating Team, a delegate of the Model United Nations, a regular performer at school musicals and dramas. She is a House - Games Captain, one of the pioneer girl guides at Gateway, and is involved in many social and community service projects as a member of the Interact Club.
Arshana's parents, Roshan and Ianthe, are appreciative of the opportunities and facilities provided at Gateway College Kandy where the management has ensured that the latest and updated text books and teaching material including the study guides are made available to the students.
The management ensures that all the syllabuses are covered well in time, past papers revised and extra-classes held during vacations at no cost to the students.