We all have a story to tell, but few of us find the voice to tell it to the world. Diyath Peiris, a 14-year-old student of Elizabeth Moir International School, launched his first book on August 12 at the Sri Lanka Foundation Institute in Colombo.
Titled 'Sony Metholog- the Case of the Blue Phantom', it is "a tale of adventure". When four children from the Newton School return from their summer vacation, they find mysterious shades of blue that "knock them off". It is the discovery of the 'Blue Phantom' that sets off this adventure.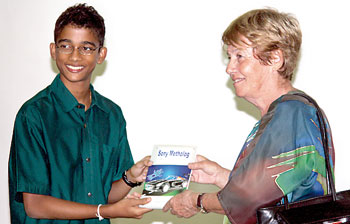 Young author Diyath presenting his book to Elizabeth Moir
Elizabeth Moir, founder and head of the Elizabeth Moir International School in Colombo, the chief guest at this event congratulated the young author and praised his "passion for writing".
Author Ashok Ferrey said that the first thing he noticed when he read the draft of Sony Metholog was Diyath's "excellent standard of English at the age of 14". Mr. Ferey described how his achievement will encourage other young people to pick up a pen and write.
Diyath has a collection of five short stories that he wrote at the age of 8. He says he got the idea for his book when he was only 11 years old. Speaking to the Sunday Times, Diyath described that getting his story published was not easy. It took him more than one year to finish writing the book and another two years before the publishing process finally began. "It was hard to find a publisher because we had no contacts," Diyath said.
It was Shriyani Hulugalle, the author of Beyond the Rainbow, who introduced Diyath to Dr. Nimal Sandaratne, the founder of Kandy Books. The book cover was illustrated by Diyath as well.
"My inspiration comes from real-life experiences and the books I read," said Diyath, mentioning the Harry Potter series. Together with his twin brother Dasith, they have enjoy reading, imagining and attempting many an adventure, he says.
He has already started working on his next novel. "I have written three quarters of the next book," said Diyath. It will be a continuation of his first book, ultimately solving the mystery of the Case of the Blue Phantom. "Keep imagining" is his advice to young aspiring writers.
From running a kade to total dependency
He is a familiar sight at Bodhirajapura in Werahera, a place where he has lived in good times and bad. The bad times have been long and he is seen by his neighbours walking along the lane holding on to walls, with his face raised upwards to get that tiny sliver of light into one eye. Recognizing people by their voices, he greets them and chats to them.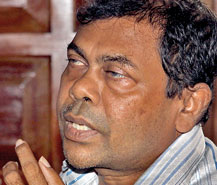 Pic by M.A. Pushpa Kumara
Fifty-year-old K.H. Wimalasiri is blind. His wife and 14-year-old daughter live with his mother-in-law at Arukgoda in Panadura as his girl goes to school there and he is unable to fend for them.
Wimalasiri has found a home with his sister as he doesn't want to be a burden on his own family.
The good times had been there for Wimalasiri and his family. Although he dropped out of school at Grade 5 because he had issues with his hip bone, "ukul ata dirala, iskole gamana yanna beri wuna", he earned a livelihood by helping his brother run a small vegetable kade at the Wellawatte market.
He used to wear full white, one neighbour said, adding that he helped people in the area without reservation.
But about eight years ago, life changed drastically for Wimalasiri. He suddenly lost the sight in his right eye and was told that the eye had died due to weakening of the nerves. Attending the eye clinic regularly thereafter, he underwent two operations to save the other eye but nothing could help him to keep his sight. Hospital records indicate that he is blind in the right eye but there is a perception of light in the left eye on which retinal detachment surgery had been carried out.
For Wimalasiri there is a worse worry than his own plight. His beloved daughter too has lost the sight in one eye and is managing only with the other. Depending on the kindness of his sister, Wimalasiri says he lives amidst much sorrow. Suffering from osteoarthritis and also diabetes, he does not have the wherewithal to make many visits to the clinic or buy his medications.
Once an independent person, like most of us, leading a comfortable life he has now been reduced to dependence on the handouts of others.
Anyone who wishes to help him and his daughter could contact him on Phone: 011-5614435 or 66, Bodhirajapura, Werahera, Boralesgamuwa or contribute their mite to his Account 112020087796 at the Boralesgamuwa branch of the Hatton National Bank.
A veteran's odyssey
'Captured Moments- the Odyssey Continues' - an exhibition by veteran photographer Chandrasena Perera was opened by teledrama director D.G. Somapala on Friday and is on today at the Harold Peiris Gallery of the Lionel Wendt.
RASSL lecture
The Royal Asiatic Society Sri Lanka (RASSL) will present a lecture "Towards Compiling a History of Sri Lankan Philosophy" by Prof. Y. Karunadasa, Visiting Professor of Buddhist Studies at the University of Hong Kong on Monday, August 29 at 5 p.m.at the Gamini Dissanayake Auditorium, No. 96, Ananda Coomaraswamy Mawatha, Colombo 7. All are welcome.
Concert with a cause
A concert for 'Commitment to Caring and Sharing' by the Boards of Social Responsibility of the Methodist Church will be held on September 3 at 6 p.m. at the British School auditorium to raise funds for people living in the North and East.
A variety of entertainment has been lined up with the Revelations, the Methodist College Choir and many singers and bands performing. Tickets priced at Rs. 1,000, 750, 500, 300 and 100 are available at the Methodist churches, the British School or contact Warren on 0777555904.
Exhibition with a difference
An innovative exhibition by the differently-abled students of "Active Minds" will be held at the Girl Guide Headquarters, Colombo 7 on September 1 and 2 from 10 a.m. to 6 p.m.
These children love to engage in arts and crafts and their exhibits are a testimony of their skills and training. On sale are arts and crafts, table linen, household items, pillows, cushions, cushion covers, quilted bed covers, bags, rugs etc. Craft demonstrations will be held at 11 a.m. each day.
Reunion of Learneds
The 15th Annual Conference of the Organization of the Learneds of Colombo University and the felicitation ceremony for the members who bear prestigious designations and had risen to eminent positions by 2011 will be held on August 28 from 8 a.m. -1 p.m. at Sri Lanka Foundation Institute, No. 100, Independence Square Mawatha, Colombo 7. Vice Chancellor Kshanika Hirimburegama will preside.
President V.G. Karunasena and the organizing committee invite the Old Learneds for the ceremony and the lunch to follow.