Colombo audiences thronged to the staging of the Pulitzer prize winning 'Dinner With Friends' on August 18. The play with its witty observations about the travails of married life appeared to delight the crowd, inspiring much laughter. Feroze Khan directed an experienced (and good looking!) cast in this production which aside from the odd issue with lighting went off without a hitch. Following the production, cocktails were served under the stars.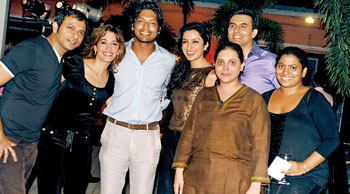 Kumar Sangakkara with the Indian cast and crew and Nuwanthi of Design Concept
Rebel and Voice Print contributed their voices to the cause, entertaining the audience with several beautifully rendered pop tunes. Also present at the event were representatives of the AIDS Foundation.
Funds raised at the event were to be channelled into the Foundation's work with child victims of AIDS. Former Sri Lanka cricket captain and AIDS awareness spokesman Kumar Sangakkara was on hand to address the crowd. Delivering an eloquent and impassioned plea to fight the stigma associated with the disease he said that it was a cause close to his heart, in particular because so many victims came from cricket playing countries.
Sharing his belief that we are wrong to allow this "dehumanising" of people with AIDS, he said "in our ignorance we are taking away the thing they are fighting for – the right to live their lives fully, with dignity and to contribute to society in every way they can." Sangakkara was also full of praise for a young lady who stood up to address the crowd.
Having contracted AIDS through a blood transfusion when she was being treated for dengue at the age of 15, she found herself dealing with extreme discrimination as she was told she could no longer travel in her school van or attend tuition classes. She was even forced to relocate, and could no longer live in the town she grew up in. Rising above her circumstances, she has since excelled academically – earning 10 As in her O/L. That night her story told simply and without embellishment, offered a wonderful illustration of how someone with AIDS can still lead a life full of accomplishment.
The event was the work of the company Design Concept whose owner Anuruddha Lihinikaduwa says that he hopes to host more such events in the future, dedicated solely to raising funds toward charitable causes.