Three years ago, Geetha Bodaragama was a stay-at- home mother to two daughters and a son. Today she is a leading batik saree designer, founder and proprietor of 'Lassana Bathik', her very own brand.
After studying Fashion Designing and Pattern Making at the University of Moratuwa in 1994, Geetha let her talent and creativity take a back seat while dedicating her efforts towards her family and her children.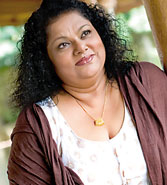 Geetha: Creating an exciting collection of bridal wear
It was much later that she rediscovered her love for the arts and fashion. "Sometimes I used to paint or make something or wear something I had designed and everyone would ask me where I had got it from or who created it," recalls Geetha. "My friends kept telling me to do something and that I was wasting my talent. But it was after my eldest daughter was married and my youngest went abroad, that I found time to concentrate on my work. Till then I was a busy mother."
She studied batik-making at the Battaramulla Jana Kala Kendraya for some time. Lassana Bathik was launched first as a hobby but soon turned into a full-time career.
"It was Michael Wijesuriya who really gave me the confidence to develop my work," Geetha recalls. When he first saw one of my sarees he admired the quality of the design and told me it was one of the finest he had seen. It was so encouraging and I remember thinking that if he thought it was one of the best, then it really must be." Geetha's workshop is at her ownresidence at 14/7, Eksath Subasadaka Mawatha, Pamunuwa Road, Maharagama. She is passionate about her work, an unyielding perfectionist. "I have to do all the work.
I select the fabric, the colours, create the design and do the dyeing. I have two girls who help me with the sequin work and stitching. And I have a dress maker who makes the jackets, but I oversee everything. I first trace the design on the material and then paint it with wax before dying it. You have to start with lighter colours and as you dye they get darker and increase in colour," she explains.
Geetha's designs stand out mostly because of their hand-painted feel. The designs, borrowed from traditional Sri Lankan motifs, like temple paintings and historic stonework, characteristically appear to be painted by hand and that gives each saree an artistic value.
The mix of colours is at times complementary, at times contrasting -mud browns and turquoise, hot pink and black, splashes of purple and pearl, lush greens and sunny orange, deep reds and dazzling gold. The kaleidoscope of colour never ceases to delight. The sarees also have distinctive visual features on the fall or pallu and on the pleats. The same saree, for instance, would have splashes of vibrant bold designs on the fall and linear simple motifs on the pleats.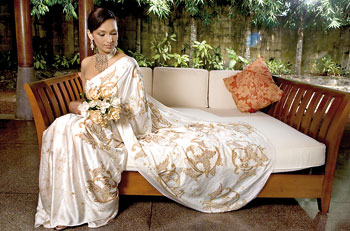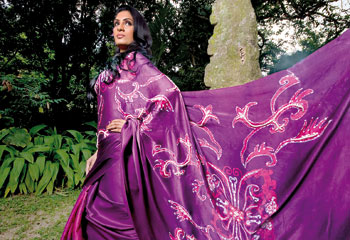 When the 'Bride and Groom' magazine held a wedding fair showcasing bridal designs from a number of local designers, Geetha presented batik sarees for brides in both Kandyan and Indian drapes. Geetha believes that a batik bridal speaks of our culture and heritage and is currently focused on creating an exciting collection of batik bridal wear. Her bridal sarees are done on two kinds of fabric- pure silk that drapes beautifully and a less expensive fabric for brides looking for a lower price range. The designs of the bridal collection are mostly soft and elegant, the colour palettes ranging from white, ivory, eclectic earthy hues, tones of opulent greys, rich golden shades and luxurious pearl finishes.
Today Geetha's supportive family is at her side helping out. Her children have her online sites up and running while her husband helps her through organizing and administration. For now Geetha caters to a limited and specific customer base due to the time consuming nature of the work. Every saree is unique in design, she explains.
"When you create batik you will never get the same design and I always try to create different sarees with something special in each one. I take six months to finish a bridal saree and I need at least a month to do a basic batik saree." Future plans include expanding her workshop and creating batik designs for a wider market. She has also begun developing batik maxis but currently makes them only on request.