Beseiged Libyan leader Col. Muammar Gaddafi is now a controversial figure, but in 1976 when he visited Sri Lanka for the Non-Aligned Movement conference, he was a celebrity, one of the most prominent of the many heads of state attending the summit. It was the only time he visited Sri Lanka.
The fifth conference of the Non-Aligned Movement in Colombo, Sri Lanka, was a meeting of 85 nations, representing about two billion people. World renowned figures like Indian Premier Indira Gandhi, Yugoslavian President Josip Broz Tito, Egyptian President Anwar Sadat, Archbishop Makarios of Cyprus, Syrian President Hafez al-Assad, Philippine President Ferdinand Marcos and Jamaican Prime Minister Michael Manley were only a few among the many famous names who visited Sri Lanka for this important event.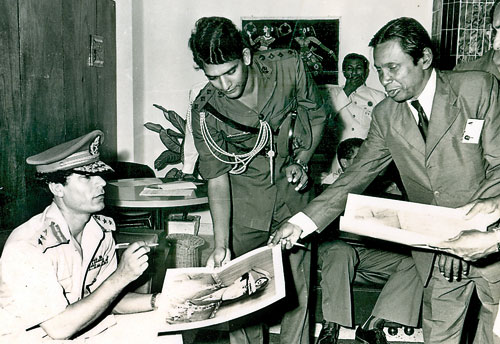 Autograph time: Colonel Gaddafi signed hundreds of photographs for people who came to see him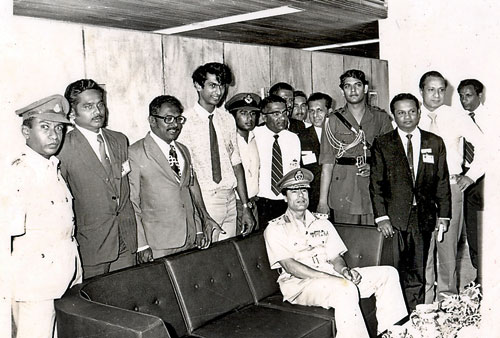 Always obliging: Col. Gaddafi posing for group pictures
As a young Captain assigned as liaison officer to Muammar Gaddafi during his stay in Sri Lanka, Asoka Amunugama vividly remembers his experiences with the Libyan leader.
"Colonel J.E.D. Perera was the Director of Plans at Army Headquarters at that time and he was the principal liaison officer for this conference. Three forces applied to forward their officers as liaison officers for these world leaders and Major R. Wanigasundera and I were selected for Libya. Prior to the conference, we were given various training in order to be prepared for this challenging task," he says.
Looking back, he remembers an incident that made Gaddafi's arrival in Sri Lanka different to the other leaders. While waiting for instructions to pick up the Libyan leader he received a message that the Libyan delegates were arriving at the International Airport and rushed to pick them up.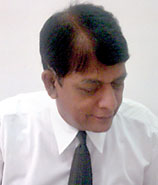 Today: Asoka Amunugama at work in his office
"When I arrived there, there was no Gaddafi, instead, 87 of his security personnel had arrived without any visas. As they had already got down from the plane and were waiting at the VIP lounge, there was a huge commotion about these unauthorized arrivals. I informed the senior Police officer who was in charge at the Airport and SSP Ana Seneviratne and I then informed the Army Commander.
Everyone was upset and soon Prime Minister Sirimavo Bandaranaike was contacted via telephone. She replied with a simple 'send them back', and the commander turned around and said the same." As he remembers it, within several hours the Libyan security personnel were sent back by the next available plane to Karachchi.
"This was the day before the opening of the conference so my liaison officer told me to accompany the Libyan Foreign Minister instead, as Gaddafi had not arrived. It was a great day in my life, as I was fortunate enough to witness the opening ceremony of the NAM conference and all the world leaders there. There was an instance when we were all standing on the steps of the BMICH waiting for our vehicles to arrive according to the alphabetical order of the countries. I was standing there with the Libyan Foreign Minister and all other leaders and their liaison officers for sometime on the steps… I will never forget that moment," he says.
By this time Colonel Gaddafi was on his way to Sri Lanka and when Captain Amunugama and the Libyan Foreign Minister went back to the Oberoi Hotel, they found Gaddafi surrounded by his security staff and other visitors sitting in the hotel's lounge.
'I was soon introduced to Gaddafi by the Foreign Minister Dr. Atega. There were so many people there waiting to talk to him or least to get a good look at him, but Major Wanigasundera and I were the ones who were to be so closely with him for the next three days."
Later, he accompanied Gaddafi to the afternoon session of the conference and remembers that the Libyan leader tried his best to avoid Egyptian President Anwar Sadat. "He always checked his schedule to avoid bumping into him as they both were staying at the same hotel. We did not have that many five star hotels at that time and all the leaders were at Intercontinental or the Oberoi. He kept on asking us about the schedules.. and that was something I especially remember. During our times together, he talked with us in a very friendly manner but he mostly preferred to use his own language but understood us very well when we spoke to him in English."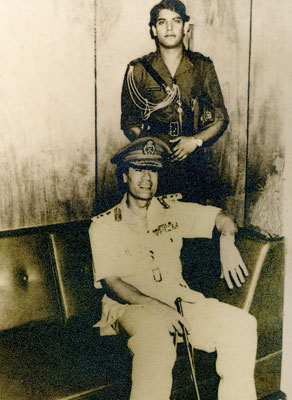 Captain Amunugama with Colonel Gaddafi at the hotel lounge before his departure
Recalling his impressions of Gaddafi he says, "He was very handsome at that time. He had a nice complexion and when he arrived in Sri Lanka he was clearly the main sensation of the event. Many ladies came to get a glimpse of him, and he also behaved like a movie star. He had brought many glossy large photographs of himself and wherever he went, he signed them for the people who came to see him.
"For his age he was a powerful person. With that came a massive ego and he was very tough on his assistants, but he was indeed charming and nice to us. A lot of publicity was given to him at that time, he was almost the most popular of the VIPs… I don't know how he is in real life, but that was how we saw him, he was nice and decent to us."
During his stay in Sri Lanka, Gaddafi went to a mosque and addressed the Muslim community in Colombo and wherever he went many people gathered to see him.
"Just before he left, he gifted me a stack of books about Libya and a digital wristwatch. Digital watches were new gadgets to the world at that time, so I was thrilled. I sat next to him in the back seat of the car talking with him all the way to the Airport. But something else I never forget was that he took some photographs with me at the hotel lounge before leaving and later on, he was kind enough to send me some copies of those pictures through the Libyan Embassy. I still have them…. I think it was very nice of him to remember a young officer like me to send me those pictures…"
Born in Kandy, Asoka Amunugama was a military officer all his life until his retirement in 2006 as a Major General. He is now private secretary to his elder brother Dr. Sarath Amunugama, Senior Minister of International Monetary Affairs.