I was saddened to hear of the premature passing of Romesh Jayasinghe. This is a true loss to the Sri Lankan foreign service and great loss to those who knew him.
I met Romesh for the first time when he was stationed in Brussels as Sri Lanka's ambassador, about 10 years ago. I was immediately struck by his devotion to representing his motherland honourably, his knowledge of history and politics, and his graciousness and humbleness. We got close over the past decade, meeting in Colombo off and on, and exchanging periodic emails and phone calls.
He was an optimistic individual who thought the best of everyone and never dwelled on failures and weaknesses of others. He had integrity like no other public servant I had met. He worked hard defending Sri Lanka's image during some of the trying times the country has had in the recent past.
My family was fortunate to have Romesh, Shalini and Sumudhu visit us last summer in the US. Sumudhu had received admission to one of the premier colleges in the US and Romesh was proud to come and get her settled in her new digs. He was also sad to let go of his daughter to enter college and have her move on in life as an adult. But, he knew she was on the right track and would make him proud. The time we spent during their visit was special to my family. We spent a lot of time sightseeing, having long chats in the evenings and cooking dinner together. I was looking forward to many more visits from him when he came to see Sumudhu, but that was not meant to be.
I met Romesh for the last time this past December during Christmas. I never thought that would be our last meeting. Even though he wasn't much of a connoisseur of heavy drinks, someone had given him a bottle of expensive Scotch Whiskey. He had saved it until I visited and insisted on opening it that day. I asked him to save it for a special occasion, and his response was, that was a special occasion.
The discovery and the rapid progression of Romesh's terminal illness was a shock to all his friends and I'm sure to most people who knew him. He handled the pain and suffering with dignity, and at the end passed away with grace and no complaints. He appreciated the support he got from his loving family, sister and other loved ones.
I'm sure he must have had some regrets leaving Suhith and Sumudhu too early in their young lives, and not being able to be spend his future retirement with Shalini, in Sri Lanka after being away from home for so long. In his passing, Sri Lanka has lost a dutiful son and we his friends a loyal friend. May he rest in peace.
Dr. Niranjan Nugara
He gave hope to many with his magical touch and caring ways
Prof. James Randunna Corea
"A band of angels coming after me. Coming for to carry me home."
A band of angels came down from heaven on April 15, 2008 and carried him home when so many were hopefully and anxiously awaiting his next visit. He was a surgeon with a magical touch, a golden heart and warm smile. His incredible touch and caring ways gave hope to the hopeless and brought them out of difficult situations to live normal lives again. He had the ability to straighten up curves in the lives of many people. He was able to make people stand and walk.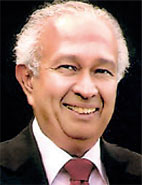 I first met Professor Randunna Corea on January 26, 2004 as a teenager suffering from Thoraco Lumbar Scoliosis. After wearing a heavy, restrictive leather brace and going through painful sessions of physiotherapy which proved no positive results, I walked into the consultation room to meet this skilled orthopaedic surgeon. From that very first day I consulted Professor Randunna, I had so much confidence in him. I was easily convinced to undergo the painful surgery when he said, "This can be easily corrected, only thing is you will be stuck in hospital for 10 days."
There were times when I was discouraged to undergo surgery and my mind was confused. At such moments I sought only his advice because I had so much faith in him and firmly believed that he would help me. On June 21, 2004, a 10-hour surgery was performed to straighten my "C" spine.
When I was in pain and awaiting his visit to the Intensive Care Unit he appeared with a broad smile and said that the surgery was a success and that as a result I was 1.5 inches taller, "just like magic".
I forgot about the fact that I was waiting to complain about the pain. Each time he visited me he used his unique painkillers—a smile, kind words and jokes. He made me realize how a smile and kind words could ease one's pain and make one feel better.
At his funeral I got to know that his childhood dream was to become a doctor. He selected Orthopaedics as his specialty apparently on being impressed by the skills of an orthopaedic surgeon who had treated him for a fracture in the hand.
When I heard about his sudden demise I couldn't believe it. Even after three years it still seems hard to come to terms. Words cannot convey the admiration and gratitude I have for you, Professor Randunna. You straightened up the curve in my life and there is not a single day that I don't think about you. Each time I stand in front of the mirror I thank God for the magical touch He gifted you with.
Devika Priyadharshini Fernando
Memories of you bring a smile amidst our tears
Fazreen Zamani
It's been 10 years of sorrow and remembrance. Ten years ago on August 19, 2001, the cruel waves of the Kirinda seas swallowed up our little angel Fazreen at a young age of 14. The trauma and sorrow we as parents and her elder sister Fazeela underwent is unimaginable.
Fazreen was everything to us, a bundle of joy, happiness, a luminous light where ever she went. As much as she had beauty, her heart was full of charity and love to all her friends in need. The examples are too many to state.
She was our second daughter blessed after a lapse of 10 years. It was after much prayer that she came into our lives and she brought joy to us all. As the saying goes, we are only lent to this world by our Creator and we have to go when the call comes.
For our darling little Fazreen, the call came very early in life and at a time she was blossoming into a pretty and playful teenager. We had lots of plans for her future, but her fate took a different course, a flight to our Creator's domain. We know she entered a better place, from the time she breathed her last; we are consoled by the saying" the good die young".
Her grandmothers and her aunts and uncles still speak of the lovely things she said and did to bring a smile to our faces. Her pictures we treasure.
We will always love you darling Fazreen, and we remember you at all our family gatherings, though the memories bring tears to our eyes. We are certain you have attained Jainathul Firdhous by the grace of Almighty Allah.
Lilanganie and Fazal
Those river baths, buggy and boat rides
Ian Dias Abeysinghe
In one's lifetime so much water flows under the bridge, taking with it memories we sometimes remember for as long as we live, and often regrettably forget. Today is Ian's birthday. The fourth in a family of five children, he lived the promised "three score years and 10".
As young children 4 and 5 years, Ian and I lived apart -- he in Colombo with Aunty and Uncle and I with Mummy and Daddy enjoying the freedom of our ancestral Walauwa in Kotugoda. My heart didn't like Ian coming to invade my world. The cows were mine, the goats, the dogs, the fat pig, the fowls and even the bees in their hives. I made sure Ian knew they belonged exclusively to me.
Then there was the beautiful bathing well that we were forbidden to go anywhere near because Daddy had made a small one for me to play in. I recall luring Ian there telling him there were fish in my well and when he squatted to see for himself I pushed him in. You bet I got what I deserved for it.
Then there was the time we were playing on our tennis court and we had a competition to see who could throw a stone higher and my stone decided to land on his head and he bled profusely. Our parents decided I was to blame. The cattle tied to the coconut trees were a real temptation and when they were released I made sure Ian was to blame; but the adults knew better.
We came to live in Colombo after the World War was over and attended Ladies' College. Daisy Akki, Ian and I travelled to school in a beautiful buggy drawn by a handsome red bull. This bull would decide to ease himself just as we stopped under the college porch to alight. Daisy Akki left school and Ian and I had the joy of the buggy ride. We had a Fiat and a Rover at home, I can't fathom why we had to go in a buggy! Mummy gave each of us roast beef sandwiches for lunch. I had a bright idea to get rid of my leftovers. We put the seat cushions on the floor boards and had a picnic (or some such thing) and I made Ian eat all the leftovers.
Once his books 'accidentally' fell out of the back of the buggy and Benjamin, warning us not to touch the reins, tied it to the lamp and got down to collect the books. We untied the reins and just as Benjamin did, we touched the bull's rear end. He was a young bull and he ran all the way home with Benjamin running behind us making a fool of himself shouting and telling us how we should rein the bull in, as if we didn't know. The thrill was worth the consequences.
As we grew older we spent holidays in Kotugoda or in Madampe at our grandmother's or at Daisy Akki's up in Peradeniya. Ian loved exploring wherever we went. In Kotugoda he found a river where people were bathing and secretly took me there. After a fun filled, cool time in the water we used to come back as though nothing exciting had happened.
In Madampe, the sand is pure white and the shallow stream that ran through our land was the colour of strong clear tea. This is why it is called the, "Kalu Diya Ala". We spent a lot of time fishing there for tiny fish. There was one kind called "Thiththaya" with shiny gold sides and the one with a white spot on his head was called a "Handaya".
The one we were afraid of was called a "Hoonga" because of its painful sting. This fellow had whiskers like the catfish. We found a huge scorpion to keep us amused and hid it in an Ovaltine tin to keep it till we came back for the next holidays and it was still alive. Ian put it in formalin finally. We found many star tortoises that we used to bring back with us to Colombo. There was a plant they called a "Kahambiliya" that granny's Ayah used to keep us in check with. It had a fuzzy leaf and was worse than a caterpillar rubbing off on us. Ian used it to threaten and control me. The tables had turned, Ian was now the boss.
He discovered a river faraway from the estate at Madampe where he found a boat tethered to a tree. He took me there and telling me not to be afraid, he put me in the boat and we rowed a little away from the bank when he accidentally dropped the oar and I must confess I was afraid. He retrieved it somehow and we came ashore and our grandmother was none the wiser.
Up in Peradeniya we were joined by Marie, the daughter of Prof. McGauhey and the three of us used to go exploring together. One day we found this waterfall and a beautiful pool where we went daily for fun. It was so faraway from Daisy Akki's and it was our special secret. By the time we came back our clothes were dry.
Effervescent Ian used to be the life of a party with his ability to remember jokes, sometimes multi-coloured; but always making people roar with laughter. Circumstances made us go our separate ways but memories stayed and became precious all the more because they could not ever be repeated. I treasured Sunday evenings where he and his son Arjuna used to be very regular members of the congregation at the People's Church Assembly Of God and I used to meet them sometimes only for a brief chat or only a kiss and "God bless you."
Ian had touched the heart and lives of many people and I was amazed at the number of sympathy cards and letters I received from such people who wanted to talk about him. Someone even wrote about his hobby of keeping snakes in fish tanks in his office at Browns. The attention he had paid to customers coming to purchase batteries, making them feel they were special was something they talked about. One man told me that Ian had lifted him up to where he now is, and told him one should not be content to be poor. That was Ian!
"What you leave behind is not what is engraved in stone monuments; but what is woven into the lives of others."
Manel Bibile
Disciplined, generous Army officer was loved and respected by all
Major-General Patrick Fernando
My beloved brother, Major General Patrick Fernando, the eldest in the family, passed away a year ago, on August 21, 2010. His funeral was meticulously arranged by the Sri Lanka Army, with full military honours, and his remains were cremated at the Borella Cemetery, Kanatte, on August 23, 2010, in the presence of a large and distinguished gathering.
My brother dedicated a major part of his 66 years to the Gemunu Watch and the Sri Lanka Army. He served his country with dedication and character. It was officers like Patrick who made the Army strong. He shared his wealth of knowledge with the younger officers, who later went on to achieve great things for the country. He always listened to his seniors, and followed their advice and guidance. After holding many key positions, and serving with dedication, Patrick retired from the Sri Lanka Army as the Army's Chief of Staff.
Throughout his illustrious career, Patrick commanded the respect of all who came in touch with him. Simplicity was his great quality, something he kept to the very end. He was a disciplined officer, and this inspired others. He was disciplined in every aspect of his life. This made him unique.
I know he never harboured grudges. I know there were many situations in his professional life where he felt unhappy. His training, coupled with his own way of dealing with difficult situations, made him a remarkable individual.
It is a year since he passed away, but I still feel his presence around us. But the truth is he is no more.
I know that Indra Akka, the children, the in-laws, the grandchildren, our family members, his colleagues and all who loved him, keenly feel his loss.
May he attain the Supreme Bliss of Nibbana.
Parakrama Fernando (Malli)