Amidst a revolution in Libya, a key Lanka-Libya joint venture, which contributed towards the development of the livestock industry in the country for more than 25 years, has served termination notices on its employees while a liquidation process is pending.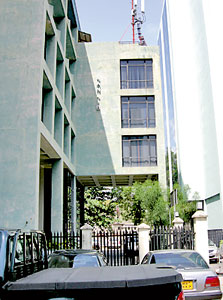 The LAN-LIB company at Navam Mawatha
The Sri Lanka-Libya Agricultural and Livestock Development Company (LAN-LIB) coming under the purview of the Ministry of Livestock and Rural Community Development has served termination notices on its employees from August 31.
But, the Labour Commissioner has held that any termination of employees would be illegal, until the liquidation process of the organisation is completed.
Employees have been told that losses and the current crisis in Libya have forced the company to take the decision to close down.
Livestock Ministry Secretary A.H. Gamage said the government was finding it difficult to work with the Libyan partners and the government was considering the takeover of 49 per cent of shares held by Libya to take full control of the company.
However, the Sunday Times learns that Livestock Minister Arumugam Thondaman has told the employees that they will have to quit their jobs by the end of this month. LAN-LIB Managing Director Ahmed El Masallati declined to comment on the liquidation.