A speed fiend without a licence mowed through a wayside sherbet kiosk, killing its owner on the spot, and then tried to substitute a licence holder as the man at the wheel at the time. Both the unlicensed driver and his accomplice are now in remand custody. Police declined to reveal their names since an identification parade was due to be held next week.
Nirupa: The victim

Lakshan Padmasiri: Nirupa's husband
sees bleak future

Janaka Priyantha: Eye witness who gave chase to the driver
The businessman who fled the scene later attempted to introduce one of his friends as the driver, but failed, as a thambili vendor had witnessed the accident.
The accident brought to an end to the hopes of Subasinha Arachchige Nirupa, 26, a mother of three, whose main aim was to earn an extra income to build a house of thier own.
She had her saruvath table by the roadside on the Pitakotte-Talawatugoda main road, near the new highway being constructed parallel to the Japan-Sri Lanka Friendship Road. The wayside stall was close to the roundabout outside parliamnet. Nirupa's sister who was assisting her was also injured in the accident.
Janaka Priyantha, 40, the thambili vendor told the Sunday Times that he noticed a blue car coming at high speed on the Talawathugoda-Kotte road around 1.30 p.m. on Sunday. "Suddenly I saw the car veering towards the right side of the road. Within seconds, I saw it crashing into Nirupa's stall and running over her", he said.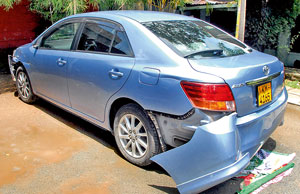 The businessman's car at the Talangama Police station. Pix by Sanka Vidanagama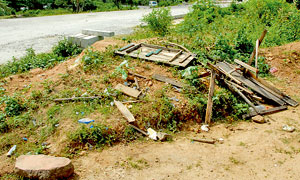 Scene of the tragedy: All that was left of the saruwath table
"The car came to a halt when it hit a sand bund. Next I saw the driver getting out of realized it involved a death, he denied driving the vehicle," the OIC said. Both the businessman and his friend have been remanded until August 30, pending an identification parade.
Back at Nirupa's residence in Pannipitiya, her husband Lakshan Padmasiri, 27, a labourer and their three children were mourning the death. "We were living in Horowupotana near Anuradhapura, and came to Pannipitiya as our house was affected by floods. My wife was eager to build a house of our own, and worked hard to collect the money," her husband said.
"My wife and her sister were selling saruwath on the roadside, to earn an additional income," he said.
Their 14-year-old eldest daughter, Saahira Sajani, and eight-year-old Shehani Thakshila will miss the help of their mother, as she was always keen that they attended school.
"Bringing up the one-and-half-year-old kid will also be a problem, as I will find it difficult to go to work," Padmasiri said.
"My wife took care of their schooling as well, as my income was not regular," he lamented.Padmasiri's family expects that justice will be done.