Though development work in urban areas appears to have been fast tracked in the recent months, in some rural areas the reverse seems to be the case as witnessed in the village of Munamalgaswewa –a village some 10 km in extent- in the Puttalam district.
Year after year the area has been affected by drought. Presently the drought affecting the area is in its second month, with all sources of water having dried up.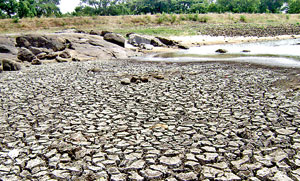 Water in the drying tank has to be shared with cattle and other denizens of the wild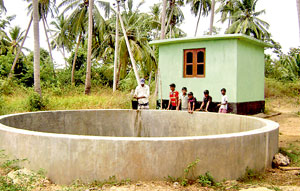 The only visible result of the drinking water scheme is a pump house, pipelines but no water
Two-hundred-and-twelve families –a population of 800 persons- are badly affected as the village tank which caters to their needs for bathing and potable water has run dry –a situation which occurs annually.
A majority of the families -chena cultivators by occupation- have been left destitute as their crops have been ruined by the drought. Dairy farming which has been a perennial activity in the area is not practised any longer.
The elderly are particularly affected by this situation as the nearest bathing places are distant and they are unable to walk the distance.
This situation is expected to continue for another two months and the little ponds of water remaining in the drying tank is unsuitable even to perform ablutions as they had to be shared with cattle and other denizens of the wild.
Ms. Ranmenika a resident said, water from wells dug in the tank-bed were unsuitable for drinking. She added drinking water from these wells caused stomach ailments.
A drinking water scheme was commissioned two years ago under the Gama Neguma programme and an initial sum of Rs. 300,000 was allocated, subsequently another Rs. 300,000 was granted for completion of the project.
Sadly the only visible result is a pump house, some machinery and a number of pipelines! but no water
P. Sisirakumara, chairman of the project said work on the project came to a halt a year after work commencement as the electricity connection had not been installed. He added a further Rs. 25,000 was needed to prepare an estimate for an electricity connection.
Schools in the area too faced a problem due to this lack of water. Ms. R Sewwandhi a grade 13 student of the village junior school said the school she attended had a student population of 150 and a staff of 12. She said the lack of water was a major problem.
As a result of the water shortage, non-resident teachers who settled in the area have now put in applications for transfer.