Expiry dates on food items are no guarantee of freshness, it would seem. A family in Thalawathugoda made this dismaying discovery when a bottle of "fresh" milk bought from the neighbourhood supermarket turned out to be anything but fresh. The milk, bought for a pregnant family member, turned out to be wholly undrinkable.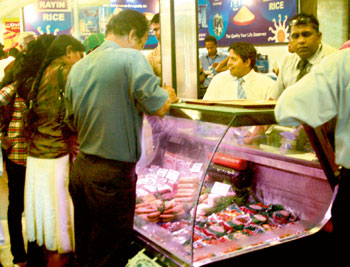 Dairy products, fish and meats should be stored and displayed in well-cooled conditions 24 hours a day. Photos: J. Weerasekara
Even more dismaying, however, was the response when the family attempted to make a complaint and bring the matter to the attention of the relevant parties. Thalawathugoda resident Princeton Ananthanayagam described to the Sunday Times what happened regarding the bottle of stale milk.
"On August 6, my mother-in-law purchased several grocery items, including the bottle of milk," Mr. Ananthanayagam said. "The milk was for my sister-in-law, who is expecting a baby. She is a foreign national. We have been ensuring that she gets a regular supply of fresh milk.
"To our disgust, when we opened the bottle of milk, a bad smell filled the kitchen. The contents of the bottle were discoloured," he said. "We checked the label on the plastic bottle. It was not past the expiry date."
Mr. Ananthanayagam promptly went to the supermarket to make a complaint, and to ask for another bottle of milk in exchange. He was told the item could not be exchanged. As it was a Saturday, with most offices closed, Mr. Ananthanayagam decided to call the milk manufacturer's hotline. A voice spoke from an answering machine.
Mr. Ananthanayagam then called the Consumer Affairs Authority. He was told the authority did not work on weekends, and that it accepted only written complaints. He then wrote out a complaint and delivered it to the Consumer Affairs Authority, upon which the authority informed Mr. Ananthanayagam that they "did not have powers to take action against the company."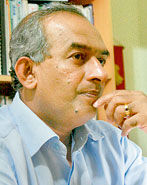 C.N.Dalugoda
Mr. Ananthanayagam told the Sunday Times that consumers should be able to make complaints about substandard consumer items any day of the week, weekends included. The Food Act of 1980 empowers Food and Drug Inspectors, Medical Officer of Health (MOH), and Public Health Inspectors (PHI) to inspect, raid, seize and take legal action where there is a suspected infringement of food regulations.
According to a Ministry of Health official, these inspectors and officers look into complaints only on working days
"The Ministry of Health does not have a 24-hour hotline service," said K. Alwis, Chief Food Inspector, Food Control Unit, Ministry of Health. "Also, there is no food inspection unit as such that operates every day of the year. These health and food inspectors are government employees attached to local councils."
When the Consumer Affairs Authority was asked to comment on the matter of the stale milk sold to Princeton Ananthanayagam's family, and the relevant authorities' failure to act on complaints made by the Ananthanayagam family, the Sunday Times was told that the authority took action only in cases of "expired food items."
He said inspection and action relating to cases of spoilt goods or poor storage facilities was not part of the Authority's functions. "Between January and July, the Consumer Affairs Authority conducted more than 25,000 raids and found expired goods in up to 4,000 shops and supermarkets," Consumer Affairs Authority chairman Rumy Marzook told the Sunday Times. "Last week, following raids in Colombo city, we filed action against 20 supermarkets for selling expired goods."
The Colombo Municipal Council has instructed all leading manufacturers of dairy and frozen food products to ensure that retail shops and supermarkets selling their products keep these food items in appropriate storage, at the required temperature levels, and that the expiry dates on all food items be regularly checked.
"We receive very few complaints about spoilt goods, as consumers return spoilt goods directly to the outlets where the goods were bought, and are given replacements at no extra cost," said Colombo Municipal Council Chief Medical Officer, Dr. Pradeep Kariyawasam.
"Temperature can be a problem," he said. "Heat tends to build up in most of the cold rooms in retail shops and supermarkets. We have found oozing ice cream containers, micro-organisms in containers, and texture and quality changes in dairy products. To cut costs, a large number of grocery stores switch off their refrigerators and freezers."
Dr. Kariyawasam said the Municipal Council food inspection unit was considering ordering special thermometers for checking temperatures in display cabinets, freezers and refrigerators.
"Budget is a consideration," he said. "One thermometer costs Rs.500,000. Because of financial constraints, an order for these special thermometers has been held up. Meanwhile, the public should be extra autious when buying food items."
Colombo residents can call (011) 2676161 to make complaints to the Municipal Council's Food Unit on weekdays, Dr. Kariyawasam said. The International Organisation for Standardisation recommends that food items be displayed where the temperature is 20 degrees Celsius or below, and preferably with air-conditioning in place.
"In small stores food is often exposed, and heat leads to spoilage," said Chandana Dalugoda, president of the American Society of Heating, Refrigerating and Air Conditioning Engineers (ASHRAE), Sri Lanka Chapter.
Mr. Dalugoda said fish, milk, meat and poultry can spoil fast, and that shops and supermarkets should have a standby generator in case of power outages. He advised buying frozen food items from stores and supermarkets that had a high volume of daily consumers, and food items move fast.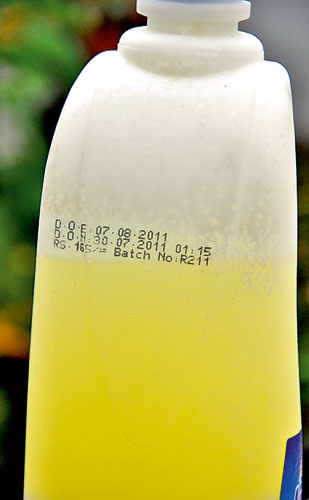 A bottle of milk with its expiry date lapsed but available at a supermarket in Talawatugoda