Copenhagen is systematic. I haven't furnished my flight. But The Avenue Hotel has done the home work. A gentleman escorts me to a Jaguar. Vast empty streets (the immense bareness overwhelms) lead to the hotel, which isn't quite central but is welcomingly warm (I learn my elegant "chauffeur" is the hotel owner). The homely feel flavours wonderful breakfasts with attention to quality, not quantity. Those homemade muesli, breads and smoothies get you out of bed.
For ultra luxury, it's inevitably D´Angleterre Hotel. This historic institution, imposing over the most central square, is apparently the sole 5 Star in all Scandinavia. Its wide, burgundy corridors once accommodated the billowing gowns of royal ladies. Now, the international elite obliges. Quaintly charming suites face magnificent historic monuments. Unrivalled location. A relief after a days hectic sightseeing to see the D´Angleterre looming.
D´Angleterre´s sister hotel, The Front, is a hipper, younger option nearby. The Nimb Hotel confounds. Appalling location by Tivoli amusement park. Who wants rooms overlooking local Disneyland?
Culinary Copenhagen is en vogue. Copenhagen probably has the largest number of Michelin-starred restaurants concentrated in a small area. On my first night Michelin-starred Era-Ora whips up a vegetarian feast at ridiculously short notice, interesting modern Italian cuisine. I'd flown in from Italy and yet they surprised me with unusual antipasti, an award-winning list of Italian wines and exquisite desserts. If locals find the restaurant somewhat stiff for an Italian eatery, the boss´s young son Michele´s wit enlivens. We're laughing at his jokes until 2.30 a.m.
Two-Michelin-starred Noma, now declared the world's best restaurant by San Pellegrino, is the most famous restaurant. I'm told a table is impossible: three- month waiting list. Yet, I venture forth. Chef Rene immediately "creates" an impromptu table. Rene's charm perhaps explains the media obsession with him although Denmark's most exciting chef set a gastronomic trend (copied and pasted in most other restaurants in town). Expect the unexpected. His beetroot with horseradish ice stuns and can one forget sea weed served with egg yolk? Nevertheless, I find the avant-garde cuisine fascinating not flavoursome.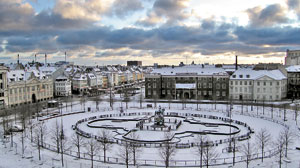 The view from the D'Angleterre Hotel suites and below, the sweet temptaions of the Royal cafe. Pic by Samir Mody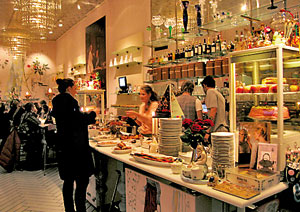 Michelin-starred MR hasn't received the attention Noma has despite equally fascinating food and marvellous interiors (hand-made flower lamps, velour walls, ornate mirrors and red roses in the rest rooms... yes!).
The 31-year-old chef Mads is as good-looking as his restaurant but he establishes culinary prowess with what is perhaps Copenhagen's most intriguing yet tasty Menu Dégustation, dramatically presented. Award-winning signature "Burning Fields" comes covered in a glass Fez hat-like contraption.
Unveiled are root vegetables that survive following the burning of fields and are served with various interesting accompaniments, including a burnt ash cream. Wonderful. Surprise sustains through seven courses matched impeccably with wines. The cheese trolley offers award-winning cheeses. Finish off with three desserts, comprising the famous Forest Dessert served on an elaborately chopped tree trunk. I'm stumped.
Michelin-starred Paustian is another Copenhagen culinary celebrity. Getting to this water´s edge restaurant daunts, but go for the swank setting, cool conversations with Damiano and Pedro and ethereal amuse-bouche accompanying champagne. The best breads include a strange but delicious burnt baton. Things get stranger still on the Chlorophyll Menu... Incredible almond ice pre-dessert whilst Paustian´s innovation of a traditional Danish dessert containing milk, bread, malt and all that sounds horrid but tastes super.
Be this too whacky then Kong Hans, Copenhagen´s first ever Michelin-starrer, still offers sensible food- at a price... Classic French cuisine here locals sometimes find "heavy and boring," but lady sommelier Tilde's fab French wines lure. Remember to dress for dinner here.
I'd avoid the other Michelin-starred restaurants. Copenhagen can be a small city of little chefs with big heads. Forget them and head to legendary 200-year-old Royal Copenhagen which produces the world´s most expensive porcelain dinner sets. Don't miss fairytale-like Royal Cafe next door. Ladies come for celebrated Danish open sandwiches, decadent hot chocolate and marzipan-glazed sponge layered cake oozing cream. Mmm... The lovely thing about Copenhagen is that the sweets are never too sweet. Keep eating! Royal Cafe is amongst my favourite places on earth.
Peter Beier beckons chocoholics. The chocolate fountain flows fatly. But intensely dark chocolate keeps you trim. Bojesen does sophisticated connoisseur's chocolate and great marzipan and nougat. He also kindly offers to write you an article about himself...
Go to Cafe Victor to see and be seen, not to eat. Paris Hilton didn´t quite make it because she demanded body guards everywhere, which this chic but casual cafe didn´t countenance...
Copenhagen's contemporary art and architecture is renowned, notably the new Opera House. Be this not your taste, try the National Museum, National Art Galleries and Rosenborg Castle with opulent rooms and astonishing crown jewels. Delicate works of art surpass anything in Versailles (or its remains). Could it be that the Danes had more taste than Marie Antoinette? No, I prefer brioche to Danish pastries... Unless from Lagkagehuset. Visit also Amelienborg, one of the Queen´s current residences. The church nearby is perhaps the only one worth visiting.
To visit or not to visit, that is the question... I refer to Kronborg, the UNESCO heritage site "Hamlet Castle." It´s an hour out of town but has a beautiful chapel with painted ceilings and some fine tapestries, although the Swedes seem to have looted the best art. Frederiksborg is well worth visiting- if you get there. Mistake it not for Frederiksberg, a military post... I thought the locals were being unfriendly when queries about the castle generated bewildered looks.
If you're lost, everyone speaks English. The problem is finding someone in the empty streets.
If you see two Danes together, it probably constitutes a party... Remember airport staff can be regimental. Late for my flight, I tried wriggling under a barrier to get to Check In (which, habitually late, I always do in all international airports), instead of meandering through a gratuitously long path. Airport staff promptly accosted me and made me trace the absurdly long route. Copenhagen is very organised.