For thousands of years Angampora fighters sacrificed their lives not only to protect the country from foreign invasions but also to protect this form of martial art. "Angampora was revered and considered divine," says Deshamanya Mahanthaarachchige Ajantha Perera, a descendant of the Korathota Aarachchi Angan family. He has studied all forms of the art from the time he was six years old.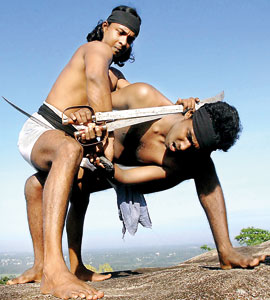 Pix by Sanka Vidanagama
Believed to have been handed down to the Sinhalese by the Yaksha tribe, Angampora has a history that dates back thousands of years. It was Angampora that gave the people of Lanka the strength to fight the Portuguese in the battle of Mulleriyawa in 1562 under King Seethawaka Rajasinghe, he says.
The Ran Kadu Pujawa, an annual event organised to celebrate this victory at Mulleriyawa, and to offer blessings to all soldiers, horses and elephants who sacrificed their lives during this battle will be held for the 449th time at the Ran Kadu Paththini Temple in Kaduwela on August 23 from 6 p.m. onwards.
A performance of the traditional martial art form of Angampora as well as the ancient weaponry used in battles will be on display.
Ajantha tells the story of how his forefathers fought alongside King Rajasinghe. In honour of their bravery, the king had handed over his sword and the land of Hewagama Koralaya to their family. The king's sword has been protected by Ajantha's family for centuries.
Speaking of the history of Angampora, Ajantha describes how the British rulers, in a desperate attempt to control the rioting people following the Uva-Wellassa uprising, issued a gazette in 1818 banning Angampora, and ordered all Angan Madu (places of training) to be burnt and anyone guilty of practising this art to be shot below the knee.
During this time, Angampora went underground and many masters incorporated Angampora moves into dance forms. For many years, Angampora remained hidden from the public eye and today, many Sri Lankans know very little about this traditional art form.
"We want to tell the people of this country and the world about the art of Angampora," says Ajantha adding that the event will be of value to those studying dance, history, culture and everyone interested in learning more about Angampora.