For 52 war heroes with permanent disabilities, the 'Abimansala Wellness Resort' is a haven of peace and security. Built in a scenic location beside the Nuwara Wewa in Anuradhapura, the resort is equipped with facilities to provide these severely injured soldiers with lifelong care. A staff of 11 officers and 195 other soldiers have been assigned to manage the resort and care for the residents.
Most of the injured war heroes are in the prime of their lives but with disabilities that make them dependent on others. The majority of them are wheelchair-bound or bed-ridden while others have impaired mobility, hearing, vision or speech defects. They need specialized nursing care and other assistance which may not be possible in their own homes, many hailing from rural areas.
Among the most severely disabled, Lance Corporal Jayathilake, is completely paralysed and bed-ridden. Unable to move his limbs or talk, all he can do is to open his eyes. His nurse says he smiles faintly sometimes. He is fed nasally with a special attendant by him at all times. Pradeep Kumara is paralysed below his waist with limited mobility of his hands.
He was injured in May 2009, the day before the war ended. Pradeep was the first patient to be admitted to Abimansala at the opening on July 26.
Sanjeeva, 33, from Monaragala has served in the army since he was 18 years old. He seems quite cheerful navigating himself around on his wheelchair, making friends with the squirrels and birds. Injured in a mortar attack at Kilali, he has one leg amputated and one hand twisted and misshapen. He has been fitted with a prostheses but he now needs a new one. "I am very happy here," he says, adding that the officers and care-givers are very good to them. "The environment around the wewa is very inspiring and I write songs," he smiles.
Another cheerful inmate is 23-year-old Lance Corporal Weerakoon from Teldeniya., who was blinded in February 2009. He has also had plastic surgery on his forehead. The youngest in a family of five married sisters, his mother died when he was 2 ½ years old. "Here I am looked after like at home," he says. He is proud of his ability to walk around with the use of the white cane. "I can play cricket with special plastic balls that gives a sound." L/C Weerakoon is eager to learn new things and improve himself. It would benefit him as well as the other four blind soldiers if they could have facilities for learning Braille.
"The Commander of the Army, Lt. Gen. Jagath Jayasooriya initiated the Brave Hearts Project to house and care for permanently disabled soldiers in a wellness resort that provides lifelong care," said the Commandant of Abimansala, Colonel Ajith Senadeera. "The supervision and fund collection for Abimansala, the first such resort, was handled by the Seva Vanitha Army Branch headed by Mrs. Manjulika Jayasooriya." The resort was built at a cost of over Rs. 200 million. According to statistics there are over 300 soldiers who are permanently disabled with multiple injuries. It is intended to establish more such wellness resorts at regional level as funds are generated.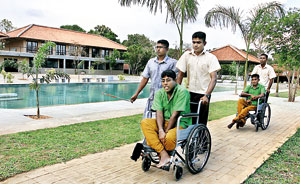 'Abimansala Wellness Resort': A haven of peace and security for war heroes
Spread over ten acres of land, Abimansala has single storey cottages with tiled roofs and a two-storey block for the wards and staff quarters. The complex includes an administrative centre, visitors' centre, and accommodation for the injured soldiers. Bed-ridden soldiers and those with severe injuries are housed in eight rooms, each with four beds and TV facilities.
Five two-bedroomed villas house four inmates each, with an attendant for each villa. In addition, there are five cottages, with two bedrooms, sitting and dining room and pantry for family visits. Families of the soldiers are encouraged to visit and spend time with them. "We have a family reunion programme and we also support and encourage family based rehabilitation," Col. Senadeera said.
When the Sunday Times visited, two families were there. Suranga, 30, was in his wheelchair hugging his five-year-old daughter, while his wife wheeled him around. Injured at Nagarkovil in 2007, Suranga has lost his left leg and has restricted mobility in his right leg and hands. Another family was having counselling together. At lunch time the families sat together in the restaurant. In the restaurant, the atmosphere was one of friendly camaraderie as the soldiers sat on their wheelchairs around tables, enjoying their meal.
The resort is well equipped with a health care centre, physiotherapy unit, counselling room, consultation rooms, lab, occupational therapy room, swimming pool, library with computer facilities, a multifunctional area and conference Hall, restaurant and kitchen. Treatment at Abimansala includes physiotherapy, psychotherapy, speech therapy, occupational therapy, hydro therapy, yoga and ayurvedic therapy.
A six-member team of experts from the Gampaha Wickramarachchi Ayurveda Institute who had come to Abimansala to see how they could help the soldiers through Ayurveda were speaking to them in the conference hall. "We plan to start a clinic here towards the end of the month," said Prof. Janitha Liyanage, Director of the Institute. "We will bring the expertise to deal with them and also to train some staff here. It is necessary to keep one Ayurveda practitioner resident at the resort while our experts will visit regularly as consultants."
They have many post-interns from the area, who could assist and he hopes long term to establish an Ayurveda Centre, including Panchakarma and Yoga to improve a lot of their conditions, he said.
Prof. K.D.N. Weerasinghe from the University of Ruhuna who is at the Wickramarachchi Institute during his sabbatical was planning to set up a herbal garden for Abimansala residents. "Agro therapy is very beneficial for mental tranquillity," Prof. Weerasinghe said. "It's good to touch the soil with your hands. We can use this area productively, with a home garden planted with fruit trees and vegetables. We plan to convert this garden into a Maha Mewuna Uyana style green garden with the wewa in the background, stone pillars for seats, giving them visual therapy and aromatherapy."
Col. Senadeera says most of the inmates are mentally alert and can be given some vocational training. A daily programme of treatment, relaxation and spiritual activities keeps them occupied. In the early morning and evening, the soldiers, in their wheelchairs or on crutches, wend their way to the lakeside to relax in the cool breeze from the lake. Whilst providing them with necessary care, the Brave Hearts concept aims to help these war heroes and motivate them to stand on their own, says Col. Senadeera. "Our endeavour is to make this a model, using available expertise and as far as possible rehabilitate them into their families and society."