The corrupt syndrome of stacking ill-gotten money in foreign banks is a common phenomenon in most Asian countries. The Gandhis and Bhuttos have stacked tons of money in other countries claims Kuldip Nayar. In Indonesia, a super-rich model is feasting on a new breed of millionaire and the biggest international banks are at the root of money laundering by using her to lure customers with black money.
Corruption and filthy lucre open the gate to heaven for those seeking political power with black money. There is no point in complaining about the rotten cement or water mixed with petrol or kerosene as this is part of the gambit. The protestors would be checkmated.
Thus, the demise of Shelton Ranaraja may see the end of an era of politicians who took pride in upholding their principles at the cost of displeasing the kings of the time. Mr. Ranaraja's refusal to follow the party line and vote for the removal of Sirimavo Bandaranaike's civic rights and thereafter his refusal to tender an application for nominations on the basis that the party should not degrade a sitting Member of Parliament by wanting him to apply for nominations, as he opined that the party ought to evaluate the performance of a sitting Member of Parliament without asking him to be present before a nomination board, will always be etched in our memories.
He was not nominated but he had no regrets as his conscience would not berate him for violating the principles enunciated by his soul. This reminds me of Forester Obeysekera, who refused to give a character certificate to his chauffeur's son on the principle that he knew the chauffeur and would gladly recommend him but had no association with the son and therefore could not truthfully put pen on paper as to the character of the son. But this attitude did not make him lose his seat in the Legislative Council or State Council and he was elevated to the role of the Speaker. The voters knew of his honesty and respected him.
Gamani Jayasuriya resigned from his position as a powerful Minister of the J.R. Jayewardene Cabinet on the principle that he did not support the Indo-Lanka Accord. He may have been the only person to do so and like many others, who followed, did not feign resignation with the hope of gaining a better position. Very few speak of his noble gesture and the principled stand he took.
We know of M. D. Banda of Mathurata and U. B. Wanninayaka, Minister of Finance and the much forgotten Denzil Fernando of Negombo, Minister of Industries who refused to recommend or give a certificate to his son when he presented himself at an interview for a post in his own Ministry. He refrained from sitting on the interview board nor did he mention that his son who was qualified for the post was an applicant. The son was not selected and never understood the nature of his father who came from the so-called old school where principles and honesty were more important than filial affection and devotion to his family.
I believe Shelton Ranaraja may have been the last of his generation of politicians who valued his principles. His driving force was his honesty. I had the good fortune of meeting the late Mr. Ranaraja in Rome when he visited his daughter Aruni, who was my Head of Chancery in Italy. When I mentioned that I was from Tangalle, I observed a glow in his eyes. He said the only other politician other than himself, who did not sell his car permit was Ranjith Attapattu, MP for Tangalle. He spoke of his friendship with the great P. Saravanamuttu and other Tamil leaders who studied with him at S. Thomas' College. He mentioned to me about the Sri Lankan community in Rome - he had observed they were hard working blue collar workers.
He advised his daughter and son-in-law that they were not professionals but mainly caregivers and chauffeurs and wanted us to look after their interests when they came to the Embassy and to be kind and nice to them. He was moved by their patriotism.
Mr. Ranaraja's commitment to democracy must be lauded as he voted against the Press Bill brought by Mrs. Bandaranaike and against the removal of her civic rights on spurious allegations. His commitment to justice and honesty made him an endangered species of honest politician.
Hemantha Warnakulasuriya
Humane and gentle he enjoyed his morning badminton
Deshamanya H.K Dharmadasa
With the demise of Deshamanya H.K. Dharmadasa, an illustrious and legendary businessman, who started life from humble beginnings, a chapter on Sri Lankan entrepreneurs closes. To me he was simply Nawaloka Uncle, for he was a close friend of my father and I was aware of his overwhelming generosity since I was a child. On my 12th b'day, his gift to me was an antique gold coin minted in 1864 and weighing two and a half sovereigns. This was long before he became a multi- billionaire. From the very beginning his generosity was overpowering - he gave just as much as he earned - a phenomenon rarely witnessed today.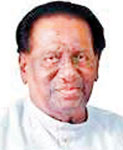 This is the quality in him which endeared him to millions of people, rich and poor. This is the side I was familiar with, the humane side. Soft spoken and gentle, he hardly looked the business tycoon that he was at the simple family get togethers we enjoyed so much. During the Rambuttan season the families would drive down to Malwana, sit on mats under the Rambuttan trees and enjoy the freshly plucked luscious fruits, as well as the boat rides along the Kelani river
For me, he was a humanist, a great giver, who has touched the hearts and minds of hundreds of thousands of Sri Lankans throughout the country.
Another aspect I would like to highlight is his passion for badminton. Not many would know that he was an ardent badminton player and that he excelled at it. Till he reached his late seventies he would start the day with a few games at the SSC with his core group of friends. They called themselves the "Good Morning Badminton Club" and were quite serious players.
They were a mixed group of all ages, some quite young comparatively. But Uncle would take them on with ease and beat them. This was not only to keep fit but also to let his hair down, as the saying goes. They would not only play, but crack jokes thus starting the day on a relaxed note.
The badminton players bade farewell to him with a floral tribute made in the shape of a badminton racquet - quite fitting as the game gave him so much joy and happiness.As long as he was actively engaged in his business empire, he donated wooden blocks to the Colombo Friend-in-Need Society, to be used to make the Jaipur foot limbs which are given free of charge to the disabled poor from all parts of the country. Thus Nawaloka Uncle made a direct contribution towards the welfare of the disabled throughout the country.
Likewise, many organizations, societies, schools, temples and individuals have been recipients of his generous and philanthropic heart in many different ways. Although he is gone he will continue to live in the hearts of all the beneficiaries of these societies and other institutions. His name will live forever.
Finally, as a Buddhist, all what he takes with him is the merit he gained from giving to the poor and needy, temples, schools, hospitals and families, not the multi billion rupee business empire that he built. I have no doubt that his children would endeavour to carry on in the footsteps of their illustrious father upholding his virtues and emulating them.
May the Devas sing thee to thy sleep and may you attain the Supreme Bliss of Nirvana!
Kalyani Ranasinghe, President, Jaipur Foot Programme, Colombo Friend-in-need Society
He started with a rupee and ended with an empire
Deshamanya H.K. Dharmadasa passed away at the ripe age of 92 and was cremated on Esala full moon day at the General Cemetery, Borella before a sea of clergy and white clad mourners. It was a fitting tribute to a legend in the business world. He started life with nothing – coming with only one rupee to Colombo and made that slippery climb with total commitment, ending up with a vast empire.
Dharmadasa Mudalali led by example.
Even when he was financially poor, he was rich in character and that combined with his professionalism was the cornerstone of his success. He started with a small hotel in Peliyagoda. The dusky Mudalali with only Grade 5 education with frugal means made a righteous living and never indulged in sinful business at the expense of the downtrodden within the precincts of Peliyagoda. Nor did he take kappan from traders, like most do in some quarters down by the Kelani riverside, but helped them to flourish and grow. He made a living with what he got and made a life with what he got. Service to humanity was his code word sans caste, race or religion.
He loved his country, race and religion, but never discriminated against anyone. Hailing from Ruhuna, he was never shy of talking of his humble beginnings. He believed in the saying - "Coming together is the beginning, keeping together is progress, working together is success". His life could have been compared to the proverbial log cabin to the White House story.
He followed the principles of the greatest religious missionary in modern times- the Anagarika Dharmapala in service to humanity, preserving religious and cultural values to the end. Ven. Bellanwila Wimalarathana Nayaka Thera, intellectual par excellence paid a glowing tribute to Deshamanya Dharmadasa. First he asked the huge gathering to switch off their mobiles. He said, Dharmadasa's contributions to humanity from whatever corner were immense. No appeal from a temple or place of worship had gone unheard. He did everything for nothing.
Prime Minister D.M. Jayaratne said he came to know Mr. Dharmadasa from 1956 and since then he has been a close friend. His humble beginnings were worthy of emulation. Nothing was impossible to him and he considered all his friends. He would never say 'no' to anyone in distress.
Today Nawaloka has gained international recognition said the Prime Minister. President Mahinda Rajapaksa cut short his tour abroad hearing of his death and made a beeline from the airport to pay his last respects to this hero from the South.
Mr. Dharmadasa has crossed the great divide but has left an indelible mark. He lived a life of honour.
Bernie Wijesekera
He always strove to do new and exciting things
Ray Wijewardene
At seven to nine years of age Ray was blonde with blue eyes, as his mother Corrine was a lovely English woman. Even then, he was full of imagination, telling us that their Airedale dog Trixie was a fox! We, that is my twin and I used to play at their house "Rayville" in Gregory's Road quite often.
Being the same age we were all in the same class at Ladies' College. Ever ready to talk, he would tap me on the shoulder with his ruler and we would talk when we should have been listening. As a punishment he was moved and put next to the quietest girl and that was my twin Seela! About 15 years later Ray married her.
Since Ray and I played the violin we were co-opted into the junior orchestra which was conducted by Oscar Wagn. Rupert, Oscar and Hugo were three Danish brothers who were then living in Ceylon, and teaching violin and piano to many. Rupert Wagn conducted the Senior Symphony Orchestra.
When he turned 12 or 13 Ray was mad about planes, building models and flying them with a one stroke machine on the race course in Colombo. Hours were spent finding it in the long grass. With like-minded friends he formed a Model Aeronautical Club which met during weekends. What fun we had.
Therefore it was only natural that he took to gliding when he was at Cambridge and also flying at the Marshall's Aerodrome. My sister and I went up in a plane that towed the glider and released it and Ray performed aerobatics for an event one morning.
Earlier, at S. Thomas' College Ray won the Breast Stroke prize while Tony Fairweather won the Back Stroke race. Rifle shooting was another accomplishment of his. Playing golf at N'Eliya in the pouring rain and losing golf balls, dancing at the Grand Hotel and roller skating in the big hall were other pastimes then. In Colombo I remember him sculling on the Beira Lake where he won a prize and much later sailing at Bolgoda, where I fell into the water during a race which made him really mad!
Riding in London's Rotten Row Hyde Park where we raced each other when we were only supposed to trot was fun, till an old gentleman came and warned us and we apologized dutifully.
Ray could also paint and did a good portrait of our mother, Marjorie de Mel. Of course his love of cameras and videoing his various projects kept him busy. His love of building ultra-light aircraft and flying them, crashing into paddy fields and landing on top of a roof while going for lunch are well known. He even converted his garage with aircon to assemble a helicopter. He had a crash in this too but survived with a fracture and it fell to his good wife to nurse him whenever these accidents took place. But that was Ray, never idle, always striving and attempting to do new things.
It is now one year since he passed away and we have all missed him but are very happy, grateful and thankful to have had him in our midst. We thank God for his life.
Rohini De Mel
The love we shared lives on
Victoreen M. Hassan
It will be three years on August 25 when God called Victoreen to rest. We married on October 8, 1968 at All Saints Church Borella and spent a happy and peaceful wedded life for almost 40 years, filled with fun, laughter and joy.
I still remember what Victoreen told me when we decided to get married. "Kamil marriages are made in heaven and if God wants our marriage to take place, no one can stop our marriage and that will be the day God will unite us and we will be one." With God's blessings we got married. Victoreen placed the gold on my finger and brought love like I've never known. She gave life to our children and when I needed hope and inspiration she was always strong.
We prayed together from the first day we got married until her untimely death on in 2008. It broke my heart to lose her. Victoreen was loving, caring and my only consolation and the greatest blessing in my life.
I remember the happy years we spent together and now memories are all I have left . No more will I see the love light in her eyes. Victoreen, you're gone so far away and I am all alone. My days and nights are lonely from the day God called you to rest.
The only consolation is that you are now in God's hands. Vicky, in life I loved you so dearly, in death I love you still. Through the years we were always there for each other. Hand in hand we faced each day with no tears, side by side we walked the roads together and each step we took drew us closer to each other.
Sadly missed by your loving husband
M. Kamil A. Hassan