When Tissa Ranasinghe held his first one-man exhibition of sculpture and drawings in Colombo in 1959, it cost him Rs. 50 to hire the auditorium. In the intervening 50 years, his legend has grown. He is now widely considered one of Sri Lanka's greatest living sculptors and like the auditorium at the Wendt, his statues continue to demand ever higher prices.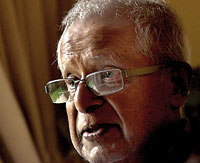 Tissa Ranasinghe
His last exhibition in Sri Lanka, coincidentally also held in the month of August, was the 2007 'Bronzes'. On display were pieces that embodied his preoccupation with androgyny, with myth, religion and folklore, and also with human experience as personified in his series of entangled couples. Now, four years hence, these themes continue to characterize his art. His latest exhibition will bring together a modest number of bronzes, just 14, and around 70 drawings and sketches, some of which are human forms.
Others he credits to the inspiration provided by a journey in Italy. For Tissa, drawing has always been the easier art – his bronzes, with the laborious and time-consuming casting process, have always proved the greater test of his artistic mettle.
As a sculptor, he has revisited the figures of the Garuda and the bull, of the Buddha and of the entwined couples with every showing, but each time the piece is subtly altered, reinvented as it were from a new perspective. In the current set, while some figures such as the half man, half bird Garuda itself are instantly recognizable others are drawn from the sculptor's personal mythology. Yet others present no recognizable form and are simply fluid and essentially mysterious. In keeping with his reputation, his style continues to merge key elements of the Sri Lankan sculptural tradition with a more contemporary Western aesthetic.
Born in the village of Yogiyana, Tissa studied painting in Colombo. The 1950s found him studying sculpture at the Chelsea School of Art. He would learn bronze casting at the Royal College of Art, London, and then return there to teach it to others. Several noteworthy modern sculptors, such as Sarath Chandrajeewa, who studied under him went on to set up their own foundries.
Tissa has seen his bronzes travel to exhibitions all over the world, including Tokyo, Sao Paolo, Montreal, Kathmandu, Edinburgh and London (with many showings at the reputed Royal Academy of Arts). He has been given a place of honour in a number of collections including London County Council and Museum of Modern Art, Malmo, Sweden. In Sri Lanka, he is also famous for having created statues of three Prime Ministers and the first Governor General. He has been showered with honours, among which was the first UNESCO Fellowship allocated to Sri Lanka under the Creative Artists Scheme. Tissa is now based in London, but visits home often.
Tissa Ranasinghe's Exhibition of bronze sculptures will be open to the public from August 26- 31 at the Lionel Wendt from 10 a.m. to 7 p.m. daily.
Those days of dark rooms
A veteran at black and white photography, L.H. Rohana Wijetunga discusses his abiding passion that has spanned over 40 years
By Shalomi Daniel
His sole motive in joining the Photographic Society of Ceylon was to learn to take good photographs of his family. However, photography captured his heart, recalls L.H. Rohana Wijetunga who is holding yet another exhibition in commemoration of the International Photography Day which fell on August 19. His exhibition of 30 portraits in black and white is on today at the Lionel Wendt.
Today, living in the age of digital cameras, one does not need to wait for the photographs to be developed nor use dark rooms as in the past. While modern methods may seem convenient, this veteran photographer remembers the days when it was a much more involved art, with nostalgia.
"Using various chemicals and seeing the photographs develop was all the more fun. All you had to do was go over to the nearest Cargills, where the necessary items could be purchased," he says.
"The photographic exhibitions held those days consisting of black and white photographs were of high quality!" he enthuses, recalling the days he served as a member and secretary of the Photographic Society of Ceylon.
"The society had three dark rooms and a studio with the necessary lighting equipment," says Mr. Wijetunga who has many fond memories of the society that was not only instrumental in nurturing his photographic skills, but also paved the way for him to meet many other ardent photographers.
"The society comprised just a few members who had a genuine passion for photography," he recalls.
After joining the society in 1962, Mr. Wijetunga who has exhibited at their exhibitions, almost without a break, won practically all the awards - the Bhatt Silver Award, the Durrant Award and the Lorenz Andree Award. On several occasions he was on the panel of judges for the annual exhibitions of the society.
Asked why he is drawn to black and white portrait photography, Mr. Wijetunga explains, "It brings out the character of the person, which cannot be accomplished with colour photography." He also added that the photographic techniques can be highlighted via black and white photography.
Despite his achievements, Mr. Wijetunga is humble and quick to praise his fellow photographers saying, "the photographers those days were true craftsmen!"
With a career in photography spanning over 40 years, he has exhibited in a number of countries such as Austria, France, Germany, Norway, Rumania, Czechoslovakia, Japan, Pakistan and Britain. He has also been the recipient of a silver plaque at the Berlin International Photo Exhibition and has won ACCU prizes at the photo contests conducted in Japan by the UNESCO on several occasions.
Mr. Wijetunga has also contributed to the French publication "Children of the World" sponsored by the Federation of Photographic Societies of France in association with F.I.A.P (International Federation of Photographic Art).
In 1996 Mr. Wijetunga was chosen to represent Sri Lanka at the International Jury for the selection of prizes for the competition held in Tokyo for the Asia Pacific Region countries. His extensive travelling for various exhibitions and awards, ensured that he made some fine friends here and abroad, he says. His passion for photography continues though he has also fallen in love with classical music.
Colourful portrayal of successful women
Book launch
'Pathways to the Peak: Remarkable Stories of Pioneering Sri Lankan Women', was launched recently at the Galle Face Hotel, Colombo. Written by Shalini Panditaratne, a former global investment banker, and her daughter, Dinusha Panditaratne, an adjunct professor of law in Hong Kong, this book offers the reader a glimpse into the lives of 14 extraordinary Sri Lankan women who have risen to the zenith of their careers.
Filled with pictures and the stories of their lives, it is an intimate and colourful portrayal of successful women in various fields including engineering, business, law and sports. Dinusha Panditaratne hopes that 'Pathways to the Peak' will preserve their legacy and inspire young girls to pursue their dreams.
Otara Gunewardene, founder and CEO of Odel, chief guest at the book launch described the book as a tribute to women who made the "first few cracks in the glass ceiling".
Shalini Panditaratne thanked Finlays Colombo PLC and the Standard Charted Bank, Sri Lanka, for coming forward to sponsor their endeavour. The authors hope to reach out to a wider audience by translating 'Pathways to the Peak' into Sinhala and Tamil in the near future.
'Priced at Rs. 1900, the book is available at Vijitha Yapa, Barefoot, Lake House and Odel bookshops. Purchases can also be made online at http://www.ph-books.com and www.vijithayapa.com. All proceeds from the sale of this book will be donated to two charities benefiting women- the CCC Foundation and the Sahanaya National Council for Mental Health.
Bring out that book inside you with Ashok Ferrey
Well-known writer Ashok Ferrey will be conducting an all-day Creative Writing Workshop on Sunday, September 4 at the Nelung Arts Centre, 81 Hyde Park Corner, Colombo 2.
"Here in Sri Lanka, everyone has a story to tell," says Ferrey. "The trick is to be able to drill into your subconscious to extract it; and when you do, to be able to present it refined and distilled so it'll set your readers on fire.
"It is surprising how few people read books for pleasure, in a country that is so highly literate," he continues. "Perhaps because of this our writing skills tend to be severely limited.
I'd like to be able to teach people a few tricks of the writer's trade, so that when they next have to write their business reports (or even that letter to the Bank Manager asking for an extension to the overdraft!) they can present their case succinctly and elegantly."
The workshop will be from 9 a.m. to 4.30 p.m. with a buffet lunch, and morning and afternoon tea. All enquiries to the Nelung Arts Centre (nelungarts@gmail.com 011-2691664 or www.ashokferrey.com)
Shani back to perform
Classical pianist Shani Diluka returns to Colombo for a concert on Friday August 26, at the Lionel Wendt Theatre, Colombo 7 with her husband, well known violinist Gabriel De Magadure performing as the Guest Artiste. The concert is presented by the Alliance Francaise De Colombo.
Shani needs little introduction to Sri Lankan music lovers. Born in Monaco, she is an outstanding product of the hallowed Conservatoire National Superieur de Musiqueet Danse de Paris (CNSMDP), the leading music academy in France. She has performed at prestigious International Music Festivals such as the Young Master Series at the Amsterdam Concertigebouw, Festival Chopin de Bagatelle, International Festival Davos and the Roque d' AntherronInternationl Piano Festival and won numerous prizes.
The proceeds of her concert will be in aid of the Cancer Society. Tickets and box plan are at the Lionel Wendt.
Lankan artist's work at South-Australian festival
By Varunika Ruwanpura
South Australia is known as the festival state with the slogan emblazoned on Adelaide city signage and local car licence plates. Every August, the state hosts the South Australian Living Artists Festival (SALA), a free celebration of visual arts showcased in 543 galleries, cafes, restaurants, wineries, retailers and many more unique and creative spaces statewide.
This year Sri Lankan –Australian artist, Helaka Ruwanpura's work has been chosen for exhibition at this event. His paintings, 'Serenity' and 'Enlightenment', are on display at the Norwood Town Hall, Adelaide as part of a group exhibit showcasing 15 local artists. The exhibition titled, Conception, shows the work of both emerging and established artists residing within the inner Adelaide city of Norwood Payneham and St Peters.
Both of Helaka's paintings focus on the calmness and tranquility of Lord Buddha and his teachings. " My art has always been inspired by symbolic elements present in Buddhism in Sri Lanka and I have aimed to recapture the mysticism of Buddhism in these two paintings," says Helaka.
His paintings have been previously displayed in group exhibitions held in Sri Lanka. He was a regular participant in exhibitions organized by the George Keyt Foundation from 2000 to 2004 including their annual International Artists' Camps and the popular Kala Pola street art exhibitions. In 2002, he won the third prize at the Young Contemporary Artists exhibition held at the National Art Gallery in Colombo.
SALA is widely recognized as the largest visual arts festival in Australia. The 2011 event encompasses the work of over 4000 artists at various venues and is Helaka's first exhibition down under.
This year SALA includes the work of several artists who have migrated from countries as diverse as Canada, Iran, Poland, India and of course Sri Lanka.Helaka Ruwanpura's paintings are on view at the Norwood Town Hall till September 30.