There was no ribbon-cutting at No. 6, Gregory's Road, Colombo 7, only the wielding of hammers, one with a red-head and the other with a black-head. The simple ceremony was on Friday, May 27, and before the hammers came down, wielded by Canadian High Commissioner Bruce Levy and the longest-serving local employee, Doreen Goonetilleke, came the assurances.
The façade will remain along with the front portion including the intricately-carved staircase of the beautiful colonial building and the more recent visa section will be demolished along with the rear of the building, the Sunday Times learns.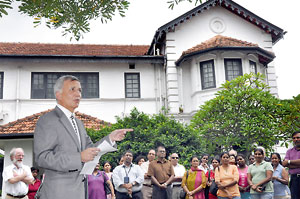 High Commissioner Levy addressing the gathering. Pix by Mangala Weerasekera
With a joke and a smile that "everyone has heard of groundbreaking ceremonies, today you are attending a wall-breaking ceremony - the ground-breaking will come a little later", High Commissioner Levy was addressing an important issue when he said the High Commission building is an important statement of Canada's commitment to Sri Lanka and "our bilateral relationship dating back to the early days of independence".
The concept design for the new building envisages a creative combination of the old and the new. The heritage aspects of the original Oliver Castle will be maintained and enhanced and very importantly, the facade of the old building will continue to be Canada's face in Colombo. But behind it will be a modern and pleasant three-storey addition where staff will be proud to work and to welcome clients and guests, he explained.
It was on March 7, last year that the Sunday Times highlighted the need to preserve heritage buildings, those more than 100 years old as of now, including No. 6 which is also known as Oliver Castle, with conservationists arguing that even though they may not be gazetted as protected monuments, they are deemed "potential monuments for protection".
With the High Commissioner acknowledging the support and consultation offered by eminent archaeologist Dr. Roland Silva who "helped us come up with a design that is respectful of Sri Lanka's history while meeting the demands of functionality," he disclosed that a competition will be held among architects worldwide to come up with a design which will keep the face of Oliver Castle while making it habitable for the employees of the High Commission.
The work to be carried out with a partnership between the architectural firm which wins the competition and Sri Lankan builders is expected to start next year.