What would you do if someone told you that lacquer was not a kind of liquid paint you get in tins but a coloured stone made of natural resin, that a sesatha in the ancient pattern can not only adorn your hall but also your throat, and that traditional Sri Lankan jewellery boxes can be got not only in the typical red-and-yellow on black but also in hot pink, dull gold and turquoise blue? Smile cynically in disbelief? Last week, the Folk-Art Centre in Battaramulla demonstrated not only that these are true, but that they can also be beautiful.
The National Crafts Council (NCC), in its commitment to keep traditional Sri Lankan arts and crafts alive has organized a series of workshops for traditional craftsmen from around the country. These workshops will be conducted over the next two months as seven-day residential programmes. The first of this series of workshops was held last week at the Folk-Art Centre in Battaramulla and saw about 20 participants, both men and women in their late teens to those in their late 50's. The vision behind the programme is to bring these workers of traditional arts of sesath making and lacquer work together to explore new possibilities in their trades with well-known arts personality and design guru Senaka de Silva.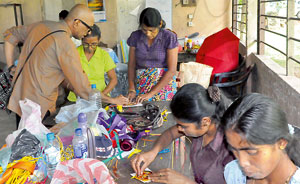 Showing the way: Senaka de Silva with the workshop participants. Pix by Managala Weeraskera
These two traditional arts are the main source of income and employment for the majority in many villages in Matale as well as Hambantota, and the participants at the workshop were from these areas.
Lacquer work, known as laaksha karmanthaya in Sinhala and sesath-making are both forms of decorative art practised in Sri Lanka for centuries. The trades being rajakari according to the ancient Sri Lankan feudal systems, a majority of their current practitioners are the descendants of those families first commissioned for royal duty during the time of the Kandyan kings, and have learnt the trade from their parents and grandparents.
D.B.G. Devendra, 57, one such descendant from Matale, says, "We have trouble finding the raw materials and have to get imported laaksha at exorbitant prices."
Sesath are made from boiled strips of thala leaves which are dyed using natural or artificial colouring. Chandrawathie, also from Matale, who has been making sesath for the past 40 years reveals that acquiring raw materials for her work is becoming a problem. "My husband passed away four years ago," she says, smiling quietly despite the fact that she is describing the hardships of her living, "and I have to depend on other villagers to find the materials for my work."
Even once these hardships have been overcome and beautiful works of art have been painstakingly produced, to make a living off laaksha art or sesath-making is becoming extremely difficult since the market seems to be disappearing.
It is precisely for this reason that the NCC, chaired by Buddhi Keerthisena, called in Senaka de Silva, who in the Chairman's words "has a fresh new vision", as consultant to the programme. What happens at the workshops at the Kala Kendraya is what Senaka calls a "facelift" or "revival" of the sesath making and lacquer working traditions. He holds the participants in awe as he bustles around forcing people out of their comfort zones and pushing them to be bold. "We're making sesath pendants," he explains excitedly as Hansamalini stretches towards us a mini-sesath which she has been sewing. The traditional nelum pattern and plaited border are obvious on the bright magentas, greens and yellows which have replaced the usual black and faded red.
The colours, patterns and materials commonly used are being challenged and worked on. Chandrawathie who is working on a pendant centred on a large and brightly coloured glass bead smiles as she adds , "We are using gold thread and beads in the work now." Even the lacquer worked jewellery boxes and vases are now pulsing with a new and vibrant energy. "He is showing us possibilities we would have never thought of," Devendra says as Sanjeewana lacquers a box with alternate lines in black, gold and hot pink. "What we traditionally use for colour are natural dyes and so the range is very limited – to black, yellow and red" explains Senaka, "but now we're using anything we can get our hands on that will work!"
NCC chairman Buddhi Keerthisena shows off a most gracefully hand-carved Hanuman and a papier-mâché pencil-holder on his desk That the participants have learnt much and are grateful for the exposure to new ideas is evident and undeniable. "We have learnt so many new things here," Chandrawathie says, echoing Devendra who asserts confidently that "I feel now that everything is not completely hopeless and that there is something more to what we are doing." What better results?