The bumpy red-earth road off Katana leads us through lush greenery to the old gate, and going down the circular drive we stop under the porch of an old house. It's a beauty, with ornate mal vaeda along the roof and lawns all round, bordered by narrow footpaths leading down the two-acre expanse of land behind and on the side of it. One is reminded upon stepping in to the large verandah, of long-awaited holiday trips to the ancestral home, where everything is quiet and suitably unexciting and retired. We have arrived at just that; Bharatha Wickramasinghe's ancestral house, now home to a special kind of family – that of the ex-servicemen of the Sri Lanka Armed Forces.
| | |
| --- | --- |
| | |
| Lt. Seneviratne | Clarence Brown |
The Sri Lanka Ex-Servicemen's Veterans Home at Bolagala, Katana, the brain-child of the Sri Lanka Ex-Servicemen's Association (SLESA), was opened in 1987 to provide hospitality to veterans of World War II and post-war veteran ex-servicemen.
Since then, various ex-servicemen's associations, the armed forces, the Ministry of Defence, ex-servicemen and numerous well-wishers have been the unfailing source of financial support which allows the facility to run smoothly.
Lt. Pemsiri Seneviratne, after a break of five years from the job has returned to the Home as manager, and employs a staff of four to provide timely meals and essential housekeeping, gardening and transport services to the residents. There are 20 ex-servicemen residing on the premises in either the dormitory (a building with ten housing cubicles with attached bathrooms), or the twin chalets (let at minimal cost to eligible applicants).
For Lt. Seneviratne, the most important thing is that it is not another one of the many elders' homes. "We don't force anyone into any routine and we don't have any rules or regulations as such," he says, "except that the meal-times are set." And this is exactly what the residents appreciate most about the place. Almost all those living at the Home comment that it is a relief to be able to spend their day in privacy or in company as they please, not being forced to conform to anyone else's schedule. "I do a little gardening and go for walks in the evening," smiles Lesley the newest resident, adding that his experience so far has been wonderful. Clarence Brown on the other hand, who has been at the residence for over four years, spends much of his time on the computer and listening to music.
"The thing about other places like this," Lt. Seneviratne says quietly, "is that they don't allow anyone to take any alcohol or anything, and continue their lives the way they were." He describes animatedly his 75th birthday bash held at the Veterans Home, graced to the residents' great pleasure, by a surprise visit from the current Commander of the Navy Vice Admiral Somathilake Dissanayake. There was apparently music organized by the residents themselves, hired dancers, good food and lots of fun to be had for all. "We are all used to this life," he grins mischievously, "to parties with drink and girls, you know? It was just like old times!"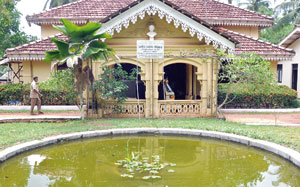 An old spacious ancestral home: Now home to one big happy family of ex- servicemen. Pix by Nisal Baduge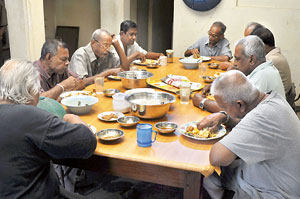 Meal time: Only part of the day that has a schedule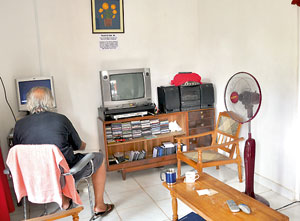 If it's privacy one wants, that's guaranteed too
Most of the members at the veterans' residence are those who have been used to a life away from home, spent with fellow servicemen. For many, the solitary life among other pensioners and war veterans is much more relaxing and pleasant than adjusting to a family life among relatives and children in a cellular home environment. "My home is like an apaaya because of my wife," declares one member vehemently, explaining that the arrangement he has with the veterans' residence is therefore perfect for him. There are yet those who leave their homes because they are unwilling to be a burden to their families. "My wife passed away about four years ago, and I don't want to burden my children," sighs one resident, adding with a smile that "this is a good substitute though, and I have everything I need and nothing to complain of." There are also those members who spend short periods of time alternating between the veterans' residence and their family homes.
The management is therefore required to cater to a variety of needs. Complete privacy is granted to those who would rather spend time alone, while popular recreational activities such as carrom, cards, watching TV, walks and gardening on the lush and peaceful grounds are available to all who would enjoy them. The management also takes full responsibility for the health needs of the members of the home. "Applicants are required to pass a basic mental and physical health examination before they are approved," explains Lt. Seneviratne, adding that then the Home takes on full responsibility for their physical and mental well-being.
SLESA is currently working on plans to improve the facility, expanding the capacity of the dormitory from 10 to 22 and building a parapet wall (which will be funded with the help of Navy Commander Vice Admiral Somathilake Dissanayake) which will keep the premises free of stray animals and other intruders. "There are currently 30,000 members in the SLESA, of which we can offer our services only to a very small percentage," says Quintus Andradi, member of SLESA, adding that "the forces have grown so much larger now, that we anticipate the number to grow to around 150,000 in the next few decades." The main concern of the SLESA in this light is how to provide such essential services to these most deserving servants of the public.
As we leave the premises after a wonderful afternoon, the feeling of having been to the old home comes back. One of the cooks runs forward quickly bearing a lunch-bag holding home-made sandwiches and cutlets, as Lt. Seneviratne smiles saying "something for the road." As we journey back to Colombo, Lesley who has joined us on the trip to visit his son who is scheduled to board a ship leaving the port that evening smiles, sighing "I wish I had come here earlier," and we know exactly what he means.