SSC right arm spinner Sachitra Senanayake bowled a nagging length as he tormented Chilaw Marians to put his side in the box seat at the end of the second day's play in their Premier Tier 'A' encounter played at the FTZ ground in Katunayake.
Sachitra's effort has put SSC in line for an early victory. His six wicket haul in the first innings saw Chilaw Marians being bundled out for a meager 67 and then again he grabbed three more wickets to send the Marians chasing a massive target of 453 runs, reeling to 44 for 3.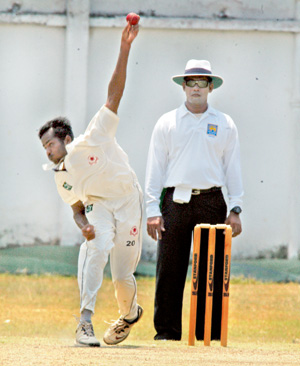 Dilesh Gunaratne of CCC who captured five wickets, bowls against Colts at the Colts Ground. – Pic by Ranjith Perera.
Bloomfield has already obtained a first innings lead over Lankan CC in their match at Reid Avenue. Bloomfield after making a formidable 388 restricted their opponents to 256. NCC too has taken a first innings lead over Saracens SC in the match at the NCC ground. NCC declaring on their overnight score of 346 for 9, bowled out Saracens SC for 287.
Exchanges were even in the match between CCC and Colts which began at the CCC ground yesterday. Left arm pacie Dilesh Gunaratne with a five wicket haul helped CCC bowl out Colts for 173. But Colts struck back to take six CCC wickets for 144.
At FTK Katunayake – Chilaw Marians vs SSC
SSC 304 (Dimuth Karunaratne 130, Kaushal Silva 52, Tharanga Paranavithana 45, Kaushal Lokuarachchi 25, Gayan Manishan 15: Geeth Kumara 3 for 26, Janaka Gunaratne 3 for 62, Malinda Pushpakumara 3 for 63) and 215 for 2 declared (Kaushal Silva 80, Dimuth Karunaratne 24, Tharanga Paranavithana 100 n.o.: Malinda Pushpakumara 2 for 55)
Chilaw Marians 67 (Amal Athulathmudali 21: Sachitra Senanayake 6 for 25, Chaminda Bandara 2 for 13) and 44 for 3 (Mahela Udawatte 19: Sachitra Senanayake 3 for 27)
At Reid Avenue – Bloomfield vs Lankan CC
Bloomfield 388 (Chinthaka Jayasinghe 70, Nadeera Nawela 58, Suraj Randiv 31, Dilshan Munaweera 29, Sanjaya Gangodawila 27, Shanuka Dissanayake 16, Prasanna Jayawardena 135 n.o.: Roshan Laksiri 4 for 83, Saliya Saman 3 for 82) and 83 for 1 (Dilshan Munaweera 56 n.o.)
Lankan CC (0/1 overnight) 256 (Damitha Hunukumbura 84, Saliya Saman 74, Harsha Vithana 36, Chanaka Wijesinghe 24: Tharanga Lakshitha 7 for 68, Suraj Randiv 3 for 75)
At NCC – NCC vs Saracens SC
NCC 346 for 9 declared (Yohan de Silva 71, Dinesh Chandimal 68, Farveez Maharoof 50, Jehan Mubarak 50, Angelo Perera 34, Shashrika Pussegolla 33: Eranga Gangoda 5 for 101, Romesh Kaluarachchi 3 for 88) and 10 for 1
Saracens SC 287 (Geeth Alwis 97, Samith Dushantha 80, Shihan Kamileen 37, Dasun Randika 35: Ramesh Subasinghe 4 for 23, Kosala Kulasekera 2 for 47)
At CCC – CCC vs Colts
Colts 173 (Malinda Warnapura 101, Kushal Janith 16: Dilesh Gunaratne 5 for 46, Malintha Gajanayake 3 for 27)
CCC 144 for 6 (Nisal Randika 53, Dhanushka Gunatileke 24, Sachith Pathirana 33 n.o.: Chaminda Vaas 3 for 28, Ishan Jayaratne 2 for 32)
Tier 'B'
Army coast to their fifth victory
Army coasted to their fifth successive outright win in the Premier Tier 'B' cricket tournament as they defeated Navy with a day to spare by 199 runs at Welisara yesterday.
Army were sitting pretty when play stopped for lunch yesterday after setting Navy a massive target of 413 runs with two sessions of play and a day left to be played. It was the pace and spin combination of Nuwan Liyanapathirana and skipper Seekuge Prasanna who both had a match bag of eight wickets that paved the way for their easy win.
The first day's play saw 25 wickets tumbling with Navy spinner Dulanjana Mendis taking 12 of those and later finished with a match bag of 14 wickets which in the end proved to be in vain.
In the match between Moors and BRC at Braybrooke Place the right arm pace and spin attack of Dilhara Lokuhettige and Tharanga Priydarshana gave Moors the edge when play ended on day two.
The duo wrecked the batting of BRC to bundle them out for 154 after Moors declared their innings after making a massive 447 for 9. Moors batting the second time made 135 for 6 before declaring and set BRC a mammoth target of 429 runs. BRC were 56 for no loss.
At Galle, Panadura who ended the openings day's play on 329 for 6 went on to post a formidable 411 for 9 declared in the pre-lunch session against Singha SC who were restricted to 199 for 8.
A ton by Dhammika Rajapakse was the highlight of the second day's play in the match between Air Force and Police at Rifle Green. Dhammika's ton helped Police, resuming from their overnight score of 178 for 4, to make 273 after bowling out Air Force for 104 on day one.
Antonian SC bowlers succeeded to restrict Seeduwa/Raddoluwa CC, resuming on their overnight score of 150 for 5, to 224 when play stopped play on day at the Thurstan ground in Reid Avenue.
At Welisara – Navy vs Army
Army 142 (Roshan Jayatissa 34, Chandima Prasad 32, Seekuge Prasanna 23: Dulanjana Mendis 8 for 45) and (217/5 overnight) 324 (Manjula de Zoysa 85, Chanaka Silva 59, Roshan Jayatissa 47, Asela Gunaratne 43, Mohamed Feshal 26, Ravindra Palliguruge 24: Dulanjana Mendis 6 for 127, Udara Peiris 3 for 105)
Navy 54 (Ranil Rasanga 25: Nuwan Liyanapathirana 6 for 39, Seekuge Prasanna 4 for 15) and 213 (Udara Jaysundara 51, Chanaka Ruwansiri 48, Mahesha Perera 38, Dhanushka Gurusinghe 30; Seekuge Prasanna 4 for 95, Ravindra Palleguruge 2 for 30, Nuwan Liyanapathirana 2 for 49)
At Braybrooke Place
Moors (427/7 overnight) 447 for 9 declared (Chathuranga de Silva 150, Shantha Kalavitigoda 149, Anil Ridigammanagedera 33, Rajitha Wickramaarachchi 24, Bathiya Perera 23, Dilhara Lokuhettige 23: Gihan Dilruk 3 for 91, Dhammika Perera 2 for 69, Marlan Madusanka 2 for 97) and 135 for 6 declared (Bathiya Perera 72, Rajitha Wickramaarchchi 43: Gihan Dilruk 3 for 54, Andy Solomons 2 for 13)
BRC 154 (Weranga Dissanayake 50, Nimesh Perera jnr 32, Delon Udugamasuriya 27, Nuwan Shiroman 15: Dilhara Lokuhettige 5 for 38, Tharanga Priyadarshana 4 for 55) and 56 for no loss (Delon Udugamasuriya 36 n.o., NuwanShiroman 19 n.o.)
At Galle – Singha SC vs Panadura
Panadura (329/6 overnight) 411 for 9 declared (Carmen Mapatuna 112, Malith Chathuranga 94, Tharindu Thushan 55, Rasika Fernando 29, Yohan Arumathanthri 21, Amila Perera 52 n.o; Sampath Perera 3 for 85, Sameera Vithana 3 for 149, Sameera Nanayakkara 2 for 56)
Singha SC 199 for 8 (Thilina Rajakaruna 78, Levan Moshin 20, Sriyam Sanjeewa 16, Mahesh Kumara 15, Nalaka Kaluarachchi 30 n.o.: Amila Perera 6 for 39)
At Rifle Green
Air Force 104 (Sanjeewa Bulathwala 25, Raju Gayashan 20, Ajith Kumara 18, Rajitha Ratnayake 15: Manjula de Silva 6 for 38, Charith Bandara 2 for 25) and 234 for 4 (Angelo Emmanuel 68, Dinusha Fernando 62, Rajitha Ratnayake 47, Walter Premaratne 42: Dhammika Rajapakse 2 for 44)
Police (178/4 overnight) 273 (Dhammika Rajapakse 121, Tharanga Indika 32, Manjula Jayawardena 19, Ravin Nirmal 17, Tharindu Weerasinghe 52 n.o; Buddika Sandaruwan 4 for 62, Chamila Gamage 2 for 62)
At Thurstan ground – Seeduwa/
Raddoluwa CC vs Antonian SC
Antonian SC 125 (Nilushan Nonis 42, Kelum Gangodawila 18, Gayan de Silva 16, Susantha Pradeep 16: Pubudu Ranaweera 4 for 39, Jeffrey Vandersay 2 for 7, Chamara Soysa 2 for 31) and 259 for 8 (Gayan de Silva 68, Chathura Randunu 46, Heshan Tilekeratne 31, Susantha Pradeep 30, Denver Faux 15, Nilushan Nonis 22 n.o., Safraz Farook 17 n.o; Ranil Dhammika 4 for 80, Jeffrey Vandersay 3 for 82)
Seeduwa/Raddoluwa CC (150/5 overnight) 224 (Yasas Tilekeratne 68, Chamara Soysa 38, Hashan Goonetileke 27, Lakshitha de Silva 22, Ranil Dhammika 22; Chathura Randunu 7 for 89)