As you read this week's column we'll be stuck in our rooms at the Taj Palace in Mumbai awaiting the result of the West Indies game with India. At this stage the likeliest scenario seems a quarter-final clash against England next Saturday in Colombo, but if West Indies clinch a surprise win then we will take-on India in Ahmadabad this Thursday.
Right now we have to prepare for both eventualities and get ourselves mentally prepared. Our current attitude is that to win the World Cup you have to beat the strongest teams so we have not paid too much attention to our likely opponents in the knock-out stages. We will just go into each game and give it everything we have got.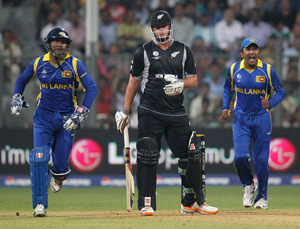 The first objective of this campaign was reaching the quarter-finals and we achieved that fairly comprehensively in the end despite the loss to Pakistan. Our win on Friday night against New Zealand was a good solid performance with both Sanga batting exceptionally and Murali bowling like the legend that he is.
When we lost two early wickets, Sanga and I focused solely on building a partnership. Pitches in India are normally flat and you expect big scores, but we realized early on that the pitch at Wankhede had something for the bowlers. It was slightly spongy and there was some movement throughout the game. We expected even more movement under lights.
We therefore gauged that a total of around 240 to 260 would definitely give our bowlers an excellent chance of winning the game. We are fortunate to have a very well-balanced attack and we backed them to do the business. Sanga and I concentrated hard and tried to make sure we laid a platform.
There was some controversy along the way with the third umpire adjudging that there was some doubt as to whether Nathan McCullum had taken a catch cleanly off me. I had popped the ball up in the air after a misjudgment and, although a great diving effort from him, I honestly was not sure whether he had taken it cleanly. It was 50-50 and I asked the umpires. They, too, were unsure.

If you know you have been caught cleanly then you walk off. I would have done the same on Friday afternoon if I had been sure that Nathan had taken it. But given my uncertainty there was nothing wrong in waiting around for the umpires to check the replays. Although I am yet to see a replay, the third umpire obviously had some doubt and he ruled in my favour.
New Zealand was not pleased and Nathan was clearly frustrated. A few words were exchanged between us, but it was all heat-of-the-moment stuff and nothing serious. This is a World Cup and the stakes are high. You have to expect some tension and frayed tempers along the way.
While the plan was to build a big partnership and accelerate in the last 15-20 overs, we still scored slower than we wanted. That probably reflected New Zealand's competitive bowling and the fact that the pitch was not a road. However, we were determined not to panic because we were confident we could catch-up.
Both Sanga and I were disappointed we got out when we did, but at least Sanga expertly handled the Powerplay play with a late burst of hitting. Angelo was also excellent and he finished the innings brilliantly. We realised that he may need to come in earlier depending on the innings situation and it was an ideal time for him to come in at No 5.
There have been more media worries about our middle order, but we're ignoring that because we know what their roles are. In the last two games the middle order has come in during the final slog overs. When you do that there is always a fair chance that wickets will tumble. The last thing we need is middle order batsmen being reluctant to take risks for the team because of unfair criticism. People have short memories: Tilan (Samaraweera) helped rescue the innings with Sanga against the Australians, exactly the job he's been selected for; and Chamara (Silva) kept us in the game against Pakistan after the dismissal of Sanga.
With the ball we were a little disappointed with a couple of misjudgements in the field. That is an area that has to improve. Our ground fielding has been excellent, but our catching has not been watertight. Now we've reached the quarter-finals we need a couple of perfect performances. We'll definitely get punished if we drop chances like on Friday night.
Fortunately Murali was in top form. Some people doubted whether he should be in our squad, but he has bowled beautifully in this World Cup taking crucial wickets. Despite being handicapped by his injury, he adapted his pace to the pitch perfectly and caused all kinds of problems. We now have to hope he can recover in time for either Thursday or Saturday. The injury does not look too serious, but we'll have to wait and see how bad in the next day or so.