Former St. Sylvester's College rugby player Aruna Rankothge was appointed to the Elite Referee Panel by the ARFU (Asian Rugby Football Union). He will attend the level III course in Guang Zhou in China next month along with four referees from Japan, two from Singapore and two from Gulf.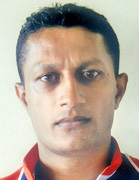 Aruna Rankothge
He will also gain exposure at top level when he will get the green light for the up coming Asian Five Nations Tournament in April 2011.
Aruna is having refereeing experience at the under 20 Junior World Cup (IRB) qualifying matches in China (2004), Korea (2008), and Philippine (2009). He was also picked to officiate at the South East Asians rugby sevens tournament in Thailand (2007).
He was given a promotion and did the big league at the Asians Five nation encounter between Arabian Gulf and Hong Kong in Dubai and the India vs Kazakhstan encounter as an assistant referee. The latest international assignment was the Dubai Sevens in December 2010.
Locally he has refereed several important International Sevens such as Singer Sri Lankan Rugby Sevens and last year's Carlton Rugby Sevens. Aruna represented Kandy SC as a flanker in 1991.