Dark horses of the competition Pakistan ended the winning streak of defending champions Australia to record a clinical win by 4 wickets. This was in a Group A match of the ICC Cricket World Cup 2011 at the R. Premadasa International Cricket Stadium in Colombo yesterday.
Pakistan chasing a cozy 177 to win experienced the uncertainty of the sport before achieving their target in the 41st over. The win blemished the consecutive winning run of 34 World Cup matches of Australia since the 1999 version of the competition. The exciting win pushed Pakistan to the top of Group A.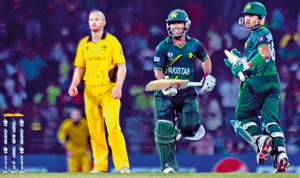 Asad Shafiq and Umar Akmal who top scored for Pakistan take a quick single. - Pix by Sanka Vidanagama
The Australians were sloppy in their fielding, between the overs of 25 to 35, and the runs they conceded during the phase could have played a major impact in turning the match around. The Pakistanis played to their utmost potential with brilliant fielding to tighten the grip on the Australians who had intentions of giving their opponents a challenging run chase. They delivered probably the most clinical performance in the recent times to spoil a possible Australian dominance which was highly expected to the thrill of a well packed stadium.
Australian skipper Ricky Ponting who decided to bat first after winning a much looked forward to toss would have nothing to blame on than their own dismal batting performance which miserably failed. On the other hand Pakistan rose to the occasion to prove that they are a side to be considered as the unsung favourites to win the coveted title. Surprisingly the Australians who are much acclaimed for their professionalism in all departments failed to reach the rate of four runs per-over. They came under a tight Pakistani bowling attack.
Both teams wasted the first of their two decision reviews; incidentally both being appealed against leg-before-wickets. Openers of the two sides, Shane Watson of Australia and Kamran Akmal of Pakistan survived the unsuccessful reviews which were off leg-spinner Abdur Rehman and fast bowler Brett Lee respectively. Akmal had to walk back falling lbw to Lee after his second review came in favour of the bowler.
The pitch according to reports promised to produce a stiff encounter if the side to bat first posted a total of over 240 runs but proved otherwise after the Australians came up with a rather contrasting approach. They were made to play defensively after losing early wickets and ended up with a defenseless total of 176. Pakistan came out to give a quick chase with the intention of wrapping up the game early too. They experienced early hiccups after losing both openers Mohammed Hafeez and Kamran Akmal for 33 with Brett Lee bowling a superb spell of five overs for 16 runs to claim the two scalps.
Young Asad Shafiq, who scored an unbeaten 78 against Zimbabwe on his ODI debut last Monday, anchored with Younis Khan to give Pakistan a steady recovery. The pair added 53 runs for the third wicket. Khan was brilliantly caught behind by Brad Haddin off Lee for 31 at 98. Lee sat on a hat-trick after sending back Misbah Ul-Haq in similar fashion and forced the Pakistanis to a vulnerable position. Shafiq who got together with Umar Akmal then put on 41 runs for the fifth wicket before he was caught at first slip off Mitchell Johnson for 46. Shafiq faced 81 balls and hit five boundaries during his valiant knock. The younger Akmal who played a cameo knock took the responsibility on to his shoulders after losing pinch-hitting Afridi for two off spinner Jason Krejza. Man-of-the-match Akmal batted sensibly in the remainder of the innings to steer Pakistan to an emphatic win. Lee who has been the match winner for the Australians many a time completed with figures of 4 for 28 but had to end up in the losing side.
Australia lost opener Watson earlier in the innings at 12 but Brad Haddin along with Ponting looked well set for a big total. They added 63 runs for the second wicket which eventually became the best partnership for the Australians before Ponting (19) was sent back attempting to cut off off-spinner Mohammed Hafeez. On field umpire Marais Erasmus turned down the original appeal for a caught behind. However it was reverted by the review decision. Haddin top scored with 42 followed by Michael Clarke with 34 as Australia who were four wickets down for 117 lost the remaining batsmen for just 59 runs before reeling out for 176.
Skipper Shahid Afridi used his bowlers in varieties and decided to open the attack with a mixture of pace and spin. This forced the Australians to amend their plans. Fast bowler Umar Gul who opened the attack from the Khettarama end bowled two good spells and ended up with three wickets. He captured the priceless wicket of in-form opener Watson in the third of five overs of his first spell. Gul was removed from the attack due to a hamstring but returned to bowl his second spell in the 44th over of the Australian innings and went on to capture the wickets of Jason Krejza and Brett Lee.
Afridi introduced leg-spinner Abdur Rehman from the Maligawatte end to partner Gul which proved to be a perfect and timely decision. When their opponents were in trouble - losing wickets at regular intervals - Rehman restrained the Australians from capitalizing while part time bowlers came in to break partnerships that were projecting to be fruitful. Abdul Razzak who joined in late took two wickets for eight runs.
Scoreboard
Australia innings
S. Watson b Umar Gul 09
Touch of inside edge, and the
stumps were shattered
B. Haddin c Kamran Akmal b Wahab Riaz 42
Attempted to steer got a faint edge
to wicket keeper
R. Ponting c Kamran Akmal
b Mohammad Hafeez 19
Attempted to cut on the back foot
thick edge to wicket keeper
M. Clarke b Abdul Razzaq 34
An attempted pull dislodges the off bail
C. White run out 08
Flick off the hip, attempted a cheeky
single and runs short
M. Hussey c Misbah-ul-Haq
b Abdur Rehman 12
Lobbed a simple chance to
short midwicket.
S. Smith b Shahid Afridi 25
Backs away to a googly that follows
him and bowled
M. Johnson c Kamran Akmal
b Abdul Razzaq 00
Outside off, nipping off the seam,
grazing the edge
B. Krejza b Umar Gul 07
Backed away to give himself room,
clean bowled
B. Lee c Misbah-ul-Haq b Umar Gul 05
Aimed a swipe but it got high on the bat
S. Tait not out 00
Extras: (lb-5 w-10) 15
Total: (all out; 46.4 overs) 176
Fall of wickets: 1-12 2-75 3-90 4-117 5-134 6-144 7-147 8-169 9-176
Bowling: Umar Gul 7.4-1-30-3 (1w), Abdur Rehman 10-0-34-1 (1w), Shahid Afridi 9-0-34-1 (5w), Wahab Riaz 6-0-39-1 (3w), Mohammad Hafeez 10-0-26-1, Abdul Razzaq 4-0-8-2.
Pakistan innings
Mohammad Hafeez c and b Lee 05
Attempted to work a straight ball through midwicket, took a looping leading edge
Kamran Akmal lbw b Lee 23
Late in-dip from a full length, struck on the back leg
Asad Shafiq c Watson b Johnson 46
Extra bounce clips the glove and taken by slips
Younis Khan c Haddin b Lee 31
Played outside off stump, a thin nick through to the keeper
Misbah-ul-Haq c Haddin b Lee 00
Loose poke finds a grazed edge to wicket keeper
Umar Akmal not out 44
Shahid Afridi c Lee b Krejza 02
Down the wicket, leans back and heaves caught at long on
Abdul Razzaq not out 20
Extras (b2, lb1, w4) 07
Total (6 wickets; 41 overs) 178
Did not bat: Abdur Rehman, Umar Gul, Wahab Riaz
Fall-of-wickets: 1-12 (Hafeez), 2-33 (K Akmal), 3-98 (Khan), 4-98 (Misbah), 5-139 (Shafiq), 6-142 (Afridi),
Bowling: Brett Lee 8-1-28-4, Shaun Tait 8-1-37-0 (3w), Mitchell Johnson 9-1-40-1 91w), Shane Watson 6-0-26-0, Jason Krejza 10-0-44-1