The jubilant Sri Lanka skipper Kumar Sangakkara believes that if a side wants to win the Cricket World Cup they have to be the best at that particular event. After scoring a match winning ODI hundred – his first since 2008, the Lankan skipper made a very strong statement to the rest of the cricketing world that the Lankans mean business at this version they are here to win it, after guiding his side to that 112 run victory over high riding New Zealand at the Wankhade Stadium on Friday.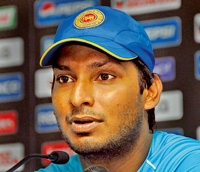 Kumar Sangakkara speaking to the press .
Kumar reiterated, "A side must lift their performances in big tournaments like this. You cannot take any team lightly in this contest. But, fortunately to win a World Cup you got to be the best and finally you feel that you deserved it. The format is such that it is the knockout stage now and the more consistent sides would make it to the semi-finals and here it is do-or-die and everything that you have done in the first round becomes inconsequent.
From here only the matches that you win will count. We have learnt that we will end up as the second in this group. From here onwards it is immaterial whom we play, but whoever we play we have to beat them"
Sangakkara accepted that there are some adjustments that they will have to make, but he stressed upon the importance of working through your existing frame and give them all the encouragement and confidence and get the team to perform at their peak levels.
Besides the win Sangakkara was also very happy with the performance of his long trusted result provider Muttiah Muralitharan who bagged four New Zealand wickets in spite of playing with a jarred knee. "He did a pretty okay job for us. Bowling on one leg and getting us all those wickets that he did. He has done it before for us in Australia when he nearly bowled us to a win. Here it was something special. It shows how hungry he is to play and do well".
Then in answer to a question about his performance in this game, where he scored a century – his first in a Cricket World Cup, completing 9000 runs in ODI cricket, making his first ODI 'Ton' since 2008 and mostly being the lynch pin in this vital victory over New Zealand while playing on a neutral venue. He said, "It is good to score runs in an important game of this nature. But, the real test comes in our next game where it is a do-or-die battle. If I can do it there it would be better so I am hoping that I can continue this performance and be more consistent."
Yet Kumar did not agree that there were a few niggles in the Lankan fielding. He stressed: "I thought they fielded pretty well, but there are those catches that we could have taken, those things happen in cricket. They guys were enthusiastic, they were trying to build pressure in the New Zealand camp by taking those catches, but, sometimes when you're too eager, you tend to do a few mistakes. I think their overall attitude was very good. They were attacking the ball. They were throwing themselves around."
Then even about the much talked about the Lankan middle order Sangakkara said that he was satisfied with the performances so far, and said that in a game it is only two or three batsmen who go on to post big scores and the others job is to play a support role around them and be task oriented.
The Sri Lankan skipper paid a glowing tribute to the pitch at the Wankhade where the 2011 Cricket World Cup final is billed to be played. Kumar Sangakkara said: "The wicket was fantastic. It was not a one-sided wicket. It did quite a bit in the first few overs and did a bit under the lights too. It is a very good cricket wicket and there is a lot more bounce than we expected. The ground is bit small and the outfield is lightening fast and only negative is there is a bit of dew in the night and our bowlers did get used to the conditions pretty soon and used it very smartly."
Sangakkara also said that the next few off days in the offing till their quarterfinal is on they will use it to have a chat about what happened during this game and discuss with the whole team and take remedial action.
Finally speaking about the Mahela-McCullum incident Sangakkara said, "My view was completely blocked. I did not see what happened. Mahela was very honest and he said that I am not sure that he caught it and he was going to stick around. Mahela is a person who walks when he nicks it and if he saw that Nathan took a clean catch he wouldn't have hung around. He was very unsure and the umpires were not sure and they checked it with the technology and it went in favour of Mahela".