She may not be the daughter of the mighty Zeus but is a Muse in her own right - The Muse of Dance - our own Vajira. Dazzling with controlled expressiveness, she leapt across the stage like a deer in flight or rose above the rest of the swans and fluttered her delicate wings with electrifying charisma. Dancing the lead roles in all the ballets, Vajira simply mesmerized audiences around the world. Endowed with a spiritual transcendency she not only captured the hearts of millions but moved beyond horizons.
The consummate artistry of the country's two most awesome dancers was the cultural heritage that Sri Lanka became richer with. Their partnership set the theatre world ablaze and suddenly little Sri Lanka took her bow on the international boards. The art world exploded as Vajira stepped on it with her icon partner-husband, Chitrasena.
Today, she stands alone and as she celebrates her birthday with her talented brood, teachers, dancers, students and those who studied this fine art under her like me, are all emotionally stirred with devotion and affection.
In her days of twinkling feet, Vajira no doubt was the spectacle, one in the foot-lights and the symbol beyond. Her exotic performances lasted over the years in glory. They may have ended in a tiring day but usually in high spirits and laughter. Here, I recall when I too danced a small part in Nala-Damayanthi where she was the gorgeous, supple lead swan not next to Fonteyn's swan. Even with all the merging decades, she remained the strict disciplinarian, the perfectionist whose sharp eyes never missed a minute detail.
The hugely gifted Vajira found common cause in honing her art still further. Adept at coping with all extra stress and ably supported by the late Chitrasena, her dazzling efforts are a tribute to her past. She still continues with undoubted self-reliance, determination and dedication, which never appear to diminish. Yet, with a keen eye and an abiding and talented brood, Vajira is the integral part of the Chitrasena Kalayathanaya and overlooks the prospects of artistic development in new roles.
And she still walks in splendour with an aura built over the years enwrapping her lissome figure. She is an amazing mistress of the performing arts and her country became richer in its ancient culture and tradition due to her mission and limitless bounty. The flame she carried for decades still burns and casts its luminous warmth upon her descendents whom she nurtured into dancers of quality.
But the world moves on. New ideas surface; new techniques confined within the framework of our identified national dance are cleverly guided and guarded by Vajira. When tradition is maintained, dancers immerse in its unpolluted form and Vajira and her daughter, Upeka see that nothing unwarranted creeps into their traditional art. They are the syllabus nurtured within the portals of the Chitrasena Kalayathanaya, the Mecca of Dance in Sri Lanka.
While she remains the magnetic supremo, daughter Upeka beams in her mother's aura. Words alone cannot describe the beauty of her dance as she looks to the future of her institution and like Margot Fonteyn, will be involved to the end.
To me she is much like Martha Graham whom I met backstage at the New York City Ballet, when she was choreographing Maple Leaf Rag. It was a chance meeting as I waited for Rudolf Nureyev (by appointment). The spirited determination in Graham and the sheer dedication at 94 years of age simply awed me and though Vajira is much younger, my thoughts raced back to Sri Lanka as Vajira flooded my mind. Graham embraced me as though I was one of her students and I felt miserable and sad when I returned to Sri Lanka two weeks later to learn that Graham had passed away.
Dancing always brings people together in a bond of artistic love for one another no matter to which country one belongs. Vajira too would have left those same sentiments in the hearts of some special people backstage during her visits abroad. That is what dancing is about.
Happy Birthday, dear teacher.
Sea and tea for elders at St. Andrew's Home
Pix by J. Weerasekera
It was a much-looked forward to walkabout at Galle Face Green for those of St. Andrew's Home for Elders, Rajagiriya, on March 4. An evening out, enjoying the sea, the sun and also tea and cake generously provided free of charge by Galle Face Hotel.
"It is important to keep the elderly happy and occupied," said a member of the Board of Management of the Home, adding that it was good to see them reliving their childhood while strolling along Galle Face Green with the wind on their faces.
"Thanks to a generous donor from the United Kingdom, we were able to plan this outing," the member said, explaining that many of them never get a chance of going out of the Home. "With limited funds, it is not possible to satisfy this need. Occasionally, however, we have a few thoughtful people who come to the Home, and conduct a musical evening or sing-song."
St. Andrew's Home with 31 residents, both men and women, is a project of the Anglican Church, and is headed by the Bishop of Colombo. The residents who pay a nominal sum are provided with "home comforts", and wholesome, nutritious meals.
Over the last year, the cost of running the Home has increased astronomically, and it has been almost impossible to bridge the gap between income and expenditure. The Board of Management is constantly aware of the need to control and manage expenses. However, steep increases in electricity and water bills, and the high cost of fish, meat and vegetables, have made it impossible to run the Home on a break-even basis, the member said, adding that the Home does not get a grant from the government or any other organization.
The management is appealing to well-wishers to help by visiting the Home, arranging some form of entertainment for the elders, or by donating a meal, either in memory of a departed loved one, or when celebrating a happy event such as a birthday or wedding anniversary. The Home located at 44, Buthgamuwa Road, Rajagiriya is contactable on Phone No: 011-2868218.
Zonta District Governor in Sri Lanka tomorrow
Zonta Clubs Sri Lanka have announced the visit of District Governor Mrs. Naheed Moyeen from Bangladesh. Mrs. Moyeen will be in Sri Lanka from March 14 to 17 visiting the clubs & Zonta projects in the country.
Zonta International is a global organization of women who are executives and professionals working together to advance the status of women worldwide through service and advocacy.
Zonta has more than 31,000 members in 63 countries. Sri Lanka is a member of Zonta District 25 which consists of India, Bangladesh and Sri Lanka. Mrs. Moyeen leads the District for the biennium 2010/2012.
Governor Naheed Moyeen is a Zontian of long standing in Bangladesh, who has contributed greatly towards the upliftment of women in Bangladesh.
Naheed joined Zonta in 1995 and has since served as club president, area director, lieutenant governor and governor-elect. "My leading positions have made me more patient and strong. They enabled me to reach out and make a difference in the lives of those less fortunate than us," says Naheed.
Editor-in-Chief of Sinhala Dictionary
Ven. Akuretiye Nanda Thera, has been appointed Editor-in-Chief of the Sinhala Dictionary. He had his early education at Vidyaloka College, Galle and entered Kelaniya University where he obtained his undergraduate degree. He had his postgraduate studies at Manchester University and subsequently his PhD.
Joining the Sinhala Dictionary as a sub-editor in 1983, he became deputy editor and editor. He was Vice Chancellor of the Pali University from 1994-97. Ven Nanda is the chief prelate of the Western Province.
Muslim scholar on lecture tour
Idris Tawfiq, a prominent Muslim scholar from Britain, will be on a lecture tour in Sri Lanka from March 18 to 21 at the invitation of the Centre for Islamic Studies, Colombo 6. He will address the Lower Bagatalle Road mosque congregation on Friday March 18 after Isha (night) prayers and deliver a public lecture at the BMICH on March 20 at 7 p.m.
Colombo Chetty Assn. Lenten programme
The Colombo Chetty Association is an organization formed to bring together those belonging to this long standing community so that their social, material and spiritual needs could be met. As its members are predominantly Christians the organization is keen to cater to the spiritual needs and therefore intends organizing a Lenten pilgrimage during the holy season of Lent.
The members are invited to make use of this opportunity to not only come together but to pray together and to this end the Association has organized a pilgrimage on Sunday March 20 to the Calvary Shrine at Horana. Details could be obtained from Nanda Corea (0723374910) or Rohan Masillamany (5668459 ).
Tree Society to launch website
A founder member of Ruk Rakaganno Irangani Serasinghe, will launch the website of the Tree Society of Sri Lanka on Friday, March 18 at the Auditorium of the Post Graduate Institute of Archaeology, Bauddhaloka Mawatha, Colombo 7 at 6 p.m.
The launch will be followed by a talk by Dr. Shanker Raman of India on 'Bringing back the rainforest: Ecological restoration of degraded sites through planting of diverse native tree species'.
The talk is open to the public.
Skills programme on acting, dancing and voice training
Well known drama producer, Lanka Chamara Kokuhennadi will conduct "Morale", a skills development programme on acting, dancing and voice training at Punchi Theatre, Colombo 8 on March 19 at 1 p.m. Professionals in the field will train the participants.
An advertising professional, Creative Director of Master Minds TTL International Kokuhennadi produced his maiden drama "Karaoke" in 2002. "Thala Bhawana" & "Endiriya" are some of his other major productions. For more information contacting Mr. Kokuhennadi on 0772255033 or mail lanka.chamara@gmail.com
People's Bank marks Women's Day
People's Bank introduced Vanitha Vasana savings certificates for International Women's Day on March 8. The occasion was celebrated at the People's Bank Hyde Park Corner Branch. Picture shows Branch Manager Pathmasiri Jayalath presenting a gift to Mrs Shahrazan Ghazalay, chairman of the Ghazaly Group International Pvt Ltd, chief guest at the function for the Vanitha Vasana savings certificates purchased.
Suwanetha Eye Hospital opens
The Suwanetha Lions Eye Hospital was declared open by President Mahinda Rajapaksa on March 4. The hospital was constructed by the Janasarana Foundation in association with the International Association of Lions Club District 306C, Thimbrigasyasa.
The project was initiated by Dr. Soma Edirisinghe, Chairperson of the EAP Edirisinghe Group of Companies and founder of the Janasarana Foundation.
Also present were Minister of Health Maithripala Sirisena, Petroleum Resources Minister Susil Premajayantha and EAP Group Managing Director Jeewaka Edirisinghe.
Ravi meets Thai PM
The United National Party's Colombo District parliamentarian Ravi Karunanayake met Thai Prime Minister Abhisit Vejjajiva in Bangkok recently
Presentation of book on Economics
"Economics Step two" written by the Senior lecturer on Economics at Ruhunu University Professor Dani Attapattu was presented on March 8 to Minister of Higher Education S. B. Dissanayake at the Ministry of Higher Education. The Secretary of the Ministry of Higher Education Dr. Sunil Jayantha Nawaratne, former secretary of the Ministry of Policy Development and Implementation Chandrasena Maliyadde were also present.
Bodhi Puja to commemorate late Malini Wijenaike
The London Buddhist Vihara (LBV) in Chiswick dedicated a Bodhi Puja to Mrs Malini Wijenaike who passed away recently. Mrs Wijenaike was the wife of Mr Noel Wijenaike, the Chairman of the Anagarika Dharmapala Trust (ADT) and the sister of Sudhammika Hewavitarne (a trustee of ADT). She was a grand neice of Anagarika Dharmapala who founded the London Buddhist Vihara in 1926.
The LBV is owned and managed by the Anagarika Dharmapala Trust. Chief incumbent of the LBV, Ven. B. Seelawimala Thera Chief Sangha Nayake of the UK, in his sermon, mentioned the valuable support that Mrs Wijenaike had given her husband in his long-standing service as the Chairman of the ADT.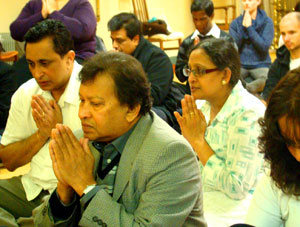 A section of the many LBV supporters participating in the religious ceremony