Sirimavo: Honouring the world's first woman Prime Minister, edited by Tissa Jayatilaka, is the commemorative volume published by the Bandaranaike Museum Committee to mark 50 years since Mrs. Sirimavo Ratwatte Dias Bandaranaike's first accession to power on July 21, 1960. If her place in the history books as the world's first woman to lead a democratic government was an instance, in tragic circumstances, of greatness being thrust upon her, the essays and speeches in this volume attempt to show how she achieved greatness in her own right as the leader of a Third World democracy and international stateswoman.
If the substance of the essays and speeches makes Sirimavo a desirable addition to any library shelf devoted to Sri Lankan politics and political history, then its stylish design and presentation makes it equally suitable for the coffee table. This is a book to which no disservice is done on being judged by its cover, and in this respect, the dust jacket photograph of Mrs. Bandaranaike is an inspired choice. It captures her enigmatic charisma, not only of old world Sabaragamuwa gentility and an aristocratic feminine elegance, but also a steely touch of power and self-assurance, in a manner reminiscent of a Korda or Cartier-Bresson portrait.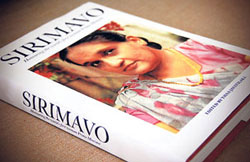 Content-wise, the book is a well selected and edited collection of essays, photographs and speeches. The essays are a mixture of personal memoirs, tributes, and scholarly and policy reflections written by diplomats, civil servants, academics and lawyers, in a combination that largely achieves its purpose as a coherent whole. They deal not only with Mrs. Bandaranaike's policy interests and political achievements, but also the personal traits and attributes she brought to bear upon her style of leadership.
They are respectful, sometimes affectionate and even endearingly humorous, and, although some are more critical than others, none are uncritical hagiographies of her actions as a party leader, head of government, line minister, policy-maker or parliamentarian. To the credit therefore of the editor, the contributors, and perhaps most of all, members of Mrs. Bandaranaike's family, the book succeeds in evading that commonest pitfall of Sri Lankan political festschrifts: that of becoming a glutinous panegyric to the real and perceived excellence of the subject.
Such a book does not deserve an adulatory review, and what follows is a critical appraisal of it and its subject in the hope that it would add constructively to the debate about Mrs. Bandaranaike's singular contribution to the public life of this country that the publication of this volume is no doubt intended to initiate. I should add also that this is a selective review primarily of Mrs. Bandaranaike's role in shaping the post-colonial state and its constitutional evolution, and therefore does not pretend to do justice to the many other facets of her political life and private persona dealt with by the essays and speeches as a whole.
Although Mrs. Bandaranaike's accomplishments in such fields as foreign affairs and social development are formidable personal achievements in any political career, her contribution to the politics of Sri Lanka in a crucial period of its post-colonial progress is, as a matter of historical assessment, rather more contentious. Both her governments and her SLFP demonstrated a tendency to statist authoritarianism and a sectarian form of majoritarianism, about which perhaps the most alarming feature is, in retrospect, the effortlessness with which she succumbed to the convenient temptations of the ideological shibboleths of the era.
Socialist and nationalist discourses, then enjoying their heyday in the states and societies of the emerging Third World and Non-Aligned Movement, were no doubt the essential mood music of her time at the top of Sri Lankan politics. But it seems too often to have been the case that these were eagerly embraced so as to lend a carapace of legitimacy to what were in reality parish-pump calculations of electoral advantage; and on the same impulse but with more deplorable consequences, the conscious abnegation of core democratic values including the freedom of the press, the liberty of the individual, the independence of the judiciary and civil service, and the protection of minorities.
While a retrospective reviewer must acknowledge the argument made by several of the essayists that any fair assessment of Mrs.
Bandaranaike's actions and policies should be judged against those dominant ideological currents and policy nostrums of her time, a closer look at many of her key decisions and policy postures even from that sympathetic perspective leads to conclusions that show her in a less positive light than what they seek to project. By the time Mrs. Bandaranaike first formed a government in 1960, Sri Lanka, unlike many other emergent post-colonial states in Africa and Asia, was already an established democracy of thirty years standing, with traditions of parliamentary government, the rule of law and other liberal institutions. When she took decisions that went against the grain of these traditions, therefore, she was interfering with a liberal democratic patrimony that was precious and irreplaceable. It was an indulgence of the parochial at the cost of the transcendent.
In doing so, she set precedents that successor governments have been only too pleased to follow, with deleterious consequences for civil, political and economic liberties, and for the substantive character of our democracy. It is in this context that even a margin of appreciation for the ferment of anti-imperialist nationalism and socialist developmentalism in which her political career took shape, cannot absolve her of due responsibility in the process of dismantling the culture and institutions of liberal democracy in Sri Lanka.
It is also in this sense that Jayadeva Uyangoda's cogent essay is damningly persuasive as an explanatory thesis of Mrs. Bandaranaike's two administrations in the impact they had on the political sociology and constitutional evolution of Sri Lanka. In this essay, Professor Uyangoda shows how the UF regime she led between 1970 and 1977 – and in which the two anti-liberal discourses of ethnic-nationalism and socialism that coursed through the politics of mid-twentieth century Sri Lanka became conjoined in the site of state power – consolidated ethnic majoritarianism at the fundament of the fledgling republic, and began the process of the 'illiberalisation' of the state.
Over and above the general impact the policy choices of Mrs. Bandaranaike's governments had on the evolution of the post-colonial Sri Lankan state, the UF government made a direct and historic intervention aimed at a radical reformulation of the normative foundations and institutional architecture of the state in the autochthonous constitution-making process of 1970-72. This exercise of autochthony established the Sri Lankan republic in 1972. While the political momentum towards severing the remaining constitutional links with Britain was overwhelming at the time (even the Tamil federalists were in favour), in choosing to do so through an extra-constitutional legal revolution, the UF regime established a precedent for acts of constitutional manipulation that were to follow which concerned less defensible ends.
In giving full expression to the constitutional vision of Sinhala-Buddhist nationalism – in the form of a constitutionally privileged status for Buddhism and Sinhalese, and the entrenchment of the unitary state – but aggressively rejecting even a moderate accommodation of Tamil aspirations to autonomy, the 1972 Constitution repudiated the loyalty of Tamils to the new republic, radicalised that community's politics, and contributed to the later descent into separatism and armed conflict. The 1972 Constitution instituted the pervasive politicisation of governance from which we continue to suffer, and may never escape.
Dr. Jayampathy Wickramaratne's essay on this subject provides a compact description of the making and substance of the 1972 Constitution, although in my view, it treads rather lightly on the role of its Old Left architects. Dr. Wickramaratne makes oblique references to the baleful influence that Felix Dias Bandaranaike, the grey eminence in Mrs. Bandaranaike's shadow, had on the determination of certain substantive questions, including the entrenchment of the unitary state. Felix was the kind of politician about whom it is easy to believe the worst.
That should, however, never exonerate the Old Left for the wholesale abandonment of its pluralist principles and total capitulation to the chauvinist agenda in a constitution-making process it could have influenced infinitely for the better had it tried a little harder.
So much for Mrs. Bandaranaike's political legacy, but that is far from a rounded appreciation of her as a human being. Again and again, reference is made in the Sirimavo essays to her personal qualities such as decisiveness, determination, tenacity, conscientiousness, discipline, courtesy, considerateness, and her capacity for hard work, impeccable manners and quiet sense of humour. There is no doubt that Mrs. Bandaranaike was all this and more, which makes her a rare and attractive personality worthy of both admiration and emulation. It is easy from these accounts to see how she was able to generate such loyalty among her colleagues and officials.
Both the editor and several of the essayists also describe her as 'unencumbered by learning', in implicit contrast perhaps to her husband and in positive comparison to D.S. Senanayake. Except for the Catholic rigours instilled at St. Bridget's, tempered by the noblesse oblige of Mahawalatenna, the freedom from the clutter of too much book learning appears to have been what enabled Mrs. Bandaranaike's uncomplicated process of decision-making and decisiveness in action, as well as what seems to have been a complete absence of mendacity. This is not quite as curious a compliment as it may seem, given that a sound education, especially of the variety imparted at 'the city of dreaming spires', has not been among the guarantees of a political life well led among Sri Lankan politicians throughout the ages. Viewed against the extraordinary capacity for verbose casuistry some of these individuals are renowned for, Mrs. Bandaranaike's straightforward common sense is infinitely preferable.
In these days when standards in public life and parliamentary behaviour within and without Parliament have sunk to subterranean levels, the personal example set by Mrs. Bandaranaike (and indeed, others of her generation) serves as a poignant inspiration.On 16th November 1995, in one of her last parliamentary interventions, an excerpt of which is reproduced in the book, she delivered what could only be described as a dressing down to Members on both sides of the House about the widespread use of unparliamentary language, and their generally profane behaviour.
As the undisputed elder stateswoman in the House, perhaps only she could have administered such a sustained rebuke on both sides, and one can almost hear the meek silence of the apprehended delinquent, as the raucous House is hushed under the onslaught of her reproaches and admonitions. The effect she had on that occasion can be gathered from the chastened response of Mr. Speaker, which, in a fine editorial touch, Tissa Jayatilaka has included in the excerpt: "Thank you, Madam, for the nice advice you gave to both sides of the House and to me. I will try my very best to maintain law and order very firmly from tomorrow." While of course no such thing ever happened in the Sri Lankan Parliament, the contrite promise in these words seems to me a fitting epitaph for Sirimavo Bandaranaike, and all the good things in politics and public service she epitomised.