Much has been published in the print media on the subject of dual citizenship recently. It is reported that under the present system there are four categories in which a person could apply for dual citizenship.
They are That a prospective applicant should be a degree holder; or A senior Citizen above the age of 55 Own property to the value of Rs.2.5 Million, Have a Bank Deposit of US$ 2.5 Million It is also reported that there is a need to change all this and make the set up more transparent.
It is also reported that there is no hidden agenda or security factor targeting any particular individual. It is also reported that moves have been under way to deny this facility to certain individuals or to do away with it altogether. This has however been emphatically denied.
There is also a denial that the present fee of Rs. 200,000 will not be increased. Both the Sinhala and Tamil communities for reasons best known to them left the country mainly due to the war which lasted for 30 years – a situation that was created by politicians of all hues.
There was also a clarion call from the Government in power calling upon all Sri Lankans to return to the Motherland and help in its development. I am of the firm belief that there should be no conditions imposed under the circumstances and no fee should be charged for wanting to be citizens of the country of their birth.
A glaring omission in the conditions now in force is the absence of any recognition granted to world champions in any discipline. The only individual who was a world champion as far as I remember was the well known billiards player the late M.J.M. Lafir. I remember very clearly the Prime Minister at the time Mrs. Sirimavo Bandaranaike felicitating the late M.J.M. Lafir at Temple Trees to commemorate this rare feat performed by a citizen of this country.
Over to you Mr. W.A. Chulananda Perara, Immigration Controller and through you President Mahinda Rajapaksa to look into this matter with the sympathy and understanding which will bring great relief to those hoping to be dual citizens. The life style of the children of these people is already established and it is mainly required for them to continue close liaison with their parents and loved ones.
Senior Citizen, Dehiwela
Wanted a public-spirited woman to start toilet programme
As we marked International Women's Day on March 8 this year, it is appropriate to make a plea to the government, the Urban Development Authority, the Tourism Authority, Provincial and local councils to launch a programme to build decent, clean public toilets for women.
Once a woman leaves home, for her use and for the use of the local and foreign tourists, there are no clean toilets in most parts of the country. The inconvenience women face when the urge to ease themselves is unbearable and cannot be expressed in words.
Most toilets in public places such as markets, hotels, restaurants, bus stands, railway stations, and petrol sheds stink and are filthy. Some toilets have no doors and water facility.
There are several women in the Cabinet and in Parliament. Women hold top positions in the Public Service and in the private sector. Will a public-spirited woman among them come forward and initiate this important countrywide programme to build decent and clean toilets with water facility for women?
Sameera, Colombo 6
Time to ditch ancient, colonial rule-serving Pension Minutes
Every week, a pensioner writes in to complain about the delays to correct pension anomalies. Pension anomalies can never be corrected satisfactorily under the archaic, 110-year-old Pension Minute, which gives bureaucrats a broad margin for interpreting its provisions.
The Pension Minute was promulgated in 1901 by our former colonial masters. These Minutes of Pensions served the colonial public service, which did not give individual rights due recognition.
The Pension Minutes begin with a forewarning that a public servant has no absolute right to a pension. This fact has been adversely commented upon by Chief Justice Tennakoon in the case Attorney General vs. Abeysinghe (78 NLR 361).
Today, individual rights are honoured and protected by the Sri Lanka Constitution. It is therefore strange that the authorities have not seen the need to replace the outdated Pension Minute with a revised Pensions Act in keeping with the new developments.
Under the prevailing pension policy, a public servant's pension can be reduced or even denied, regardless of how many years of government service a person has put in. Also, under the prevailing conditions, any crafty politician can take our gullible pensioners for a ride by giving them false promises.
A new Public Service Pensions Act should be enacted. Taking the Parliamentary Pensions Law No. 1 of 1977 as the prototype, a new Public Service Pensions Act can protect pensioners' rights and restore their lost dignity and honour.
U. D. J. Jinadasa, Colombo 6
Compassionate Kandy eye surgeon will be missed by thousands
We will miss the renowned and much respected Kandy eye surgeon, Dr. Reggie Seimon, who will be migrating to Australia with his wife Indira. Reggie deserves a show of appreciation, considering the yeoman service he rendered to the people of this country, especially the Central Province. He should be publicly thanked before he leaves the shores of Sri Lanka. Hence, these lines to say "thank you."
Not one to seek publicity or the limelight, Dr. Reggie Seimon had a mission, and that was to serve those in need of eye care. He was a perfectionist and he was strict, but he was also kind and gentle.
The Centre for Sight, which he set up at the Kandy General Hospital, without any help from the government, is a monument to his service to the people. The spacious, well equipped centre, which can accommodate some 200 patients, was his parting gift to the people of the Central Province before he retired in 1995. The many eye clinics he helped set up in remote parts of the island have benefited thousands of poor people.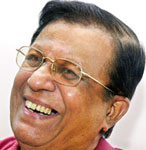 Dr. Reggie Seimon
After retiring from government service, he set up private practice at Suwa Sevana Private Hospital, in Kandy. Those who could not afford high consultation fees thronged to this place, which charged no more than Rs. 50 a visit.
The fee was set in 1990, and has remained the same since. It is probably the only doctor's consultation fee that has remained unchanged for more than 20 years, and it speaks volumes for Reggie's generosity.
If the patients were very poor, he would not charge them anything, and he would give them their spectacles free of charge. One such beneficiary referred to Reggie as a "Raththarang Mahaththaya" (a man worth his weight in gold).
Reggie was also a talented musician. He produced a CD of his instrumental music and gave the proceeds to help poor people who had to undergo cataract surgery or required glasses. In November 2007, Reggie and Indira lost their only daughter Ruwani, the well-known choir leader, voice trainer and talented singer. Ruwani had suffered from a terminal illness. Her demise may have prompted Reggie and Indira to move to Australia, to join their only son.
I have been a silent admirer of Reggie's service to the community. A year ago I attended Holy Mass at Sancta Maria, the famous Marian shrine in Kandy.
The Gospel that Sunday spoke of the importance of caring for the poor and the needy. As I heard the words of Jesus – "I was hungry and you fed me… I was naked and you clothed me, I was sick and you visited me, I was in prison and you came to see me" (Matthew 25:35-36), I thought of Reggie. When I met Reggie after Holy Mass, I told him that Jesus would one day tell him, "I was going blind and you saved my eyesight." Reggie's response was a shy smile.
It is time to say thank you and good-bye on behalf of Reggie's countless patients – and very specially the poor who enjoy vision thanks to Reggie's generosity and kind heart. May Mother Mary protect, guide and console you and Indira. May God bless the two of you, and fill you with His peace and inner joy. This is our prayerful wish for you. Your yeoman service to this country will never be forgotten.
Victor Silva, Kandy