It's Sybil's month at 'Kiyavana Nuwana' book store at Nugegoda (adjoining Anula Vidyalaya). As one walks in there, it's Sybil all over! Sybil's books are well displayed. The walls are adorned with Sybil's original drawings – those that she did for the books. 'Balanna Lassanai'- as we would say. Sybil's latest publications, re-prints and earlier books are all available at the exhibition which goes on till the end of the month.
The main attraction at the exhibition is the recently released 'Soottara Puncha' which has come out in book form for the first time. Sybil had earlier written a series under this title to the 'Dinamina' in the 1960s. "My grandfather used to call naughty children 'Soottara Puncha'. Many were times he called me by that term," Sybil recollects.
"The little ones who enjoyed my stories then are now adults. They enjoyed the 'Soottara Puncha' stories so much that they want to let their children and grandchildren also enjoy them. I had so many requests – that's why I decided to bring the stories out in book form," she says. (In fact, when Sybil realised that she did not have some of the stories, she published an advertisement in the newspapers. A reader, S.P. Piyadasa had the entire collection which he sent her).
"I am ever so grateful to him," she says.Sybil has done new drawings for the book. "As I started drawing, I began to enjoy doing it just as much as I did half a century ago. I felt so excited just as I was then. I started re-living the past," she reminisces.
Sybil was in the prime of youth when she first wrote the 'Soottara Puncha' column. Fifty years on her mind is the same. "I am still a 'podiththa' among little ones. The naughty things that the kids do are a blessing to the elders. Being naughty is their right. These 'danga bola' ( 'naughty balls') light up the lives of the elders."
Explaining why she thought of writing the column originally, she says that it was to create an impression on the adults on how they should look at children and understand them. "Some adults have forgotten their young days. That's why they punish children mercilessly when the little ones do something naughty." She advises adults to understand the innocent children's naughty habits, to enjoy them and have a good laugh. "That will definitely make the adults feel better and healthier," she insists.
For Visidunu Publishers head, Gevindu Cumaratunga, publishing Sybil's books is a joy.
Just as much he enjoyed his Seeya's (Cumaratunga Munidasa) stories as a child, Gevindu enjoys Sybil's stories as an adult now. "Though she writes and draws for the children, there are so many adults who appreciate them. Many of them read the books before they give the children. And, of course, they love her art."
There is a constant demand for Sybil's books. Gevindu keeps a close tab and ensures that they are always made available. Along with 'Soottara Puncha', he has reprinted at least five earlier books – 'Linde Yaka', 'Paddai Poddi', 'Ravna Revula', 'Veniyang Kalu Veniyang' and 'Kuda Hora'. These are all being sold at discounted prices until the end of March.
Evening of classical music by Japanese artistes
Since 1997, every year she has held a concert titled 'Classical Music & Ceylon Tea' in Shizuoka, Japan. Now the Alliance Francaise de Colombo will present an evening of Classical Music by pianist Chiho Akaishi with soprano Chihoko Otsuka on Sunday, March 20 at the Alliance Francaise auditorium at No.11, Barnes Place, Colombo 7.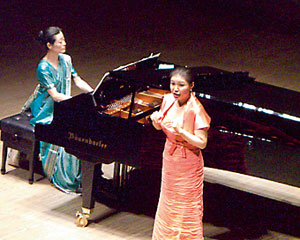 Chiho and Chihoko in concert
Leading classical singer Menaka De Fonseka Sahabandu will perform as the guest artist for the evening. Chiho Akaishi hails from Shikzuoko, teaches piano music at the Shikzuoko University and Junior College and is a regular concert pianist in Japan. Her performance for the evening will feature works by Chopin, Debussy, Bach, Mozart and Japanese composer Hirai.
Chihoko Otsuka is an accomplished soloist and graduate of the famed Tokyo Art University where she trained as a classical vocalist. She has performed in numerous operatic roles and has sung Mozart's 'Le Nozze Di Figaro' and Bizet's 'Carmen'. She has performed the oratorio music of Bach, Handel, Haydn and Mozart to audiences in Japan and Salzburg, Austria. Her talent is not confined to classical music but includes Gospel music where she has performed together with Chiho Akaishi for nearly a decade.
Entrance is free and limited invitations are available at the Alliance Francaise de Colombo from Monday 14th March at No.11, Barnes Place, Colombo 7.