Situated in front of the Police Park a colonial structure stands at No 22, Havelock Road, Colombo 5. The old building with its white walls and clay tiled roof rises serene and tranquil true to its name.
The colonnade flanking the verandah has an almost Doric feel. The main floor area of the building is a cut and polished concrete floor that was salvaged while renovating the 90-year-old building. The boutique has a beautiful mosaic floor that was laid by the artisans of almost a century ago. Exquisite colonial mosaic design contrasts with saffron splashes of colour on kabok walls. These walls are similar to the mustard hued, textured and washed out Tuscan walls. Enhancing this are the turquoise blues of the Mediterranean seas, added to the interior through painted salvaged wood shelving units. Other areas find exposed brick feature walls and earthy red hues.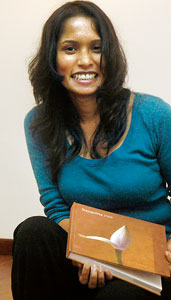 Nisansala: an artist, photographer and graphic designer.
A solid, polished, wooden stair-case takes you up to the second level where the unstained, natural wooden floor continues into the gallery space. A combination of wrought iron and wood that is both aesthetically pleasing and decorative is used in the interior.
This upper storey is tiered into different levels with short stairways- one to an area that displays a rare collection of books and the others to an exhibition space and terrace. The white walls of the top floor create the feel of a spacious calm. The seating and reception area and the inner office are also on this level. The furniture is mostly stained rattan upholstered in deep reds and fresh greens. The terrace sits under a canopy of greenery looking out towards the cityscape.
Casa Serena is a new gallery and boutique space opened by Nisansala Karunaratne. Located in the hub of Colombo, this purpose built exhibition space opens its doors to local and international artists and designers.
Herself an artist, photographer and graphic designer, Nisansala understands the importance of exhibiting works of art, be it photography, sculpture, video installations, graphic design or any form of traditional or contemporary art. The space is designed to enhance and highlight the displays. Having studied lighting techniques, mounting techniques and hanging display art, she is able to provide this expertise once the space is hired.
The boutique area of Casa Serena sells writing books designed by Nisansala, postcards and greeting cards based on the works of Sri Lankan temple artists as well as hand crafted bags and shawls from Sri Lanka and other South Asian countries. Scented candles, incense sticks and wooden items are also scattered throughout the store. Local hand carved silver and other exquisite items are available at the boutique. There is also a kids' toys area that sell items made in Sri Lanka.
Nisansala praises the local talent and stresses the importance of giving them the exposure and publicity they desperately need. "We are blessed with a rich arts tradition and it's overflowing with expertise and technique. It is our responsibility to help the local artists and designers come up." Unlike at other galleries Nisansala takes time to create a post card series of the exhibits. She also conducts a personal audio interview with the exhibitors that is later played as the backdrop to their exhibition.
Two of Nisansala's paintings and below left the gallery. Pix by Saman Kariyawasam
A student of Musaeus College, Nisansala studied art for her A/Ls and followed it up with a degree in Fine Arts at the San Jose State University of California where she majored in photography, taking a minor in graphic design.
During the course of those seven years she hosted a number of exhibitions of her own in San Jose and two at the Lionel Wendt and the Namel Malini Theatre in Sri Lanka. She always wanted to return and explore the country, its culture and history, understand traditional art and discover nature within the island. "I always wanted to come back. My heart was here. I love this country. It is a treasure-trove of arts and crafts. So much to learn and understand, so much talent, so many skills waiting to be discovered."
Having her own gallery was a dream, but she never believed it would be realized so soon. Laughing she says she even told one of her professors at the San Jose University that she was considering it as a "retirement plan". Her father wanted Nisansala to join their family business, Karunaratne and Sons Printers and she decided to help with their designs and new product creations but still keep her options open. "I felt that I needed to experience design within the country." She worked as a freelancer while guest lecturing at Colombo and Moratuwa Universities and other private institutions, continuing to paint and photograph during this time.
In 2000 Karunaratne and Sons Printers won 'the best diary of the year' award from the Sri Lanka Association of Printers for their pictorial diary inspired by Nisansala's concept of the essence and feel of the country through visual representations of nature, culture and tradition. To collect material for this she travelled the island taking inspiring photographs of a variety of subjects including the pink lotus flower, the red soil of Ussangoda and the dancers of a 'shantikarma' ceremony. "I didn't caption the photos and people kept asking me why. It's because I wanted the viewer to FEEL Sri Lanka." Nisansala says certain people believed that the graphic projection of myths and folklore of the island was not what Sri Lanka is about. "But the thing is it is a part of our heritage. Whether we like it or not it is who we are."
The youngest in a family of two brothers and sisters, she believes in each supporting and helping the other. It was her brother who helped realize Nisansala's lifelong dream. "We were looking out for a place to display our printed products and one day my brother Ravi Karunaratne told me that he had found the ideal location but it was a two storey house and that was way too much space for a boutique and would I like to do something like a gallery on the top floor. The strange thing is he didn't even know that I wanted a gallery of my own. I was dumbfounded and thrilled." The renovations began. That was one and a half years ago.
Today Casa Serena is an amalgamation of an ideally designed display space with the addition of a bookshop and boutique arts and crafts store. Nisansala wants to later have a coffee shop that opens to the terrace hoping to encourage the creative community to come together. "This is not just a gallery or space" says a passionate Nisansala "it's so much more. It's my dream."
Puerto Rican artist's work at Casa Serena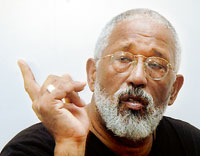 The artist
Rashid Abdur Rahman first visited a sparsely populated Colombo 38 years ago . Ever since then he has been bewitched by the beauty and charm of the country. Even as a little boy Rashid was fascinated by allusions to Ceylon. All the books he read about the tiny Island south of India were full of mysteries. "And gems" says the Puerto Rican painter. "I used to search the Museum of Natural History in New York for exquisite blue sapphires from Ceylon." Growing up Rashid read about the country's flora and fauna, history, and imagined a country full of treasure and enchantment. "Sri Lanka to me always meant magic."
Married to a Sri Lankan for 44 years he is very much in touch with his Sri Lankan side and of his two children, a son and a daughter, the latter was born in Sri Lanka. During his annual visits to the island he joined his father-in-law who had a passion for wildlife, to visit the national parks and sanctuaries. His first visit to the island in the 70's was with his wife Ayesha, a fashion designer to open a fashion boutique and gallery in Bambalapitiya named 'Dar Designs'. "But we were ahead of the curve and it wasn't successful. But today I see how much art and design has evolved in Sri Lanka." At the time he was fortunate enough to meet the likes of Laki Senanayake, and Barbra Sansoni, he says.
A first generation Puerto Rican Rashid Abdur Rahman was born in New York and studied art at the Music and Art High School in Manhattan today known as the Fiorello H. LaGuardia High School of Music & Art and Performing Arts. Later he studied Art Education at the Pratt Institute, School of Art and Design in Brooklyn. After graduation he began his teaching career and went on to lecture in Puerto Rico as an arts teacher. Rashid enjoys painting and is passionate about his work. "Unlike a photograph painting has an emotional reality. An artist puts a bit of himself in it. Take a sunset for example. Anyone could see the colours of a sunset. But a painter strives to capture the feeling and emotions involved. It is that you try to transfer to the viewer."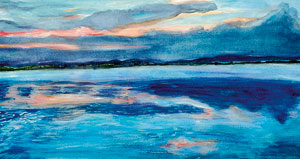 A painting from the sunset series.
Rashid also favours woodcut prints and mixed media paintings. "Woodcut printing lets you do an edition. It's a repetitive form of art." But his recent visit to Sri Lanka in 2010 inspired the painter to study and execute water colour paintings.
His inspirations were mostly Sri Lankan landscapes and dance. "Watercolour wasn't something I was confident with but when I went out into the open countryside with its scenery and flow it was soothing, almost like meditation. I am an artist trying to capture the essence of life."
Rashid has held many exhibitions in both Puerto Rico and New York. But this time he chose Sri Lanka as the subject matter. The Sunset Series was inspired by the reflections of a lake. "I walked towards the Parakrama Samudra one evening and saw the most amazing thing. As the sun was setting the sky was a host of reds, purples and orange. The lake mirrored the exact picture. The water surface was still. There wasn't a single ripple. It was surreal."
He has also done several landscape water colours, pen and ink work on the Devi Dancers and Trees at Tivanka, a series of wood cut prints inspired by the Embekke wrestlers, Kandyan drummers, the Parakrama Samudra and Bharatha Natyam dancing. Rashid is exhibiting at the newly opened Casa Serena. The exhibition titled "A Puerto Rican in Sri Lanka" is open to the public till March 27.
A black and white journey of a time gone by
By Dhananjani Silva
It unfolds great moments from the local cinema, theatre and music scene of the 70s and portraits of great film actors and actresses of all time…mostly in black and white.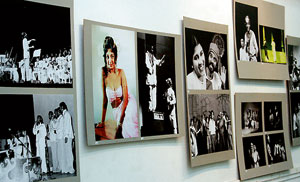 Some of the photographs on display.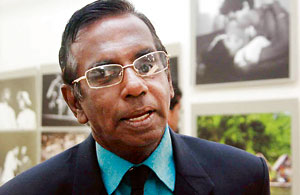 P.U.D. Perera
In an attempt to capture the local art scene over the decades, (from 1970 to the present) a veteran cine-cameraman P.U.D. Perera, (Upali Douglas Perera) presents a rare collection of photographs in his first exhibition 'P.U.D. Perera Chayarupalankara' which ends today at the National Art Gallery Colombo.
Perera started his career as a cine-cameraman in 1970 with the film Manas Puthek. In the following years, he worked in several short films which included Athuru Mithruru – a film which won the Presidential Award for the Best Black and White Film in 1983.
He moved on to still photography in 1983 and later to his private production house. Perera's photography exhibition includes various moments he has captured over 40 years representing different fields -- film, theatre, music, sports and nature.
About 150 still photographs of actors and actresses such as Malini Fonseka, Ravindra Randeniya, Gamini Fonseka, Vijaya Kumaranathunga, Angela Seneviratne, music veterans as H.R Jothipala, Clarence Wijeywardene, Victor Rathnayake and Nanda Malini will bring back memories.
The collection of 300 photos also captures scenes from stage plays of a by gone era such as Awanhala, Nari Bena, Madura Jawanika, Santhuwara Sebalano and films like Aradana, Sathyagraha and Yuganthaya.
Commenting on what made him hold this echibition he said, "I covered a range of subjects while working as a photographer back then. I realised that very little had been preserved from the generation of professional photographers of the likes of D.B. Suranimala and Ralex Ranasinghe. When they passed away their work too was lost to future generations.
As one who belonged to a later generation of photographers I thought it was my duty to leave some thing of a bygone era for future generations." The black and white photographs on exhibit were taken as well as developed by him.
Parallel to the exhibition, singers and actors from the 70s will come together to present "P.U.D Vindana Hendawa" at the John de Silva Theatre today at 6.30 p.m. "Like the exhibition, the concert too will be a different experience for the public," Perera assures.