People in villages in the Puttalam district are fleeing after a herd of wild elephants stormed into the area on Friday night.
The herd numbering around 20 pachyderms, are presently cornered in the village of Mailankulam close to Karuwalagasweva and authorities are making efforts to drive the animals away. The beasts have already destroyed nearly 50 acres of paddy and forced dozens of people to flee their homes.
Earlier a wild elephant was gunned down and later put to the torch by enraged villagers. "Something needs to be done fast in fairness of both the people and the elephants. "The situation cannot be allowed to continue… two months ago the elephants damaged two houses and a large extent of cultivation.
"The authorities must act fast and bring about a permanent solution to the problem", said Ms. P. Violet Kusumawathie a local villager.
A team from the Wild Life Department is presently in the area and team leader H. Chandrasiri said efforts were being made to establish an elephant corridor through Tabbowa towards Wilpattu
"This needs careful planning and therefore will take some time. However we are working towards this end and the matter should be sorted out in a day or two", Chandrasiri added.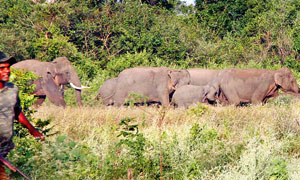 Above:A part of the herd of elephants trapped in Mailankulam. Below:Officials from the Wild Life Department and bottom the carcass of an elephant which was shot.