Some 338 Sri Lankans have left Libya on chartered flights so far, Colombo's envoy in Libya, Sudantha Ganegamaarachchi said yesterday.
An estimated 1200 or more remain, he told the Sunday Times on the telephone from Tripoli. He said that Sri Lankans who were holed up in the embassy located at Hey-al-Andoloos had all left now. "The last batch of 138 was flown in a chartered flight to Amman (Jordan) and from there to Dubai for a connecting flight to Colombo," he said.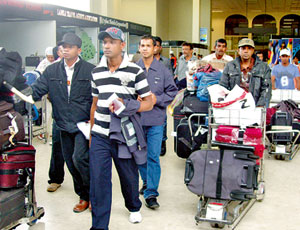 A group of Lankans who arrived from Libya leaving BIA yesterday. Pic by N. Kumarasinghe
At least 15 Sri Lankans who were earlier in the embassy premises opted to stay behind in Libya, the envoy said.
The Sri Lanka embassy in Tripoli is working round the clock to make contact with Sri Lankans throughout the troubled oil-rich North African nation to ascertain who would want to return home. The embassy has received reports that an unknown number had left eastern Libya and gone to Greece, Cyprus and Malta.
Smaller numbers are also known to have crossed the Libyan border into Tunisia and Egypt. Mr. Ganegamaarachchi said no Sri Lankans have been injured so far in the ongoing violence involving rebels and forces loyal to Libyan leader Muammar Gaddafi.
"However, our priority is to make sure Sri Lankans who need to return are identified and helped."
He said that a disruption of communication facilities was hindering their efforts but the embassy was working round the clock.
Most of the Sri Lankans in Libya are skilled workers employed in oil fields and other commercial ventures. The Gaddafi government has provided enhanced security for the Sri Lanka embassy. Similar security measures have also been provided to other missions.