Sri Lankans fleeing the political turmoil in Libya, witnessed mob violence, looting and burning of worksites. Fleeing in whatever directions that took them to airports, ports or bordering countries over 150 of them managed to escape but an estimated 300 to 400 still remain trapped there, some of the returnees told the Sunday Times.
K. Perera, a resident of Kadawatha and welder by profession, has been working in Libya since 1990. As fighting broke out on the streets Mr. Perera said he saw young supporters of Libyan leader Muammar Gaddafi, armed with automatics, shooting at anti-Gaddafi protestors.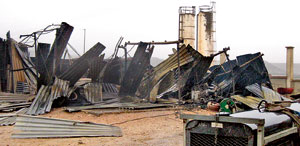 Scenes of destruction (above): The worksite that Alagaratnam Sudharshan and other Sri Lankans were employed at.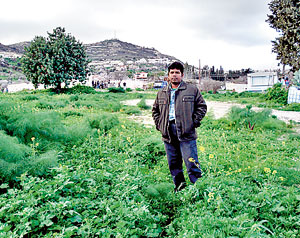 Alagaratnam Sudharshan stands in front of his worksite in Lybia
"The area where I worked, was Gaddafi's native place, and when the turmoil erupted, all the youth were issued with weapons by the State. Teenagers armed with automatic rifles went on the rampage, firing at protestors, with nobody to control them," he told the Sunday Times hours after he returned on Thursday.
"Since the area was dominated by Gaddafi loyalists, the protestors could not enter the area, and whenever they tried, they were shot at, and violent clashes broke out," he said.
"Looting was rampant, with mobs breaking into supermarkets and removing valuable electronic items such as fridges and TVs, along with foodstuffs," he said. Alagaratnam Sudharshan 33, of Attidiya had been employed in a port project in Libya as a surveyor for the past three years, when trouble started brewing.
"When the unrest broke out, protestors stormed our camp and removed vehicles, food items, bottles of water and other valuable goods," Mr. Sudharshan, told the Sunday Times. 'They also set fire to our camp and demanded that all foreigners leave the country immediately," he continued.
"Some of our colleagues at the worksite joined the mobs and appeared at the premises with weapons, telling us to leave, claiming that foreigners were plundering the country and locals were being ill-treated and being paid low salaries," he said.
"They said that many companies were owned by Chinese or Cypriot nationals, and hence their wealth was being drawn out of the country, with no benefit to the locals. Foreigners were not harassed, though the mobs were violent. The company we worked for was very influential and therefore was able to arrange a flight for us to leave the country to Cyprus. On the way to Tripoli airport we saw that the place was heavily guarded.
"The situation was fast running out of government control by the time we left last week," Mr. Sudharshan said. He said there were about 130 Sri Lankans employed at his workplace, but they were at different sites and only four of them worked with him.
Lokuliyanage Ratnakumara, 47, said that he had gone to Libya as a motor mechanic in December.
"I was working for a Chinese construction company. Thirty six Sri Lankans were working with me, about 1,500 km away from the capital."
"When trouble began our company hired a ship and sent the Sri Lankans to Greece where we were taken to a hotel on arrival. The same night, a Sri Lankan couple visited us and told us that we can stay there and earn lots of money, but I was not interested. The next morning 11 Sri Lankans had gone missing," he said adding that later five of them were apprehended by the police.
"Thereafter, the Greek authorities said that they were not going to receive any Sri Lankans on transit from Libya," he said. He said that due to this incident, other Sri Lankans have been deprived of protection.
The violence came at a time when Sri Lankans were looking at lucrative job markets, expecting to send more than 100,000 workers to Libya. Former Foreign Minister Rohitha Bogollagama said that Libya had requested for a workforce of over 100,000.
Body of Lankan accident victim languishes in Libya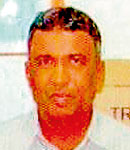 Wijepala
The family of a Sri Lankan employed in Libya, who died in an accident, have been making desperate but unavailing attempts to bring down the body. Ananda Sarath Wijepala, a store manager was run over by a fork lift truck according to his wife, Chandra Wijepala from Mahabage, Wattala.
"We have been trying to get my husband's body, with only scant assistance from our mission in Libya, though the company J & PO has been very helpful," she said. She said their son who had arrived from Canada, had to get back to his work place soon, and was hopeful that her husbands remains would be brought soon to the country.
"Our appeal is that the authorities should help us to get the body back", she said adding that the company was willing to expedite proceedings and have the body put on a flight.