The existing laws which enable State vehicles including security forces' vehicles to run without insurance may deprive the family who lost its breadwinner in last Sunday's accident at Lellopitiya, Kahawatte, involving a vehicle providing back-up to the IGP's wife's car, of adequate compensation.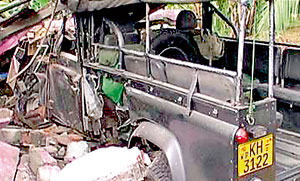 The Defender vehicle and the victim's motor cycle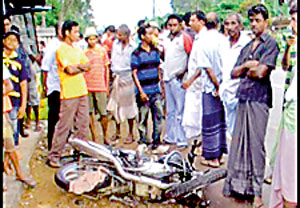 Twenty-seven-year-old C. Priyadharshana, a garment factory employee, was hit by a speeding Police Defender vehicle at Kahawatte as he was returning home after servicing his motorcycle.
Eyewitnesses said that the vehicle was travelling at high speed with one of the vehicles proceeding in front telling the people to move away from the road.Eyewitnesses said the Defender vehicle swerved to a side, hitting the motor-cyclist, and coming to a stop after crashing into a boutique.
The area police said that the vehicle had a mechanical flaw and is to be forwarded for an examination by a traffic inspector.
Last week the Sunday Times reported that in view of the accidents involving State vehicles including security forces' and police vehicles the Government was now planning to amend the laws so that they too will need to be insured to run on the roads.
The current system involves a lengthy legal procedure to obtain compensation.