Ven. Dhiloraj Ranjith Canagasabey was elected to be the 15th Bishop of Colombo of the Church of Ceylon at a special Diocesan Council meeting held yesterday.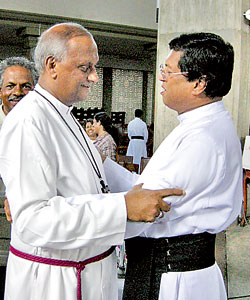 Outgoing Colombo Bishop Dilip Chickera greets the newly appointed Bishop. Pic by Athula Devapriya
Ven. Canagasabey who is Archdeacon of Nuwara Eliya was the only candidate nominated for election and received the required two-thirds majority of both clergy and lay members as required by the Church Constitution.
He will succeed Bishop Duleep de Chickera who retired in December 2010.
Born on May 23, 1955 in Batticaloa, Ven. Canagasabey had his early education at St. Michael's College, Batticaloa and worked in the hotel industry for a while, before joining the priesthood.
He was ordained a priest in 1984 after his theological training at the Theological College, Pilimatalawa.
He also holds a Bachelor of Divinity degree from the University of Serenpore. A trilingual priest, he was appointed Archdeacon of Nuwara Eliya in 1997.
His appointment is subject to confirmation by the Archbishop of Canterbury, head of the Anglican Church worldwide. His service of consecration as Bishop is scheduled to be held on May 14, 2011. He is married to Harshini and has two children, a son and a daughter.