For one who has trained with Michael Phelps, Brooke Hanson Adrian Radley, Michael Klim, Geoff Hugill and Alexander Popov, Sri Lanka's Olympic swimmer Conrad Francis is simple and unassuming. Currently this 29-year swimming sensation is coaching the Bishop's College team and is in charge of a private squad at the British School High Performance Swimming Institute where 70 hand picked swimmers are being put through their paces.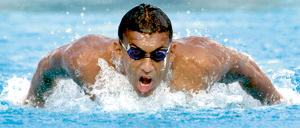 Conrad Francis in action
Speaking on the Bishop's team, Conrad says that he is putting the girls through a development programme and the girls are responding well. Last year the Bishop's team was led by Akila Fowzie and this year the Bishop's skipper is Nethmi Gunadasa. "The Bishop's team fared well last year and are bound to do well this year too," said Conrad.
He is full of confidence in producing top swimmers at the 70 member Private Squad at the British School as well. Conrad is being assisted by Jeevan Nadeeshan in this endeavour. According to Conrad the Private Squad has been grouped into four categories. The first is the Age Group team. Second the senior team, thirdly the Novices Group and lastly the Learn to Swim Group for beginners.
He takes pride in saying that some members of the S. Thomas' swimming team including some of the Thomian water-polo players who bagged the Hayman Trophy defeating Royal in the Royal-Thomian water-polo encounter too are currently in this Private Squad. Conrad who specializes in the Butterfly and Backstroke events has been put through his phases in Australia by Leigh Nugent, Mark Thompson, Grant Watson and Simon Moule which had included 11 water sessions, three gym sessions in a training session embracing 14 sessions per week. "This is a tough training session, but it works. I am having the same sessions at the British School High Performance Swimming Institute where I am assisted by Roshan, the NOC Manager in Technogym training and Ms. Nishanthan Shiroze," said Conrad.
He also had a word of praise for Heshan Unamboowe, the Trinity lad who led Sri Lanka at the first ever Youth Olympic Games in Singapore last year. "We have the talent. What we have to do is to send them along the black line." said Conrad. He was obviously referring to the black line in the swimming pool where swimmers follow to keep in line. According to Conrad the swim greats he had trained with in Melbourne, Australia where he had lived for the past six years had made sure that he had gained valuable experience which could be passed on to Sri Lankan swimmers.
Conrad started his swimming career at St. Joseph's College Colombo at the age of nine years. His first international exposure was at the Asia Pacific Age Group Championships. His pet events are the 100m/50m Butterfly stroke, 100m/50m Breast Stroke.He is a dual Olympian having represented Sri Lanka at the Athens Olympics 2004 and the Sydney Olympics 2000.
Sri Lanka's National Olympic Committee (NOC) had identified Conrad as a promising swimmer in 1996 to follow the International Olympic Committee Solidarity Scholarship via Asia Sports Linkages Programme which had been funded by the Australian Department of Foreign Affairs and Trade to access high-quality training and Sports Science. "The Australian Sports Commission arranged my training at the Nunawading Club, Victoria Australia and school at Rowville Secondary College."
After a successful Secondary Education where Conrad received awards in studies and sports achieving the Certificate for Excellence in Swimming he had entered the Swinburne University of Technology in Victoria where he had graduated in Sports and Recreation (2007) and bagged the Certificate IV in Sports and Recreation (Computer Electronic Engineering).
Conrad blossomed out as an outstanding swim coach and instructor and he produced a career profile and his sporting achievements which is too numerous to mention here. Some of his outstanding achievements are being inducted to the 'Hall of Fame' by Rowville Secondary College (2002), High Achiever Certificate (1999), the Josephian Blue, Josephian Colours (1996) and being awarded Sri Lanka School Games Colours by the Sri Lanka School Sports Council for Swimming in the years 1994, 1995 and 1996.
His achievements and career milestones are another eye opener of what this swim champion has achieved.