The build-up to the 2011 World Cup has been long, but the much-anticipated moment has finally arrived with our first game today against Canada. Just like everyone else in Sri Lanka, we are really excited about the next few weeks and proud to be co-hosting an event of this magnitude.
This will be my fourth World Cup and quite possibly my last World Cup depending on form, fitness and the plans of the selectors in 2015. The 1999 tournament was a disaster for the team and the 2003 tournament was very forgettable for me although we reached the semi-finals because I scored so few runs.
In 2007 we played really well and came agonisingly close to repeating the heroics of our 1996 team. Unfortunately after an excellent campaign we struggled in that final at the Kensington Oval in Barbados after a brilliant match-winning hundred from Adam Gilchrist.
This time, however, I feel we have even more potential in this team after the successful integration of several young and exciting players over the past three to four years. We've lost some superstars, but we gained a really talented group of cricketers.
In the fast bowling department the emergence of Nuwan Kulasekera has been hugely important to us. He may not be a high profile headline-grabbing player, but he is a true professional, a skilful bowler and a very consistent and reliable performer. He's been a very important part of our recent success and deserves far more credit than he gets.
Our spin bowling has also moved forward with the introduction of Ajantha Mendis back in 2008. He added great variety and became a very valuable partner for the great Murali. Players around the world now play him a little better, but he is also working hard on his development.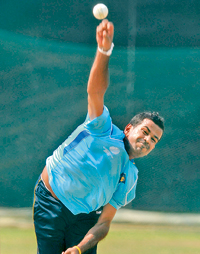 In the fast bowling department the emergence of Nuwan Kulasekera has been hugely important to us. He may not be a high profile headline-grabbing player, but he is a true professional.
Then we've been fortunate to discover a fine young off spinner in Suraj Randiv as a very capable back-up to Murali. He was very close to a place in the final 15 and remains part of the reserves. We've also re-introduced Rangana Herath back into limited overs cricket. Rangana has matured like a good wine and is now a very fine left-arm spin bowler who I believe will play a major role in the tournament.
Arguably the biggest positive in recent times has been the greater options we now have in terms of our all rounders. We've spent years trying to find quality seam bowling all rounders and in this squad we have two: Angelo Mathews and Tissera Perera. Both are big assets.
The batting has not changed as much, but the move of Dilshan to the top of the order in 2009 worked brilliantly. The return of Thilan Samaraweera has also stiffened our middle order. His has worked so hard on his one-day cricket and is now a world-class player.
The new faces have integrated into the squad well and the end result is a vibrant well-balanced 15-man squad. There is plenty of variety in this team and we have the ability to adapt to different conditions and different opponents.
The first hurdle is Canada, a team we trounced in 2003, but still not a team to take lightly. I will never forget that dark day in the 2003 World Cup in Nairobi where a young leg spinner called Collins Obuya ripped through our middle order and bowled the Kenyans to a shock win. We will not underestimate any team this time.
They have some useful players, most famously a 40-year-old John Davison who hit a 67-ball century against West Indies in 2003. But there are some impressive players in their squad, including the dangerous six-hitting Rizwan Cheema, who gave England a big fright the other day by blasting 93 from 70 balls.
Canada also have an interesting Sri Lankan flavour with the 19-year-old Ravindu Gunasekera, who seems to be a quality batsman. They are coached by Pubudu Dissanayake, who we know well, and were recently joined as a consultant by Chandika Hatharasinghe, our former assistant coach who is also now coaching in New South Wales.
It will be special, too, to kick-off our campaign at the brand-new Mahinda Rajapaksa International Cricket Stadium at Sooriyawewa. I know it has been a race against the clock to get the venue ready in time, but it is now looking a very impressive international venue. The practice pitches have been excellent with good pace and even bounce. The floodlights are also brilliant.
We are now ready and we need to take this campaign one game at a time. We are fortunate to have wonderful home support and I hope that will inspire us all to play the best cricket we can and in doing so bring joy to all Sri Lankans both home and overseas.