The recent visit of hockey legend Freddie White to Sri Lanka from Australia brought back nostalgic memories of his illustrious brother Duncan White. Then also there was Sri Lanka's Independence Day celebration in Kataragama.
Coinciding with Ceylon's independence in 1948 was Duncan White's Silver Medal victory in the 400 meters Hurdles event to put Sri Lanka firmly in the world of athletics. Duncan was nudged by Roy Cochran who went on to win Gold at the Wembley Olympics.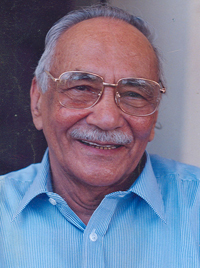 Duncan White
At that time Ceylon's tea gained world-wide fame and outdoor activities were not heard of much. Only whistle stop matches in cricket were played against Australia and England etc. which drew capacity crowds.
Duncan White attended Trinity College Kandy while his brother Freddie White was at Kingswood. I came to know Duncan White his wife Anne and family during my tour to England in 1988 and since then maintained a close relationship with the Whites until Duncan passed away in Birmingham, England.
I first met Duncan through Sri Lanka's boxing great Eddie Gray. Both Gray and Duncan never forgot Ceylon, the country of their birth, though they lived abroad. Gray was a member of the 1948 Wembley Olympic team in boxing with Albert Perera and Alex Obeysekera,
Eddie was fortunate to witness the second Sri Lanka medal winner in action as IOC representative at the 2000 Sydney Olympics where Susanthika Jayasinghe, won Silver in the 200 Meters and the Aborigine girl Cathy Freeman won Gold for Australia. I was fortunate to watch this historic race thanks to Harry Solomon.
Unlike athletes of the present generation, Duncan was financially poor but rich in character and he had to find his own athletic gear but had the grit and determination to shine for Trinity at athletics and rugby football.
Sixty three years have passed after that epoch making run. Summa Navaratnam, that double international in athletics and rugby and the fastest man in Asia on grass tracks at one time during his era said that at that time sportsmen trained on their own and there were no proper facilities.
However for the Wembley Olympics Ceylon had obtained the services of Grant Little to do the training and to help pick the athletic squad. There was only the manager W.D.H, Perera and Physio Don Thomas, unlike the present where at times there are more officials than athletes.
Summa, a die-hard Royalist still finds time to train the Royal Under 12 rugby players teaching them the rudiments of the game. When questioned about the present sports set-up he says: "Today sports are a profession. Money culture is the order. There is no club loyalty and the standard at national level has dropped."
Summa was of the opinion that that a monument should be set up to remember Duncan White, the first medal winner in the Olympics (1948). There are various suggestions to honour this great sports hero. One of them is to name the Bogambara Gate in his memory or the entrance to the Asgiriya Playground in his name. Brgadier (Retd) Jupana Jayawardena, a former Trinity, Havelocks, Army and Sri Lanka scrum half and a staunch member of the TCK Old Boys Parent Body is thinking on these lines. However sponsorship seems to be lacking. It is hoped that all concerned will rally around for this worthy cause.