It's nice to get pen on paper once again and put my thoughts down-this time for an all important event and the greatest cricketing showpiece on the Planet, the Word Cup 2011. Although I must confess that being a part of the World Cup team would have been much nicer and satisfying. However this was not the case for me as I failed to catch the Selectors eye this time.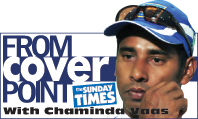 I must stress at the onset that it was a bit of a disappointment for me to be left out of the final World Cup squad of 15 players after being included in the squad of 30 probables. I trained very hard in the last 8-10 months with the World Cup on my mind. I thought my performance over these months was good enough for me to be in the final squad of 15. Yet my friends at the Selection Committee thought otherwise. I guess that is the nature of this game. So close but yet so far.
Something that I have learnt over the last 17 years that I have played for my country is to take up Victory and defeat in the same stride. I have had many setbacks in my career but this is easily the biggest and a bitter pill to swallow. I believe it is not only in Cricket that these things happen but sometimes in our day to day life we encounter these setbacks. I always think to myself that that it is for my own good and always believe that God knows what's best for me.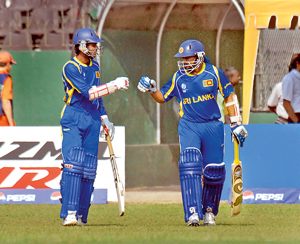 Upul Tharanga and Tillekeratne Dilshan - ideal to rattle a good pace attack.
Getting back to the World Cup and our 15 man squad it is my belief that Sri Lanka has her best chance of emulating their feat in 1996.The question in every cricket fans mind these days is 'Will we win the World Cup this time?' Many people whom I meet these days ask me the similar questions. My answer is very simple; yes we will win the World Cup.
There are many reasons for me to think that Sri Lanka will win their second World Cup this year. The Selectors have come up with a squad of 15 that is well balanced with more than a few options that could be presented depending on the opposition and the conditions of the wicket on that day. Whether it is in the Batting or Bowling departments we have the variety that is required in these sub-continent conditions.
Our Openers, the right and left combination of Dilshan and Tharanga are the ideal foil to rattle even the best of bowling attacks. Dilshan can tear any bowling attack on his day. He is one of the best openers in this format of the game. He needs to continue playing his natural game and concentrate on his strengths and areas where he is most comfortable. Tharanga on the other hand is a very good accumulator of runs. He is a batsman who has the ability to push the singles and also get that occasional boundary and maintain a steady and healthy run rate. His role should be to support Dilshan and also bat through the innings. A good start is something that Sri Lanka will need especially against teams like the Aussies and Pakistan.
Following them would be Mahela and Sangakkara. Two batters who will make any opposition bowler nervous. The duo is batting at their best today which is indeed a huge boost to the Lankan batting line up. Having world class batters is one thing, but if they are not in the best of form it will be of no use. However in Mahela and Sanga Sri Lanka is extremely lucky that the two have hit a purple patch. Sri Lanka needs the duo carry their form throughout the World Cup. Apart from their batting their collective thinking is also expected to play a key role in the tournament. Sangakkaras astute leadership and Mahela's ability to read the game will no doubt help the Lankans a long way.
Although most people think that the Lankan middle order is weak, I refuse to accept it. The experience of Thilan Samaraweera coupled with the talent of Chamara Kapugedara and the reliability of Angelo Matthews should dispel any brittleness in the middle. Samaraweera has proved time and again that you need not bash every other delivery to have a healthy strike rate. Kapugedara is a batsman who has shots all round. Mathews has grown in confidence in the recent past and has raised his hand-up on more than a few occasions when the team needed. Hence the middle order is formidable and capable of building on the starts provided by the top order.
The Combination of the three M's Malinga-Muralitharan-Mendis in the bowling attack is bound to give a few sleepless nights to opposing batsmen. Malinga is at his best right now. His accuracy and pace has been astonishing. Being a fast bowler I know very well how much of hard work is required to bowl at that pace consistently. In that context Malinga has done remarkably well. Sangakkara will do well to use him sparingly and also judiciously especially during the second power play to get the most from him.
Kulasekera has been a very useful bowler lately. He has the ability to bowl a steady line and length and give that much needed early breakthrough in the innings. Whatever opposition you play you need to get wickets early and consistently. This will enable you to put the brakes on the opposition and check the run rate. Angelo Mathews apart from his batting talents has proved himself as a wicket taking bowler. This is a big bonus for the Lankan bowlers who have a batting all-rounder who can take wickets and bowl a tidy spell in the middle overs.
The spin department will be spearheaded by Muralitharan who will be playing in his 5th World Cup. The lone survivor from the 1996 world cup winning team Muralitharan's experience is going to be priceless. Playing on home and sub-continent wickets the spin wizard is certain to relish the opportunity. Together with Ajantha Mendis (and maybe Rangana Herath) and part timer Dilshan Sri Lanka has a good variety of spinners that can rattle any formidable batting line up.
In tournaments of this nature you need to get off to a very good start. We have been provided a good opportunity here as we meet minnows Canada today in Hambantota. We need to play our best eleven and get the maximum points in the most convincing manner against the Canadians. If my memory serves me right in the 2003 World Cup in South Africa we bundled Canada out for a mere 30 odd runs and the match was over by around 1.30 that afternoon. A similar performance today should announce our arrival at World Cup 2011