Hailing from Ahangama in the South, Buddhi Galappatty started writing poetry nearly half a century ago. He remembers the days when he studied at St. Servatius, Matara when his Sinhala teacher encouraged him to write poetry. He was then in grade V. The teacher was a member of the Hela Havula following the Cumaratunga Munidasa tradition.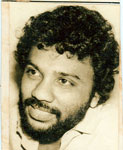 Buddhi Galappatty
As an A'level student at Sri Lanka Vidyalaya he published his first book of poetry way back in 1971 along with Jayalath Manoratne and Sunil Ariyaratne. By 2006 he had another eight collections on his own. He has collected all these poems and now published 'a bunch of poems' giving an opportunity for the reader to enjoy his creations. Titled 'Kavi Pokura' it is a rich collection which one cannot only enjoy reading but also studying his progress as a poet.
Having got his degree from the Vidyodaya University, he was then attached to the Salt Corporation from where he moved over to the Cement Corporation as Materials Manager and later to Holcims going up the ladder to end up as Logistics Manager and Media & PR Consultant.
I remember Buddhi more as a backstage décor man when he started winning awards at the State Drama Festival. In 1969 he was picked by Dr. Sarachahandra as stage manager for the second production of 'Maname' and to assist art director Padmakumar Ediriweera in make-up.He was also in charge of décor at the Ape Kattiya plays when he moved closely with that ace dramatist Sugathapala de Silva.
"Moving around with the theatre groups gave me an opportunity to travel into many parts of the country and meet people. I became a close observer of what was happening around. It gave me ample food for thought and material for my creations," Buddhi recalls.
As Buddhi reaches a milestone in releasing a near 450 page 'bunch of poems', he looks back with gratitude on the encouragement given by Eva Ranaweera and Sriya Ratnakara - two well-known journalists (the former was editor of the weekly 'VanithaVitti' while the latter edited 'Sri' – both Times of Ceylon publications) when he contributed short stories, poems and feature articles as an undergraduate.
By the early seventies, he was confident in publishing his poetry and had three books out by 1980.'Kavi Pokura' is a fine mix of themes, experiences and styles. Here and there Buddhi just writes a single verse. 'Kanthoruva', for example, is a single poem depicting an office scene. A clerk is dozing off on a pile of files. The typist is by his side humming a tune. The fan is secretly watching them. A new foundation for 'national development' is being born. This is a rough translation of the poem which just indicates Buddhi's observation of what goes on in an office.
He creates a vivid evening scene in 'Lumbiniya ha redimola'. People well dressed and looking smart, are gathering at the Lumbini Theatre to see a play. As they start chatting in groups waiting for the door to be opened, huge smoke from the Wellawatta Mills flows out of the chimney towards the sky. The dark smoke is a mix of the sweat and toil of the workforce who struggle throughout the day with the huge machines. While we wait leisurely till the gates open, they wait anxiously until the machines stop for them to get out of their 'prison' and join their kids at home after a tiring day.
Such observations are aplenty in the book. To give a few examples, 'RetaKolamba' describes a typical night scene in Colombo city. 'Kataragamadee' relates how amidst the pooja, everyone's attention is drawn to an announcement over the sound system of the loss of a necklace of a devotee. 'Parajita Manthreethuma' capsules in two verses the lament of a defeated candidate. "My name is not heard on the radio - My picture does not appear in the newspaper -The limousine is missing from the garage - There isn't anyone to keep me company."
As the years progress the range of his themes expands. He certainly shows maturity and depth in his creations. Yet he maintains the simplicity in his delivery. To me that is Buddhi's success.