Italian handloom weaver Luciano Ghersi is a master of his trade. Born in Genoa in 1952, he took a degree in Philosophy in 1975. Luciano was not born into a family of weavers, but his interest in the subject led him to study the traditions of weaving. Since 1977 he has been practising and writing on the subject. He wrote L'Essere e il Tessere (Being and Weaving) in 1992, and numerous other articles. Today, Ghersi lives on the hills of Umbria in a picturesque medieval town that is about an hour's drive from Rome.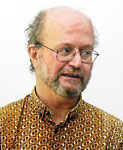 Luciano Ghersi: A master of his trade
After years of experimenting in the use and construction of looms and the use of natural fibre in handloom, this master weaver became an expert on looms and handloom material. He is proficient in the use of the pedal loom, the vertical loom, the flying shuttle loom, and other looms that he built himself using recycled objects and materials. Once he built a loom out of vineyard fencing and a spring bed. He combines colours and materials with great flair, since he utilizes anomalous yarns often far from anything orthodox.
Material that can be rendered threadlike, even barbed wire, animal hide, pages from old texts, plastic, discarded high fashion clothing and anything that he can envision being woven. He prefers not to define his work in advance nor create textiles that pursue formal patterns and colours of handloom. In the summer of 1998 he created Global Home, which consisted of the structure of an Indian tent made with 6-metre tubes, which was then covered by a strip of fabric that was woven on the spot by the visitors, who brought with them various types of waste materials that they then wove on a loom constructed by Ghersi using scrap iron.
Ghersi has worked as a textile researcher, designer and teacher in cooperative projects in Africa, Ghana and Algeria. He also trained Italian prisoners in weaving as a means of rehabilitation and meditation. "Weaving creates a sense of freedom within the frame of the loom. They can create whatever they please, however they want." Many videos posted on YouTube finds Ghersi's work with the differently abled. In 2001 he earned the title of Master of Kent Weaving from the Blakhud research Centre in Ghana. He enjoys sharing his joy of hand weaving with those in need. In 2007 he launched the Faculty of Weaving in Porchiano Del Monte, in the province of Terni.
He has exhibited around the globe. "The Fakirs' Meeting Point" at the contemporary art museum in Seggiano is a set of fakir seats fashioned as chairs surrounding a table. It was created on a loom using barbed wire with the help of a blacksmith. The "TATAM" displayed at the Blakhud Museum in Ghana, the "Cannabis Magnerica", "Hommage to Duchamp", "Spontaneous Sculpture - thorny question on the carpet" in Italy too are famous among the respective localities. Norway proudly exhibits "The woven train" at the Moelv railway station.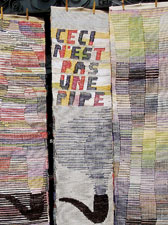 "This is not a pipe": A design inspired by a painting of Rene Magritte.
Pix by Saman Kariyawasam
But he is most renowned for his textured and evocative tapestry pieces. A series of tapestries he designed once was inspired by the painting of Rene Magritte depicting a realistic impression of a pipe and the French words that stated "This is not a pipe". The imagery and the form and feel of the smoke fumes that ran off the pipe inspired the pattern and colour of the work. An exhibition he held in Africa portrayed tapestries influenced by the African mask traditions. One tapestry was the Italian flag, woven with narrow strips of cloth on an African loom portraying two eyes and a mouth.
A frequent visitor to Sri Lanka, he was inspired to visit the island at first by his friend, well known architect Tilak Samarawickrama and wrote a manuscript named "The Buddha Bus". This text published in 1993, was based on his experience travelling to Sri Pada or Adam's Peak on a pilgrimage with a group of fishermen from Weligama, describing the bus ride to the foot of the mountain range, the customs and traditions of the locals and the rituals conducted when worshipping the patron deity of Sri Pada, god Saman or Saman Deviyo. Hand bound by the author himself the volume was full of typical Sri Lankan illustrations, most of which were ordinary and inexpensive picture paper, used by children to fill their scrapbooks depicting various aspects of Sri Lankan living.
In 1996 he also held an exhibition at an Italian Restaurant named Il Capriccio situated in Colombo.
Luciano while visiting Sri Lanka was introduced to the weavers of Talagune by Mr. Samarawickrama. Talagune, in Ududumbara is the oldest weaving village in Sri Lanka and is home to Mr. Samarawickrama's master weaver Sirisena.
"It was like I was back in school. I was learning with my eyes, like he had done since he was a little boy. The way he weaved was effortless. It was beautiful to watch. I felt so rough next to him. His technique was so elegant," says this Italian maestro recalling the visit.
---
Luciano Ghersi together with the Italian Embassy of Sri Lanka will hold an exhibition of tapestries of wool, silk and various other materials, woven on a variety of looms, at the Deshamanya Siva Obeysekera Gallery – Lakpahana (No 14, Reid Avenue, Colombo 7) on February 26th and 27th.