"Ayubowan," Anita Kumuduni Roellin greets us, elegantly attired in a neatly draped sari. From her dress code to her behaviour, everything about her seems truly Sri Lankan despite living in Switzerland for almost 29 years, having been adopted by a Swiss couple as an infant. She has studied Ayurveda; learnt Kandyan dancing and speaks a few words in Sinhala.
Kumuduni is the Sri Lankan-born athlete who brought honour to the country by winning the Gold Medal for Snowboarding at the recently concluded First South Asian Winter Games (SAWG) held in Auli, India last month. She is the only athlete to have represented Sri Lanka and competed with teams from countries like Nepal, Pakistan, Bangladesh, Maldives, India and Bhutan. The competition which was held from January 10-16 in the Himalayan region of India was organised by the Indian Olympic Association and the Winter Games Federation of India.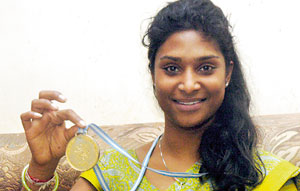 In Colombo: Kumuduni proudly displays her medal
It was in 2008 that Kumuduni located her biological family in Sri Lanka. However, prior to that, she had visited Sri Lanka on many occasions to work as a volunteer with several humanitarian organisations. She spent the last year in Sri Lanka as a volunteer at Sarvodaya. "Work apart, the reason why I was here most of the time was my biological mother," says Kumuduni. She is the second in her biological family of two brothers and sister, she says.
This week she was back in Colombo again, this time for a felicitation by the Sports Ministry for winning the gold medal. The invitation to represent Sri Lanka at the South Asian Winter Games 2011 came after she had returned to Switzerland on December 26, after spending more than a year in Sri Lanka. A few days later, she was informed by the National Olympic Committee in Sri Lanka about the invitation extended to Sri Lanka to make preparations for the Games. "They knew about my snowboarding abilities; they knew about my connection with both countries, so I was told to get a team organised," she goes on.
Snowboarding has been a part of her life ever since childhood, Kumuduni says. She grew up and attended school in the mountain range of Davos in Switzerland, which is home to one of the country's biggest winter sport resorts. "In the mountain area the snow season lasts for five or six months a year. It is an amazing ski fun spot. I love snowboarding and have been doing it as a hobby since I was very young. Whenever I had free time I used to go snowboarding; sometimes during my school lunch breaks too," she explains adding that now however finding time for her favourite pastime amidst her busy schedule at the university Psychiatry Hospital in Zurich is more difficult.
With Kumuduni's efforts to find a team for the winter games competition failing as there were not many Sri Lankans who knew the sport, the ministry requested her to represent Sri Lanka.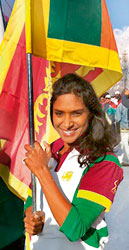 Keeping the Sri Lanka flag flying high: Kumuduni at the Games
"We just had two days to practise in Switzerland and a few days in the Himalayas before the contest. It was like crazy - we were using every second of our time to make it," added Kumuduni's Swiss trainer Stephan Usteri who had also flown down to Sri Lanka with the gold medal winner. Stephan has been a qualified snowboard trainer for seven years.
Kumuduni participated in the snowboarding giant slalom and skiing giant slalom and slalom and bagged the gold for snowboarding while India obtained the second and third places.
This young athlete is overjoyed not just with her personal achievement but as she feels she brought honour to her motherland. Saying a big 'thank you' to everyone who supported her in numerous ways, Kumuduni mentions a list of names - 'both her families', friends and many others. She also takes pride in the fact that she has served Sri Lanka on many occasions by way of her humanitarian and medical work – getting involved with Sarvodaya and the Alzheimer's Foundation in addition to tsunami relief work.
And is she considering settling down in Sri Lanka? "Switzerland is a nice other country but my heart is always in Sri Lanka. I Love to be here with my amma. At the same time I want her to have a good life and if I stay here I won't be able to help my biological family," she says.